Asus ROG Strix G15 is the work-play laptop we had been waiting for
When it comes to productivity, the keyboard is a clear winner and the trackpad is massive, offering maximum comfort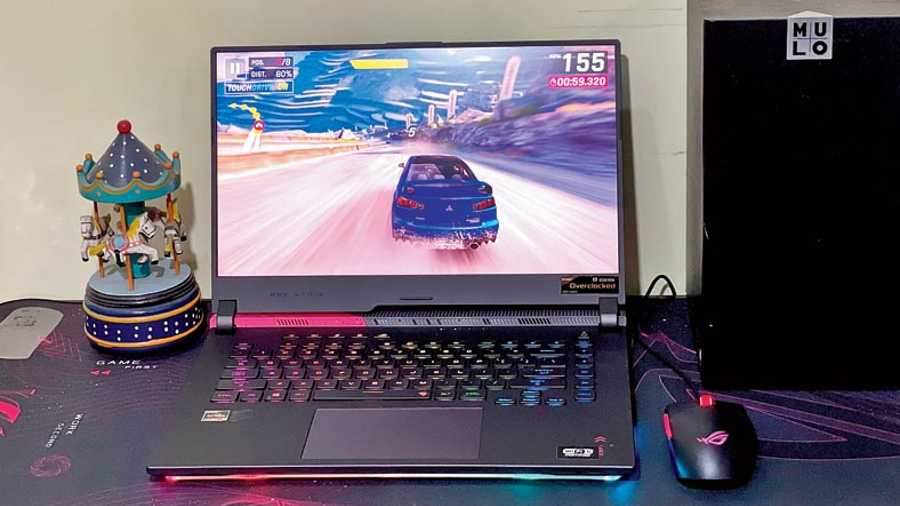 Asus ROG Strix G15 (AMD Ryzen 5900HX) is a gaming laptop with plenty of horsepower.
Pictures: The Telegraph
---
Published 08.09.21, 05:36 AM
|
---
This is the one. There are good and great gaming laptops, the Asus ROG Strix G15 (AMD Ryzen 5900HX) is the latter and goes beyond the gaming zone. Being a monster performer, there is very little to doubt about this gaming rig but what stood out is the way it handles productivity packages for creators, we are talking about Adobe Premiere Pro and Photoshop.
Full speed ahead
Let me break the experience piece into two, for gamers and for creators. Asus takes max advantage of AMD's breakthrough CPU architecture and combines it was a powerful GPU. The unit that was delivered for review came with a blazing 300Hz FHD display combined with Ryzen 9 5900HX CPU and the Nvidia RTX 3070 GPU, besides 16GB DDR4 RAM and 1TB M.2 SSD. I really have nothing to complain there. Having a fully unlocked Nvidia RTX 3070 means it's easy to be bias towards the Strix G15.
With looks that have gaming written all over, as soon as the machine is plugged in, the LED RGB light bar under the chassis does its magic. And the keyboard backlighting is absolutely stunning. This is love at first sight for anybody who likes machines… it's like opening the stable doors of a wild mustang. There are vents on both sides and at the back, seamlessly blending with the overall design while the bottom is slightly raised from the table for better airflow. The matte finish ensures there is enough protection from greasy fingers. Without boring you too much about the ports, you get two USB-A 3.0 ports on the left, one on the back, along with a Type-C port which can also work as DisplayPort, an HDMI 2.0b port and a RJ45 ethernet port. There are no ports on the right side since most people keep the mouse on the right.
Where productivity and gaming first meet are in the display. It's a15-inch FHD IPS 300Hz display with 3ms response time. The colours are stunning, visible correctly from odd angles. And this also means, this is a great device to edit movies on and even watch movies on!
The gaming experience can be seen from various angles — gameplay, overall visual aesthetics and audio output. Having a high refresh display, the gameplay is amazing. There were no hiccups even when we turned up the graphic setting to its highest. Having only 3ms response rate, all games come alive and there no input lags. We already spoke about the display, which is perfect from all angles. In the audio department the laptop does fairly well but we must also remember that most gamers would use a dedicated headset. The sound may not be the loudest but it certainly is clear.
The thermals of the laptop are worth looking at. I expected the device, which has a compact chassis, to heat up a lot more. It doesn't. I expected it to get noisy. It doesn't. There are enough vents to release all the heat. The fans seem to have a self-cleaning module which prevents dust to settle on the fan plates. You can visit the Armoury Crate section to control the performance of the fan, keep it on modes like silent, performance, turbo, manual and so on.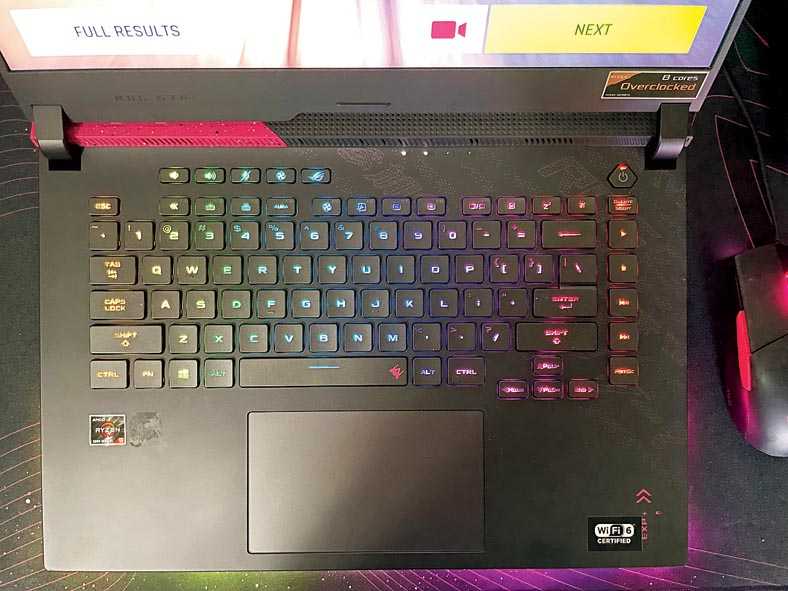 Create content with ease
When it comes to productivity, the keyboard is a clear winner and the trackpad is massive, offering maximum comfort. What you get is a full-sized keyboard with backlighting. There is a dedicated media key panel which is often used while editing videos. We threw some 4K@60fps videos and the machine tackled it without lags and without heating up. The keyboard has excellent key travel and there is a gentle click-y sound that fits all kinds of environments.
Needless to say, you can have all the tabs open on Chrome without making the machine crash. All software packages are neatly dealt with. When it's used as a gaming laptop, you will get four-five hours out of it, which is perfect. But as a productivity machine, you get more. And as an everyday machine, it matches the performance of rivals. You can go through an entire day without charging in case you keep the workload nothing out of the ordinary.
Should you buy it?
Eyes shut, buy this machine if you are a gamer. And if you want to have a machine which also does all your "other" tasks, this is it. Asus has thrown in all that it has on the hardware front and has delivered a machine that cools very well and it has specs that will surely last some years. Plus, it's slim and portable. Asus ROG Strix G15 (AMD Ryzen 5900HX) bends and rewrites the rules of what a gaming laptop can be. It's the work-play laptop we had been waiting for.
At a glance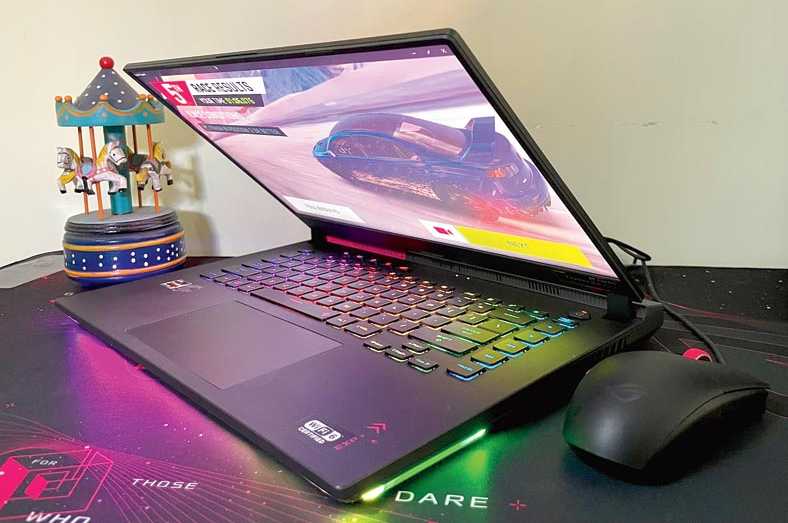 Device: Asus ROG Strix G15 (AMD Ryzen 5900HX)
Price: Rs 164,990
High notes
• Has one of the best screens for gaming
• AMD Ryzen 5900HX is an efficient processor
• Excellent heat dispensation
• It can be used for gaming and productivity needs
Muffled notes
• Audio could have been louder