Apple's Sumbul Desai is visiting India next month
Her destination is BioAsia, Hyderabad, where she will participate in a fireside chat with Dr. Sangita Reddy, joint managing director of Apollo Hospitals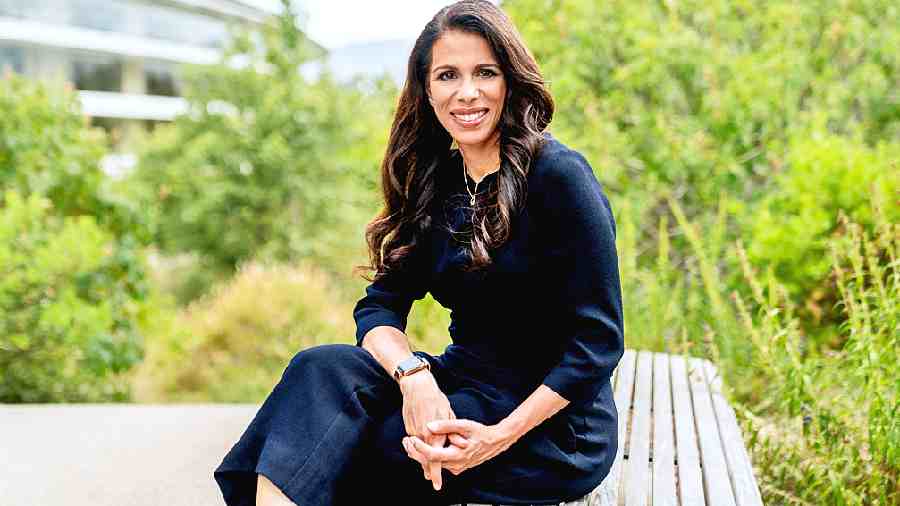 Dr. Sumbul Ahmad Desai, VP of Health at Apple
The Telegraph
---
Published 25.01.23, 02:15 PM
|
---
Apple has been empowering people with health-related information via the Health app on the iPhone and, of course, the Apple Watch. Not that the company wants to replace doctors; it wants to offer enough warnings about health so that follow-ups are made.
One of the most important people driving the company's mission is Dr. Sumbul Ahmad Desai, VP of Health at Apple, overseeing health initiatives including clinical product development, medical research, and innovative clinical partnerships. She also leads the regulatory and quality teams at Apple, which also works with the best in the medical field, including Harvard T.H. Chan School of Public Health, the American Heart Association, Brigham and Women's Hospital and Johns Hopkins University, to conduct landmark health studies and advance discovery with the ResearchKit and CareKit platforms.
Dr Desai will visit India on February 25. Her destination is BioAsia, Hyderabad, where she will participate in a fireside chat with Dr. Sangita Reddy, joint managing director of Apollo Hospitals.
She will have a lot to talk about as Apple keeps on introducing new healthrelated features, like it recently launched its temperature sensing capability with the retrospective ovulation estimates feature. The sensor adds to the many other tools on the Apple Watch and iPhone, including the ECG app, irregular rhythm notifications, cycle tracking and hearing health features.
With the release of iOS 16 and watchOS 9, Apple Watch and iPhone offer features that focus on 17 areas of health and fitness, from heart health and sleep to mobility and women's health, and more. Over the years, customers of all ages have shared how these health and fitness features have changed their lives.
The company makes available a number of tools and core technologies to all developers to help them create innovative apps, including more than 250,000 software development building blocks called APIs. With the HealthKit API, Apple makes it possible for thirdparty developers to develop health and fitness apps that take advantage of the sophisticated sensors on iPhone and Apple Watch and are compatible with the Health app. The company developed HealthKit to provide users access to and granular control of their health data, without compromising privacy and security.
When the iPhone is locked with a passcode, Touch ID, or Face ID, all health and fitness data in the Health app — other than Medical ID — is encrypted, and any health data synced to iCloud is encrypted both in transit and on Apple servers. And if a user has a recent version of watchOS and iOS with the default two-factor authentication and a passcode, their health and activity data will be stored in a way that Apple can't read it.
Tracking, storing, analysing, and visualising health data on Apple Watch and iPhone allow patients to gain insights into their health in between doctors' visits and to be alerted when there is something they should discuss with their doctor
Meta is expanding testing Meta continues to improve the experience on its Messenger platform. The company has started expanding global testing of defaulted-to-end encrypted chats on Messenger to keep conversations private and secure.
The company has said that over the next few months, more people will continue to see some of their chats gradually being "upgraded with an extra layer of protection provided by end-to-end encryption". "We will notify people in these individual chat threads as they are upgraded,"Meta has said.
Meta first tested end-to-end encryption features for Messenger back in 2016 for "secret conversations", according to TechCrunch, while last January, the company introduced opt-in end-to-end encryption for group chats and calls for Messenger.
The other things that have been announced include chat themes to personalise conversations, custom chat emojis and reactions, group profile photos (for different chats with friends or work colleagues) and link previews (you can see where a link is taking you, before clicking on it).