Apple offers A-plus performance with its M1 chip
The new iPad Pro, iMac and MacBooks are different forms of computers powered by the same processor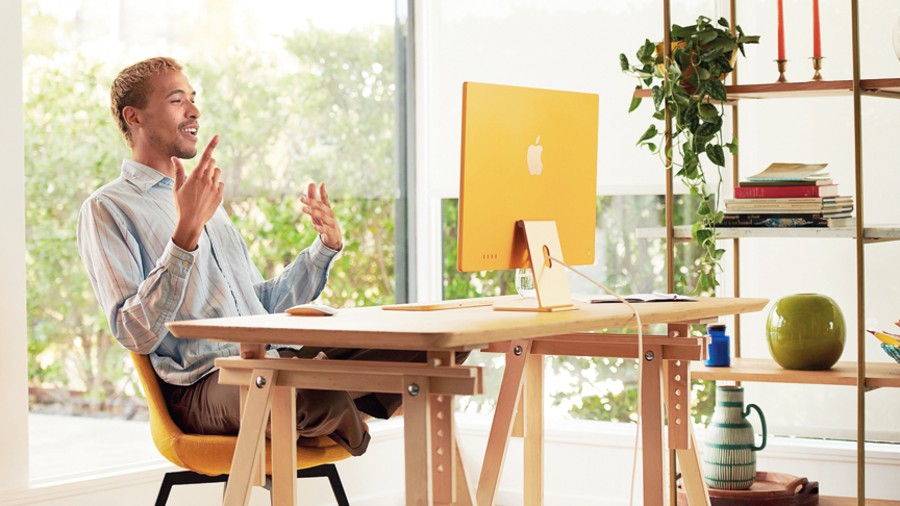 ---
---
All right, in the next few months what we will see is more and more of shiny, colourful iMacs taking over buying lists of those in search of a desktop computer. Of course, we are talking of people who are comfortable with the Apple way of working. Here's the gameplay. You come home with an iMac, start using it and say, "Man, that's fast." Next thing you know, a new iPad Pro is in your house and maybe when the time is right, a MacBook. There is something that will make you do this — performance. Well, actually performance and efficiency.
The message is clear
The iPad Pro, the new iMac and the new generation of MacBooks have something in common, the M1 chip, which is Apple's very own silicon. It's something the company has been working on for many years and now the time is ripe. The new iPad Pro, the new iMac and MacBooks are all computers but in different forms. What Apple has done is make the life of customers easy. You walk into a store or visit Apple online store and buy the form factor that suits you because performance and efficiency will be the same on all of them (with minor hits and misses).
Of course, Apple engineers didn't wake up one morning and said: "Dang! Let's make our own chip." Things have been developing for years and Intel with its fingers-in-many-pies issue drove Apple to become self-sufficient.
When we buy a new computer — could be an iMac, iPad, MacBook or iPhone — we look for performance and efficiency. It always helps to have an efficient device which offers at least the same power but more battery life. The other way around, if performance increases without disturbing battery life, that would be fine. Apple has improved both.
It's all about the message that the company is sending out to customers. In fact, one of the reasons why Apple is a more-than-$2 trillion company involves around a simple philosophy — look at customer needs rather than focus on what rivals are doing. Unlike most brands that want to release a phone to counter a similar device from a rival brand, Apple tries to give the best money can buy, allowing customers to forget about upgrades for years.
Customers are more important
Focusing on customers 24x7 means caring about giving the best. Component partners are important but if they fail to deliver or contribute to Apple's mission then equations may change.
In 2005, when Apple announced switching from PowerPC to Intel for Mac computers, Steve Jobs said something important: "As we look ahead, we can envision some amazing products we wanna build for you. And we don't know how to build them with the future PowerPC roadmap. And that's why we are going do this (move to Intel chips)."
The philosophy lives on. Last year, Tim Cook announced on stage: "When we look ahead, we envision some amazing new products and transition to our custom silicon is what will enable us to bring them to life." Look at the choice of words… leaves from the same tree.
So far, Apple has been happy making software and hardware, ensuring there is excellent synergy in the two departments. The silicon bit was left to Intel, which has commitments, but to many brands. Apple is one more customer, but maybe a bit more privileged. Intel has repeatedly had delays with its latest processors, which is not good for Apple.
There is also another advantage of using one's own silicon. Unlike other chipmakers, the Cupertino HQ-ed company doesn't have to support a technology which it will never use.
So, the powerful eight-core CPU in M1 features the fastest CPU core in low-power silicon. And the eight-core GPU features the fastest integrated graphics in a personal computer. When combined with its high efficiency, unified memory architecture, and the 16-core Apple Neural Engine, the new iMac delivers powerful performance.
The upside of the M1 chip is that all pieces talk to each other as it integrates CPU, GPU and RAM on one tiny chip, delivering more power and efficiency. The downside is that RAM is fixed, which means you have to make a choice around what you will do with the machine. The chip architecture and software will execute tasks more efficiently, sending each operation to an optimal core instead of going back and forth, time and again.
Programmes will launch faster, animations will be smoother than ever before, instant wake-up from sleep, better read-write speeds… all these things point to better video editing, gaming and much more.
The right tool at the right time
With the iPad Pro and Mac converging in way of features, TechCrunch recently asked Apple senior vice-president of worldwide marketing Greg Joswiak and senior vice-president of hardware engineering John Ternus if there were any big differences.
"This is my favorite question because you know, you have one camp of people who believe that the iPad and the Mac are at war with one another, right, it's one or the other to the death. And then you have others who are like, no, they're bringing them together — they're forcing them into one single platform and there's a grand conspiracy here. They are at opposite ends of a thought spectrum and the reality is that neither is correct. We pride ourselves in the fact that we work really, really, really hard to have the best products in the respective categories. The Mac is the best personal computer, it just is. Customer satisfaction would indicate that is the case, by a long shot," said Joswiak.
During the interview it was also pointed out that a majority of Mac customers also have an iPad, which means they are not replacing their Mac; it's about having "the right tool at the right time". Apple still doesn't want to label the iPad as a tablet because, let's face it, most tablets aren't that good. So iPad has its charm.
When Apple decided to give its devices a brain transplant, they obviously thought of the future roadmap, which goes beyond a decade. With Apple having control over chips on its phones, iPad and Macs, as a customer I can rest assured that the flow of tasks between devices will be spot on.