Amazfit Stratos 3 is comfortable on the wrist as well as on the wallet
Out of the box, the watch wins us over with its sporty design but make no mistake, it has enough panache to suit one's office wardrobe as well as after-office moments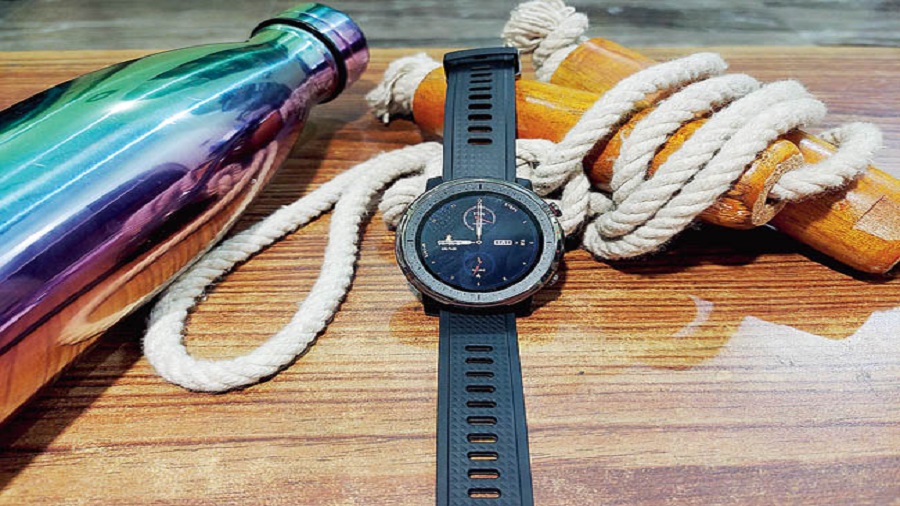 ---
---
What can a person whose goal is fitness demand from a smartwatch? Reliable GPS tracking. Good battery life. Great sensors. Something that would last a couple of years. Amazfit has been delivering some great smartwatches for a while now and its latest, the Stratos 3, ticks all the boxes mentioned above.
Out of the box, the watch wins us over with its sporty design but make no mistake, it has enough panache to suit one's office wardrobe as well as after-office moments (we are still on the look out for some semblance of normalcy).
After using the device mostly around the house and in the neighbourhood (paired with an Android flagship smartphone), we found a lot to talk about and a couple of things that can be improved upon.
Big on fitness
Bringing a smile to the face are the four physical buttons — two are knob-like and two are flat — on the right side of the smartwatch. While the first button is for sport mode/select, the lower one is for menu/back while the middle ones are for up and down. Simple enough. This is super useful when one is running of swimming, moments when you can't easily tap on the screen. The 1.34-inch round transflective display is bright enough for reading even on the brightest of days.
Let's get a few things out of our way — stuff that you can't and why not. Receiving messages doesn't pose a problem but you can't reply. The only two actions allowed are delete and block. What the software could have added is a way to send pre-loaded messages, like "thank you" or "will reply soon". Second, there is no speaker or a microphone, which is actually fine. This is a watch for sport enthusiasts and one wouldn't care much about these two things. There is always the Bluetooth wireless headset to fall back on. What the Stratos 3 does offer is 2GB of internal space on which you can store around 400 songs (if the file size is 5MB).
There are many smartwatches that promise a lot but fail to deliver. Amazfit offers just about enough. When it comes to workouts — the most important deal — there are zero compromises.
You can tune into what your goal is. For example, while starting a run you can set an activity goal, which will help you achieve it. You can set target distance or target calorie. An interesting addition — the watch is equipped with authoritative Firstbeat algorithms, which is used by professional sports teams. What this means is that you get a lot of professional data to improve your exercise capacity and minimising the risk of injuries. The more you wear the watch, the better would be your training and more info will be at your fingertips. Another great feature — up to 70 hours of battery life with GPS (if a few of the power-hungry options are switched off), which is helpful if you are considering a triathlon or a marathon or if you are out there for a lot of multi-sport activities. There is also an option to see the recovery time since your last workout.
What Amazfit offers through the app is a bunch of useful widgets that you can install. And on the app, there are some very nice graphs to explain your training and goals.
A lot of people use the sleep tracking feature on their smartwatches but I am the kind of person who goes to bed with the Rubik's cube rather than a watch strapped to the wrist. But we tried the feature for a couple of days and all the interesting readings are there — deep sleep, light sleep and awake time.
Is it for you?
Super light and sporty, the device offers good battery life, like six days without switching off most of the power-draining options (including max brightness). The company says that with the ultra endurance mode, the battery life can be 14 days. Yes, it would have been great had there been options like streaming Spotify or replying to messages, one has to remember that this is dedicated to fitness; packed with a good set of sensors, it offers accurate readings. In short, the Amazfit Stratos 3 is comfortable on the wrist as well as on the wallet.
At a glance
Device: Amazfit Stratos 3
Weight: 40.4g (without strap)
Body material: 316L stainless steel and zirconia ceramic bezel, reinforced plastic bottom case, 316L stainless steel button and U-shaped frame
Waterproof rating: 5 ATM (up to 50m water depth)
Display: 1.34" transflective TFT Resolution, 320 x 320
Connectivity: Wi-Fi, Bluetooth
Battery: 300mAh (battery life, ultra endurance mode — 14 days)
Supported devices: Android 5.0 or iOS 10.0 and above
Price: Rs 13,999 (on Flipkart)