Acer launches five new laptops
The way consumers view and use laptops is changing rapidly and the company is at the forefront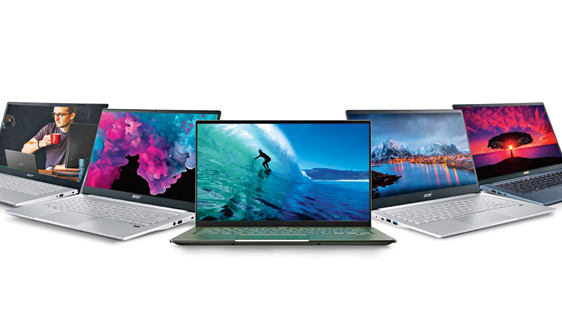 Acer has launched five new laptops with 11th Gen Intel Core processor.
Acer India
---
Published 16.11.20, 03:42 AM
|
---
There is no single best laptop because there is no single kind of user. Everyone wants something different. Some people care more about specs, others care more about screens and one might care about graphically demanding games," says Sudhir Goel, chief business officer, Acer India. Acer is known for its laptops and has something for everyone, from budget-friendly options to those having the latest processor. It's a brand known for its versatility factor.
In case you are planning to buy a laptop, check out the new Swift 5, which is light and is powered by 11th Gen Intel Core processor. Here's what Goel told us.

Even before the work-from-home scenario, usage patterns on laptops had been changing. What's the focus of the new laptops?
The current situation is making a dynamic shift in consumer behaviour with multi-PCs per family becoming ubiquitous. With the future of working and learning to change, spending long durations in front of PCs and laptops is inescapable. The necessity of a personal computer has changed over the years from being a luxurious purchase to an attractive good to own device and to now being an essential investment. We have seen an upsurge in demand for laptops both from the enterprise and consumer side. To help them buy the right device, we introduced work-from-home and learn-from-home PCs in the market at affordable prices.
Apart from this, PC gaming has been a vast focus area for the technology industry. Acer is reinventing gaming with the help of launching a new range of Predator and Nitro series gaming devices in India. Acer is known for the engineering expertise of its Predator division and has become one of the world's largest suppliers of gaming desktops and laptops in recent years. Acer also leads in producing laptops for creators and has unveiled a completely new product line targeting specifically for creative content creators. Acer ConceptD presents the world's very first laptops equipped with the latest best-in-class processors and has all the ability to be one of the best workstations for serious content creators. The ConceptD series has a fresh approach in technology that enables creators to unleash their full potential. It is not simply about getting things different, but about establishing new benchmarks and breaking new ground. Do you also see Acer becoming more of a lifestyle brand?
Like many others, Acer has been at the forefront in providing improved experience to its patrons through tech-enabled lifestyle enhancement products. We have recently introduced a new brand called the Acerpure under which we have just launched a two-in-one air purifier and circulator. This new product line from Acer signifies an extension of Acer's smart air quality solution business and follows the brands' corporate mission of promoting a safer living. It influences smart features to not only enhance users' quality of life but also create environmental benefits at an affordable price point. We want to continue inspiring, guiding, and motivating people so that we can further contribute to their needs and the changing consumer's way of life and put lifestyle firmly at center stage.
Do you think collaborative services would continue to remain the domain of laptops?
I believe pandemic has brought a revolution in the way consumers view and use laptops. Most people today are either working or studying from home instead of going to their respective campuses. Whether it is remote collaboration, video meetings, or online lectures and exams, we're all finding new ways to get things done. As smartphones hit an upper limit in terms of capabilities and the smaller screen to do productive tasks, PCs have become a necessary tool for staying productive, connected, and is also paramount for e-learning. PCs have become individual and are no more a shared device. For students as well as professionals when it comes to laptop design, our Aspire, Swift, and Spin series are exclusively designed to meet the needs of these two categories. These laptops have large screens for long hours view, comfortable keyboards, and BlueLightShield — our patented technology that helps block harmful blue light to help reduce the ill effects of that. They also come with our ComfyView display that reduces reflection from the light source for a comfortable viewing experience and ensures that there is lesser eyestrain after watching for long hours.