What the Army can do for gender parity
The option for joining combat arms should be allowed to women officers as per their choice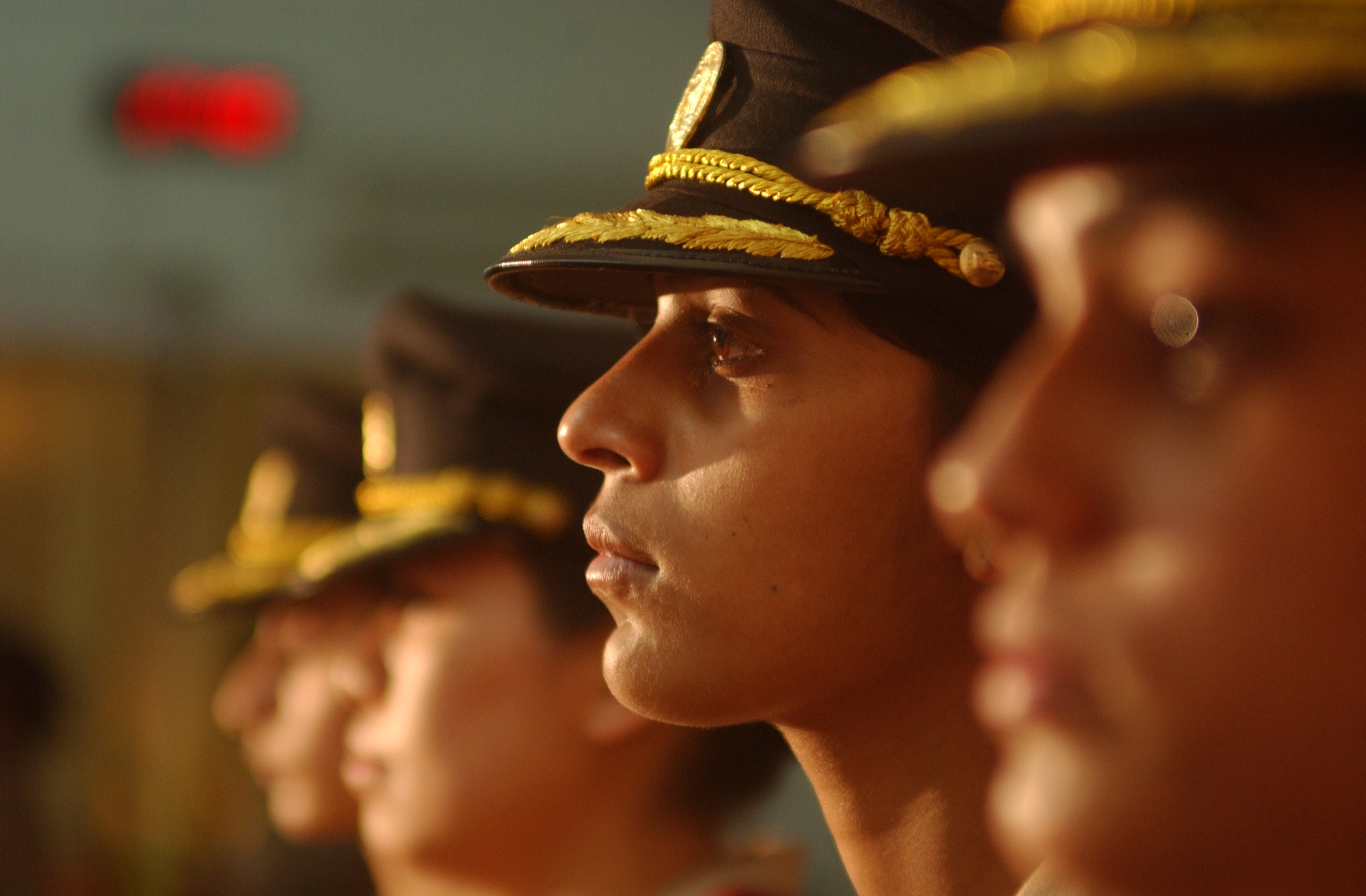 Whatever their numbers, the women who compete and succeed must have identical career opportunities to their male colleagues
The Telegraph file photo
---
Published 03.01.19, 02:43 AM
|
---
A potentially game-changing policy
Right now, the Army is composed of more than 42,000 officers, and over 11.5 lakh (1.15 million) junior commissioned officers and other ranks. Women until recently had only been inducted as officers in the Army. But a 2017 policy change to induct women into the Corps of Military Police below officer rank could serve as a potential game-changer. While this step may seem tentative, it's an experience-learning initiative and one that may be a harbinger of future trends. Indeed induction of women ought to be considered in other ranks equally as it has been hitherto for officers. The question of which arms and services can be allocated to women in other ranks, will require deliberation. The primary concern must still be fostering and guaranteeing cohesion so that a unit retains effectiveness to discharge its assigned missions in a near permanently tense environment.
Improving the career management structure
Thirdly, for women in the Army, there is a clear need for empowerment of women officers, a career management structure that features transparent progression, uniform and objective standards and adherence to a merit-based system without any gender-specific quotas.
The most important landmark for officers is the command of a unit after 15-to-18 years of service at the select rank of colonel that comes through stiff competition and a Promotion Board. Only a percentage of officers qualify to be promoted a colonel in the selection grade. This command is crucial for promotion to senior ranks. For women SSC officers, there's been no promotability to colonel rank, obviously because the term of service has been SSC, of only 14 years. As and when women officers are considered for PC, command of a unit at colonel rank will be natural aspiration.
Seeking uniformity among male and female officers at the promotion board level for colonel, the norms of career progression dictate that there must be parity in all spheres at the time of intake, during pre- and post-commission training and in service. This uniformity is also essential to provide personal example to the troops by the leaders – male or female. For instance, all officers and men of the infantry carry substantial loads and are concurrently prepared to undertake operations, while the artillery personnel require lifting artillery shells or heavy gun trails. The combat arms courses like commando or weapons are mandatory, very exacting and take their toll in failures even among male officers. 
Improving the work environment for women
The intangible and hygiene factors issues involving women is the final and all-important concern. In all debates, the physiological and biological needs, issues of spouse posting and the like get highlighted as the prime problems. Also stated are the concerns of the salty language in use among men, anxiety of misconduct, sexual harassment and even inappropriate consensual relationships. Indeed, there will be issues of creating segregated infrastructure that will be surmountable in many places. But there are other posts such as on the Siachen Glacier, along the LOC or LAC, or in small operating bases used in counter-terrorist operations where the infrastructure can only remain cramped. Providing cushy assignments or protected assignments to female soldiers/officers would be counterproductive for unit cohesion, career management and parity, and male-gender bias. More importantly, the male soldiers will have to be drilled in and prepared for respect, team building, dignity and good moral character.
Right now, young male officers commissioned in services must be initially attached to combat units in these difficult areas. As a feasibility trial, for a period of time, such a method could be attempted for women being opting to be commissioned in similar units. This would involve the women themselves and maybe some answers might be forthcoming, internally. For units tasked in close combat, this issue mandates further analysis and deliberation with an open mind from the Army hierarchy standpoint.
The writing, though, may already be on the wall as we see the changing profile of women in India. In the context of the armed forces, the peace-time commitments, bases and methodologies are so vastly different, that a singular policy for the Army, the Air Force and the Navy is not feasible. An exhaustive 15-year perspective plan still is required to rationalise training methodology and infrastructure creation; prepare male soldiers; create separate options from PC or SSC, command or staff assignments and verticals of combat and support. For a tradition-bound yet forward-looking Army, there will be significant positives in accepting the inevitable and moving towards this change.
Transformation now is the buzzword in the Army, yet the issue of induction of women into combat roles is still steeped in controversy. There are competing mainstream narratives driven by disparate arguments, none of which is path-breaking or original. We've seen much hyperbole and exaggeration as well as statements of the obvious with one side stating their case in a highly emotional fashion and the other side taking a dogmatic stance. Crucially, what's been missing has been an attempt to find pragmatic and progressive policy, with a long term perspective.
Women are not new in the armed forces. Women officers have been serving in the Army Medical Corps, the Army Dental Corps and the Military Nursing Service. For the last 26 years, besides the medicos, many other branches of the Army have had women officers serving in them. Consequently, many internal studies have been undertaken on the induction of women in the forces, the most prominent one being in 2013. A long drawn out legal case is presently before the Supreme Court. To determine the future of women's roles in the armed forces, especially in the combat role, the issue needs to be disaggregated into its multitude of constituent factors.
Traditionally, the armed forces have preferred to hew largely to the status quo. Major decisions are, however, arrived at after intense deliberations, thorough analysis, test-bedding, trials and exercises with objective lessons. In contemplating the induction of women in the Army, deliberations and analysis are required along five essential pathways.
Making allowances for physical differences
This brings to the fore the much-debated question of physical differences between men and women. Currently the norms for physical standards for women have been scaled down for obvious reasons. It has been stated, though not conclusively, that women have higher injury rates than men. As has been seen over the years, women from India have excelled in physical sports and athletics in the international arena and it is very likely that a number of them will be able compete man-to-man, even in combat arms, and succeed on their merits.
The option for joining combat arms over time, therefore, should be allowed to women officers as per their choices and for which parity in physical tests will have to be built in for male and female officers, in all arms and services. However, it may occur that many women, having obtained any arm or other arms and services, may later be unable to cope with its rigours and decide to turn to other specialities. An alternative career management system will have to be offered that allows for scaled-down physical standards where career progression even with PC can be for staff assignments only. Such methodologies do not exist presently and must be worked out. The options and choices should be exercised by the women and also be contingent on retaining the standards. It needs to be reiterated that whatever their numbers, the women who compete and succeed, must have identical career opportunities.
Disparities in terms of service
The second aspect to consider is the methodology of inducting women officers and their terms and conditions of service. Currently in the Army, there's no intake into combat arms like the Infantry, Armoured Corps, Mechanised Infantry, Artillery and Army Aviation, because of the operational and combat responsibilities. Intake of women officers in Permanent Commissions (PC) is only in the Judge Advocate General's Branch and in the Army Education Corps. Women officers serving in the Army Service Corps (ASC), Ordnance (Ord), Electrical and Mechanical Engineers (EME), Air Defence (AD), Signals (Sigs) and Engineers (Engrs) are on Short Service Commission (SSC) of 14 years.
This is at variance with the policy regarding male officers of whom a fixed number obtain PC, from SSC in due course depending on vacancies and merit. A number of women officers have taken legal recourse to settle this anomaly and the courts allowed them to continue beyond their 14 years SSC term. Many women officers have, as a consequence, served 20 years, the minimum service to be eligible to receive pension. A sense of the legal process realistically suggests that parity must be built into the intake of male and female officers in both the PC and SSC realms.
Lt. Gen. Rakesh Sharma retired as Adjutant General of the Army
Fairness in command assignments
Fourthly, there's the issue of empowering women to achieve command assignments. Of the numbers serving within the Army, women officers have not been empowered, which is to say that being SSC, they have not been permitted to undergo mandatory training like the Junior and Senior Command, Corps specific courses or appear for the Defence Staff College Course.
As these have weightages for promotability, competing with male officers for promotion to the select rank of colonel and will leave female officers without a level playing field. It may be possible, if the training academies are geared up, to put existing female officers with up to about six years of service through the rigours of the mandatory courses. But to rewind time for those in later service brackets and compress a number of training assignments may be difficult. Hence, it may be necessary to segregate current women officers into various brackets of service, to undergo courses to enhance their chances for consideration for elevation from SSC to PC and for the promotion board for the select rank of Colonel.
The women officers who are in later service brackets, and unable to undergo mandated training and undergoing assessment in sub-unit command, can also be considered for elevation to PC from SSC and, if approved by the Board, can be promoted on a staff assignments only. This will mandate fresh terms and conditions of service, by taking each women officer into confidence, creation of an interim system, till the last of the current women officers cross the threshold of first select rank, obtain PC or otherwise.
New intakes should follow the new system directly and be able to avail of options exercised in the pre-commission training academies or earliest in service. The transition processes will have to segregate women officers into profiles according to their choices and give them the empowerment required for career progression.