Carnival's here
THE THIN EDGE | What if Calcutta was to take a breather for two weeks?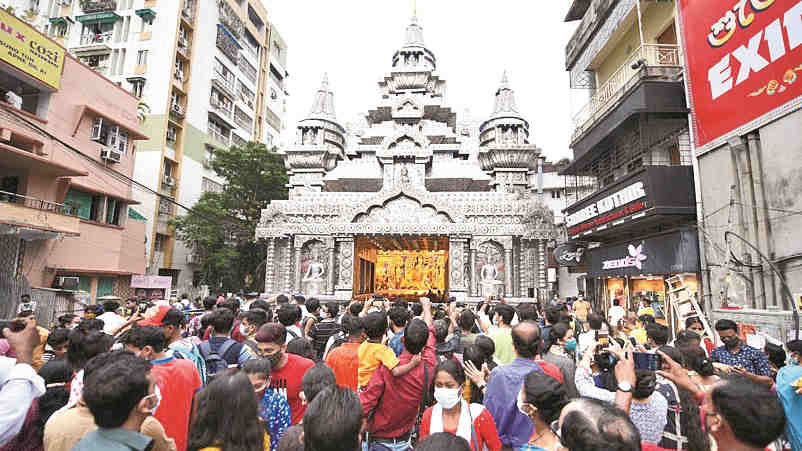 ---
Published 12.10.21, 03:20 AM
|
---
Perhaps it is easier for smaller towns to dedicate themselves completely to a festival for a few days than it is for big cities. My first experience of this was in 1975: at the age of fifteen, I got to tag along with my parents when they were invited to the bi-annual theatre festival in Nancy in northeastern France. I had never been to France or anywhere else in the West before but I knew a tiny bit about Paris. After a couple of eye-popping days in the legendary city, where I happily struggled to collate the reality of the place with the many received images and stories, we were driven by car to Nancy. The difference of scale between capital and provincial town was immediately evident. Within minutes of hitting the outskirts, we were in the city centre. Everything here was taken over by the festival, with huge posters for plays and outdoor performances, large signage that pointed you to the delegate centre, the ticket counters and buffet for delegates. There were several venues for performances, all of them quite easy to reach, either on foot or by a short bus ride. The cafes and restaurants all seemed to have something to do with performances and recitals, either officially part of the festival or maverick ones. There were numerous exhibitions of theatre posters and photographs. Alongside these were visible markers for the jazz festival, the other jamboree the city hosted every alternate year. With the theatre addicts, the buzz began at some point around noon — once everyone was awake — and continued into the early hours of the morning with people alternating among shows, talks and copious beverage breaks. Memories of specific performances aside, what stayed with me was the sense of an entire town completely focused on the serious, yet joyous, celebration of theatre.
Since then, I've been lucky enough to experience other towns as they immerse themselves completely in cultural festivals. There is Edinburgh that gives over every August to its famed, multi-layered celebration of theatre, literature and all kinds of other things; Adelaide, which alternates every year between a huge literature festival and a festival of ideas; there is Basel where, in the middle of winter, the whole town stops what it's doing for three days and dives into the traditional Fasnacht and where in summer you have the internationally renowned Art Week; in the visual arts, there are obviously Venice with its Biennale and Kassel in western Germany, with the massive Documenta show every four years. In India, I am yet to visit the Kochi Biennale, but I have been to the Serendipity Arts Festival in Goa and the eponymous literature festival in Jaipur, both of which transform areas of the respective cities, Panjim and Jaipur, without necessarily involving a wide section of local people.
As the Durga Puja comes around at the (still-not-quite) end of two years of epidemic, thoughts arise of an entire city being somehow released from the quotidian, of a genuine cross-section of the populace coming out into the streets to celebrate something together, of a period of days when Kolkataiyas and visitors alike can perhaps dare to breathe a bit differently, a little bit more freely.
For many of us Calcuttans, over the last few years, the Pujas have become a time of stress. It's a good time to leave the city, or, failing that, a good time to hole up at home and avoid going out into the crazed traffic and unbearable din. Now what if this were to be completely reversed? What if, somehow, this period, say the fortnight around the Durga Puja (which is, of course, also a cultural festival), became a time to organize and participate in a wider festival, with varying themes but with the Puja at the centre of it? What if normal activity in the city came to a complete halt for a few days and was replaced instead by a time of both slowness and whirling celebration? What if the city was to take a breather for two weeks?
Calcutta is a massive urban agglomeration, the extreme opposite of a small town. And, yet, Calcutta has always shown itself capable of going against the grain. If certain calculations are to be believed, while other cities are growing, we are actually losing population. As other Indian mega-metros are increasing the industrialization in their immediate greater urban areas, we might actually be reducing ours. If Bombay or Bangalore were to shut down their offices for a couple of weeks, the losses would probably run into thousands of crore, whereas shutting down Calcutta for a few days may make no major difference to the corporate world. As the pandemic showed, not having cars clogging the roads radically improved the air quality of the city. In fact, if there were to be a properly conceived and organized festival or even several small concurrent festivals, it might well draw visitors and revenue to the city.
The big challenge (and this is where we would really need to go against the grain and venture where no major city has perhaps gone before) is to make sure it's a festival for all classes of Calcuttans and not just the so-called middle and upper classes. This would entail seriously innovative thinking, from how to counter the loss of earnings for those who depend on daily work to making sure that the most marginalized sections are involved with the festival. Corporate and marketing involvement would be necessary but equally crucial would be keeping those in check; central to the conception would be protecting the anarchic and the unexpected, while organizing just enough to create a festival unique in the world.