What do shifting trends in medical care have to do with violence against doctors?
Contempt towards doctors by populist leaders is compounded by politicization — even communalization — of the problem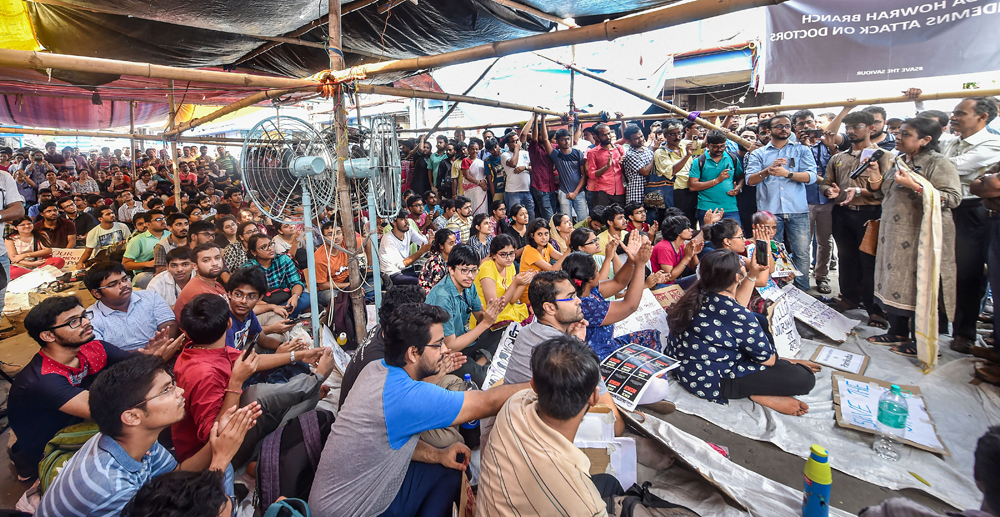 Striking junior doctors at NRS Medical College and Hospital in Calcutta on Saturday. Asian countries are reflecting the western transformation of the physicians' market towards salaried employment (from self-employment), chronic care (from acute care), and team care (from solo or group practice)
PTI file picture
---
Published 21.06.19, 11:27 AM
|
---
The doctors' strike — it has now been resolved — and the subsequent collapse of West Bengal's healthcare infrastructure should remind us that contempt for doctors is nothing new. Mahatma Gandhi once said that "disease increases in proportion to the increase in the number of doctors in a place." But recent evidence may have startled the wise man. A Stanford faculty member and her coauthors have shown with Swedish data that a family member becoming a doctor reduces the mortality rate among other members by 10 per cent 25 years after the doctor graduates from medical school. The evidence comes at a time when Victor Fuchs and Mark Cullen have discussed the transformation of the physicians' market in the Western world towards salaried employment (from self-employment), chronic care (from acute care), and team care (from solo or group practice). These shifting trends are now emerging in Asia's transitioning markets, including India and China. The churn is expressed, among other phenomena, in the form of violence against doctors.
A quick Google trends search suggests that between 2004 and 2019, the highest incidents of violence against doctors have occurred in Maharashtra, Karnataka and West Bengal. What is driving the phenomenon? Are there any solutions?
First, we need to focus on the demand-supply situation. A noted private hospital chain in India had once confided that in Gujarat, changing patient behaviour from a physician-driven to a hospital-driven orientation was proving to be challenging. This is a trend across India where private hospitals have filled the vacuum created by a crumbling public healthcare infrastructure.
Privatization has also brought in its wake greater emphasis on health insurance to take care of burgeoning costs. This has, in turn, facilitated a nexus among hospitals, insurance firms and physicians The matter is further complicated by the poor doctor-patient ratio in India. Worryingly, governments are also inclined towards de-expertizing the profession, emphasizing on complementary usage of registered medical practitioners or non-certified physicians to provide healthcare. Finally, the rise of social media has meant that Indian patients typically consider themselves to be better informed. Unfortunately, this has resulted in the devaluation of interventions by doctors as well as of their expertise.
Is there then a way forward? The answer lies in decisive interventions by the political leadership. West Bengal no longer boasts of chief ministers like B.C. Roy whose humanism as doctor and political leader was inspiring. Contempt towards doctors by populist leaders has been compounded by the politicization — even communalization — of the problem. Incidentally, Xi Jinping, the Chinese president, has supported proposals put forward by the Family Planning Commission to put an end to violence against doctors.
Catching the disease early through improved primary care could well be another approach. This could reduce the crowds in out-patient departments of public hospitals. The model of mohalla clinics could also help. Investments in technology to make doctor-patient interactions efficient should be looked into as well.
Another way forward could be learning from 'Doximity', a network of healthcare professionals in the United States of America, and build an online social networking platform for doctors in India. This could be complemented by an initiative like 'Heal.com', a San Francisco- based start-up, which brings doctors to patients' homes, a strategy that could benefit the fledgling home healthcare market in this country.
The role of medical entrance coaching centres in augmenting inequalities between students hailing from rural and urban areas as well as the expectations of 'returns' from the profession needs to be examined as well. This scrutiny should be accompanied by revisions in the curriculum, which should teach medical students about the importance of the doctor-patient relationship and humanism.
The doctors' strike may have been a distraction. Can one not still draw inspiration from a Dwarkanath Kotnis or an Anandi Gopal Joshi?