The road ahead for Mamata
The biggest task for Banerjee would be to focus closely on developing an acceptable brand of Bengali regionalism that emphasizes 'Banglar Trinamul'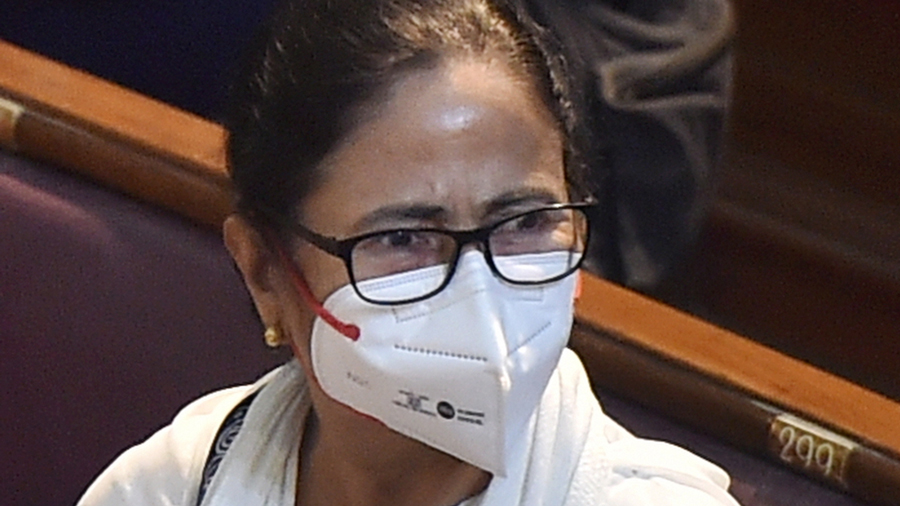 West Bengal chief Minister Mamata Banerjee during the Speakers election in the State Legislative Assembly, in Kolkata, Saturday, May 8, 2021.
PTI
---
Published 10.05.21, 01:14 AM
|
---
Mamata Banerjee's landslide victory has helped her emerge as Bengal's own Joan of Arc, but one who survived rather than went down fighting. Now is the time for her to seriously introspect and settle on a road ahead for her Trinamul Congress and for West Bengal.
Many have pointed to her failures in developing a strong, ideology-driven party organization. Others have highlighted her inability to draw big-ticket investments to re-industrialize Bengal. There is no doubt that Banerjee needs to develop a more streamlined party organization equipped with IT and research cells (like the Awami League's CRI). She also needs to play down the Singur-Nandigram legacy to reach out to big capital — domestic and overseas — to boost manufacturing and the service sector. Banerjee's success in developing social sector schemes has paid her rich electoral dividends but she has to get industrial and service sector investments to strengthen Bengal's economy. Cutting down public debt is a huge challenge; investments augmenting the state's revenues would help.
But the biggest task for Banerjee would be to focus closely on developing an acceptable brand of Bengali regionalism that emphasizes 'Banglar Trinamul' (after the party theme song) rather than 'All India Trinamul Congress'. Banerjee's national ambitions should be tempered by reality: her real future lies in turning Bengal into a model state. India will accept Banerjee only after it accepts Bengal as a model — like in Narendra Modi's case.
Bengal may not accept the Shiv Sena's brand of regionalism but Banerjee can build on the Bengali's strong sense of exceptionalism, albeit an inclusive one. Let the 'Bahiragoto' (outsider) barb end with the defeat of the Modi-Shah brigade in the Battle for Bengal. Bengali regionalism has to be based on its distinct linguistic-cultural tradition as well as the social modernization emerging out of its 19th century Renaissance. It has to include those who have made Bengal their home to trump the Bharatiya Janata Party's divisive ideology that sought to pit Hindus against Muslims and Bengalis against others. That did pay the BJP some dividends in areas populated by Rajbongshis, Gorkhas, Hindi-speakers and other communities whose identification with the 'Bengali mainstream' is not as pronounced. Bengali regionalism actually does not need a 'mainstream' to replicate the concept of 'Indian mainstream' promoted by the BJP and the RSS. It can strongly stand on its distinct culture and language, its tradition of social modernization and liberal humanism propounded by Rabindranath Tagore's "Ei Bharat er Mahamanaber Sagortire". This Bengali regional plank should allow space for smaller groups like Rajbongshis, Santhals and others.
Bengal has to look at the failure of Assamese regionalism because it abandoned Bishnu Rabha's 'Bor Asom' and resorted to an exclusionary, upper-caste identity epitomized by an AASU slogan during the 1979-85 anti-foreigner agitation — 'Jodi no hua Asomiya, Asom eri ghusi joa'. Unsurprisingly, the Assam agitation and the 1985 accord were followed by violent bouts of Bodo, Karbi and Dimasa separatism, even as the BJP hijacked the AASU-AGP's 'infiltration' plank. Prafulla Mahanta was more popular in Assam than Banerjee was in Bengal in the 1980-90s, but look where the two stand today. Mahanta paid the price for continuing the Asom Gana Parishad's alliance with the BJP, to be relegated to near irrelevance today.  
Bengal gave India its unifying nationalism that followed its cultural renaissance and its distinct revolutionary action. It can now provide independent India an alternative vision to that of the BJP-RSS that relies on a nationalism that is narrow and divisive. Religion is hardly a good enough plank for a modern nation state. Bangladesh breaking away from Pakistan and, earlier, the Mountbatten-Jinnah's model of religious vivisection (agreed to by the Congress leadership) are cases in point. Bengal's inclusive regionalism could provide a model for regional forces elsewhere in India to create a national platform that would be an alternative to the BJP-RSS. This model should debunk localism — job quotas for locals, for instance — and seek the assimilation of Rajbongshis and Santhals. Greater political autonomy for the Gorkhas is a must. 
The Congress, which has been less than kind to great Bengali stalwarts like Chittaranjan Das and Subhas Chandra Bose, can shed its Gandhi-Nehru baggage and consider taking back Banerjee as its national president followed by a merger with the Trinamul Congress.