Shamed: CISF kills 4 in Bengal
Equally nauseating are the shockingly intemperate comments made by leaders of the Bharatiya Janata Party in response to the tragedy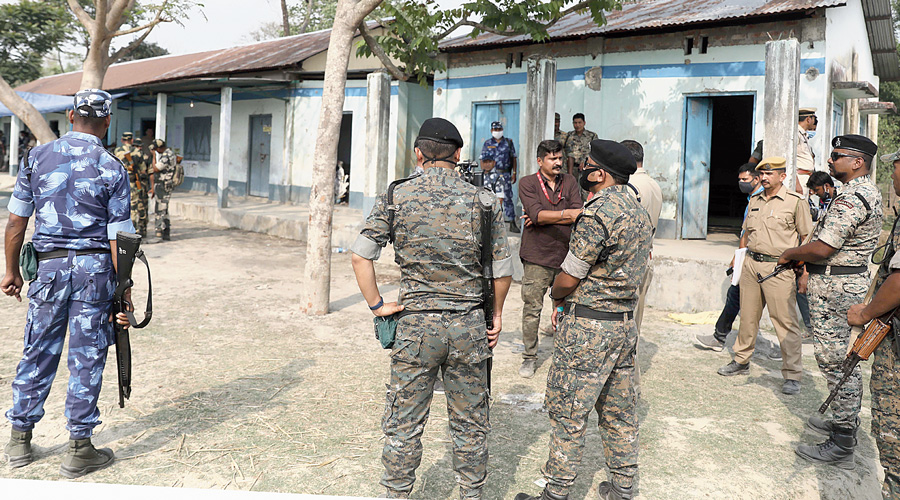 Security personnel at Amtali MSK in Sitalkuchi of Cooch Behar after the CISF firing on Saturday.
File picture
---
Published 13.04.21, 02:35 AM
|
---
Bengal has a long and chequered history of political violence. The death of four voters at the hands of the Central Industrial Security Force and the ugly politics that has been unleashed in the aftermath of the tragedy have set yet another grim milestone in this respect. Did the protectors turn predators? The answer is unclear. The security forces claim that they fired in self-defence after being attacked by an irate mob. But this account — the version that has been presented to the Election Commission — has been challenged. Villagers assert that an unprovoked assault on a 15-year-old boy by a security personnel led to a spontaneous protest that was met with bullets. Is the CISF's expertise in crowd management reliable? Established protocol makes it clear that firing can be an option as the last resort. The administrative failure to stop a crowd from gathering, the absence of a lathi-charge or the use of tear gas to disperse the crowd, the disappearance of the state police from the site and the deputation of a solitary quick response team deepen suspicions of severe procedural lapses. Heads must roll for this. But will it? Fairness and accountability are not exactly in abundance these days.
Equally nauseating are the shockingly intemperate comments made by leaders of the Bharatiya Janata Party in response to the tragedy. The state president, Dilip Ghosh, has warned of the repetition of such bloodletting in Bengal. It is pertinent to mention that Mr Ghosh — he is no stranger to controversy — would be one of the chief ministerial aspirants if the BJP were to wrest power from the Trinamul Congress. Hopefully, this blatantly intimidating remark will get the EC's attention. But then, Mr Ghosh may have merely been emulating his boss. The Union home minister, while alleging that the TMC was politicizing the killings, showed his hand when he said that Mamata Banerjee's party ignored one of the deceased because he did not belong to its vote bank. This macabre ritual of first failing to stop blood from being shed and then attempting to milk the loss of citizens' lives for a barely concealed political agenda is a blot on elections, supposedly the largest festival of democracy. Blood must not be shed in Bengal for the remaining phases of the polls.