Sir — Watching the southpaw, Yuvraj Singh, playing like he used to at his peak was exhilarating. As a player for the Mumbai Indians in a match against the Royal Challengers Bangalore in the Indian Premier League, the elegant left-hander looked like the Yuvraj who used to clobber bowlers and win one-day internationals for India on his own. Yuvraj hit three successive sixes off the leg-spinner, Yuzvendra Chahal. It was a sight to behold. The manner in which he battled and beat an aggressive cancer and returned to professional cricket speaks volumes about his commitment to the game and his resolve to succeed against all odds.

Ranganathan Sivakumar,
Chennai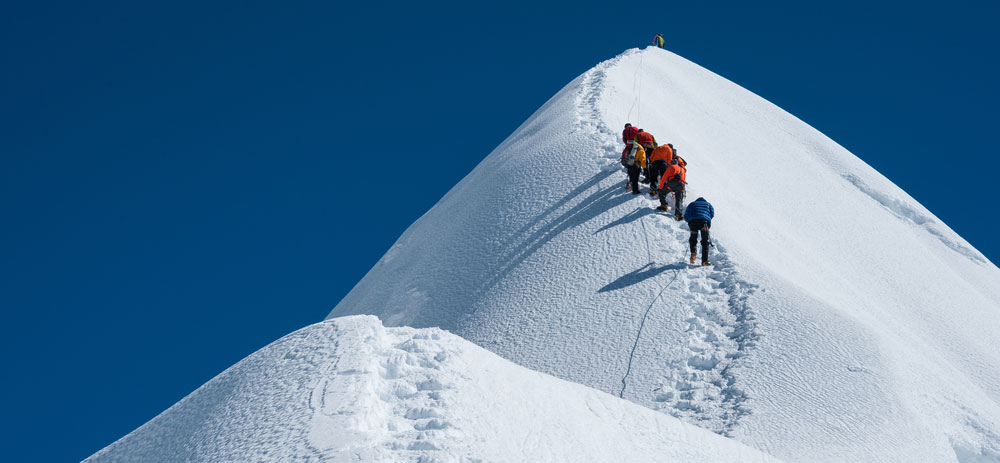 The story of Furdiki Sherpa and Nima Doma Sherpa is truly inspiring. By deciding to climb the highest mountain, the two Sherpa widows have already challenged such regressive conventions. (Shutterstock)
Highest goal
Sir — It was heart-warming to read about the courageous decision of two widowed women from the Sherpa community in Nepal, Furdiki Sherpa and Nima Doma Sherpa, to scale the Everest ("Sherpa widows break taboos, eye Everest", March 30). Mountain-climbing has long been considered the exclusive domain of men for generations among the Sherpas of Nepal. The practice was not encouraged for women. The latter are traditionally confined to their homes while their husbands venture out to conquer the Himalayan peaks.
By deciding to climb the highest mountain, the two Sherpa widows have already challenged such regressive conventions. It will not only be a tribute to their husbands, who had laid down their lives to conquer the Himalayan peak, but also serve as a social awakening in the conservative Nepali community about the role of women and widows in their society.
Incidentally, Nima Doma and Furdiki have already proved their mettle by climbing two Himalayan peaks — the Island Peak and the Chulu Far East Peak — both of which are difficult and challenging ascents over 6,000 metres. Rather than attempting to subdue women by keeping them tied to traditional duties such as household chores and child bearing, the entire community should empower them to stand shoulder-to-shoulder with men and venture into the outside world. The community itself will benefit from this enormously. Nepal, then, will be able to make the kind of progress that nations where women are more emancipated have made.
P.R. Bhattacharya,
Calcutta
Sir — The story of Furdiki Sherpa and Nima Doma Sherpa is truly inspiring. Many women have dreams that they wish to bring to fruition, but not many of them are able to do so owing to the constraints that society puts on them. It is remarkable that these two Nepali women from a fairly conservative community have managed to overcome not just personal loss — both of them are widowed — but also all the levels of resistance they must have faced from many quarters. Now that more people around the world know of their story, they will hopefully have a global network of support that will keep cheering them on every step of the way.
It is also remarkable that the women have already climbed two peaks successfully. Neither climb was easy, given their height above sea level. Mountain climbing is challenging enough for men, who are rarely expected to shoulder responsibilities like managing the home and children; for women, the burden is even greater, for they are expected to keep their focus on the home intact while pursuing other interests or goals. These double standards need to go. One shudders to think about how many professional fields — whether in science, arts, sports or anything else — have missed out on superlative talent simply because women are not allowed to reach their full potential.
Sonali Das,
Calcutta
Safety first
Sir — It was heartening to learn that posters on the classroom boards and along the corridors of a well-known school in Calcutta are being used to convey messages that raise awareness about sexual abuse. Such efforts are commendable and more schools in India need to take similar steps to prevent growing incidents of child sexual abuse in our country.
Over the last few years, sexual crimes against girl children have been reported regularly. Children are easy targets for sexual predators because they often fail to recognize exactly what constitutes sexual abuse, and thus suffer in silence. It is important that children are guided by parents and teachers so that they can identify untoward acts and can report them. Parents and teachers should also encourage children to speak out against any abuse, be it physical or verbal.
It is also important for schools to ensure that some basic safety protocols are followed, such as having functional CCTV cameras and hiring support staff and other employees only after proper police verification. Such norms might already be a part of the regulations, but they are hardly followed in schools in the absence of any regular audit. As a result, no action is taken against schools that do not follow such safety rules. Whenever any untoward incident happens at a school, parents express their outrage, but after a while the matter dies down and the incident is forgotten. It is equally important that parents should only choose schools after looking carefully into their security arrangements. Punitive laws can only help when survivors feel safe enough to disclose the identity of their abuser without any fear.
Kiran Agarwal,
Calcutta