Memory and litost
THE THIN EDGE | Watching Charulata in the 100th year of Satyajit Ray's birth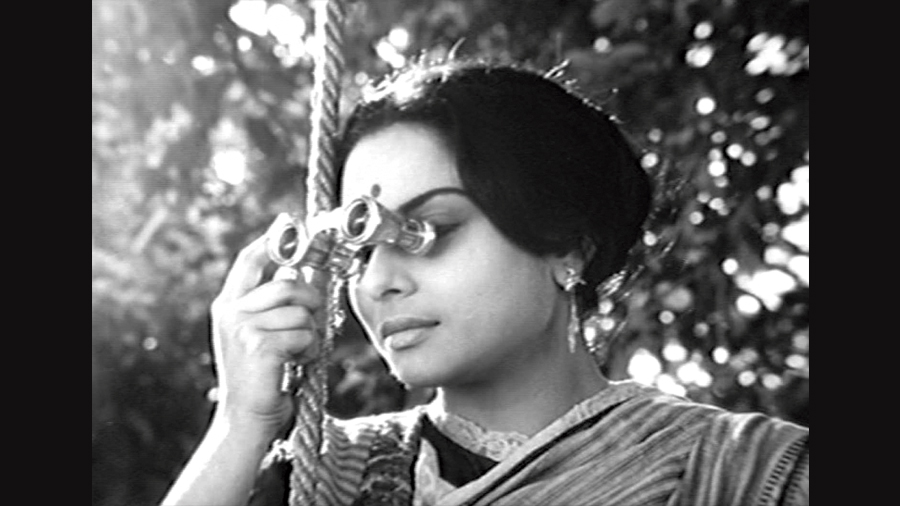 ---
Published 25.05.21, 01:04 AM
|
---
I first saw Charulata in New York, in 1981. In the couple of years I'd been a novice film buff in Calcutta, I'd somehow managed not to see the classic Ray movies; whenever there was a screening, some dada or older know-it-all would say, "Ah! Don't see that show, they have a very bad print, you should see a good print the first time!"; or, "Aparajito? You can always see that later! The Márta Mészáros is showing at the same time in that other film society and it will be very hard to come by later! In any case, how can you see Aparajito before you've seen Pather Panchali? Sacrilege!" So, a bit like someone growing up in Agra who had never seen the Taj Mahal, I went to study in the United States of America and finally saw PP in the all-purpose theatre of my college in Vermont. As I remember it, the print was okay, decent enough for a 16mm print that had made the rounds of many colleges across America, the subtitles irritatingly archaic, my friends' post-screening questions reasonable but painful, adding as they did to the sudden irrational homesickness I felt (for Calcutta — I knew nothing of rural Bengal). It was snowing as we left the building and a friend began to spin and twirl under the flakes in honour of Durga dancing in her rain.
After I moved to New York, I saw a large number of films in the extremely cheap art cinemas in south Manhattan. By the time I saw Charulata I'd seen the rest of the Apu Trilogy, conscientiously in the correct sequence, plus Jalsaghar and Devi. Some of these I'd seen with a Puerto Rican friend, AV, who was studying film-making at New York University, and we had an ongoing argument about the greatness of Ray; I felt I now understood in my bones why Ray was so highly regarded but AV found him a tad sentimental, and his film-craft 'too safe'. We both suffered from the typical arrogance of boys in their early 20s and Ray had not managed to pierce my friend's carapace of callow cinematic self-regard.
For a morning show at one of the art cinemas you settled into the seats still redolent from last night's tobacco and fast food and lit up your cigarettes. A couple of rows away there would invariably be a man tilting a brown paper bag to his mouth and the whiff of alcohol would reach you over the seats. Somebody somewhere in the dark would be eating a bagel; often there would be couples who were not there to look at the screen. From all this, the film would climb out: a hand to the right of frame, embroidering the letter 'B'; music; a beautiful young woman gets off her large bed, adjusts her sari and goes out of the room, out to the top of some stairs and ticks off an unseen servant below; she comes back, she wanders between sumptuously appointed rooms, a slow billiard ball knocking gently into the soft sides of the confining table; the only thing that accompanies her are sounds from outside the frame, reaching us from different distances; she comes to a window and opens the slats to look down into the courtyard.
The other sounds added to the first few minutes of the film were from my friend muttering expletives of wonderment under his breath. After we watched Charulata, AV's arguments about Ray rapidly lost heft and velocity. In my mind, too, the film became a fulcrum for Satyajit Ray's work — there were the pre-Charulata films, and then the ones that came after. Whenever I've thought about Ray, this is the first film that comes into my mind, with all the other fantastic ones coming only after. Since that time in New York, I've seen the film a few times in different contexts, in theatres, on VHS and DVD, on TV, each time with something being added or taken away from the earlier viewings.
Recently, I watched the beginning of Charulata again, on an online cinema platform, and it was yet again a different experience. I realized that I was participating in multiple layers of nostalgia (in the most positive sense of the word), or, if not nostalgia exactly, then something adjacent: there is the period that is depicted around the year 1878, there is Tagore's framing gaze on that moment from 1901 when he writes his novella, then there is Ray's almost desirous, immersive reaching for that time through the act of turning the text into a film. This is followed by the instance that a viewer first sees the film, and hidden under each subsequent viewing there is the memory and, to use Milan Kundera's word, the litost, not just for 1878 or 1901, but also for 1964 and then for the moments of one's own earlier viewings.
Now, watching Charulata in the year of Ray's 100th birth anniversary, the first few minutes of the film are filled with booby traps, some good and some bad, some old and some brand new. For example, when you see the two zooms that bracket the first sequence, from when Charu leaves the bed and then the point where Bhupati walks past without noticing her, you wonder who digitally added them later and why. Even as you realize the camera movements were always there and it is you who is now over-allergic to them, you notice the painted backdrop outside the window as the two women's card game finishes and the kaal boishaakhi begins — who put that damn backdrop into my film?! But then you move on to other things. This is May 2021, and what else is Charu trapped in but a kind of isolation and lockdown? When Bhupati and Umapada argue about whether the newspaper should carry cheap gossip, or when Amal asks how a newspaper can criticize the government (with the sharp stress on the word 'sedition') it again rings very different bells from the ones that would have rung forty or fifty years ago. Leaving all this aside, when you come to the legendary shot of Charu's viewpoint from the swing, you now see it both for itself in all its glory but also in dialogue with other superb moments in cinema, for instance Agnès Varda's undulating camera in the music rehearsal in Cleo from 5 to 7 and Maria Schneider's girl suspending herself from the back of the car in The Passenger by Michelangelo Antonioni. As you look at the segment of road you can see from your window, with people passing very occasionally, you can swing between Charu and Durga and all the other great characters of cinema with whom they sit and laugh.