Walls in an abode of ideas
Slander against Amartya Sen by Visva-Bharati's officials is unbecoming of its legacy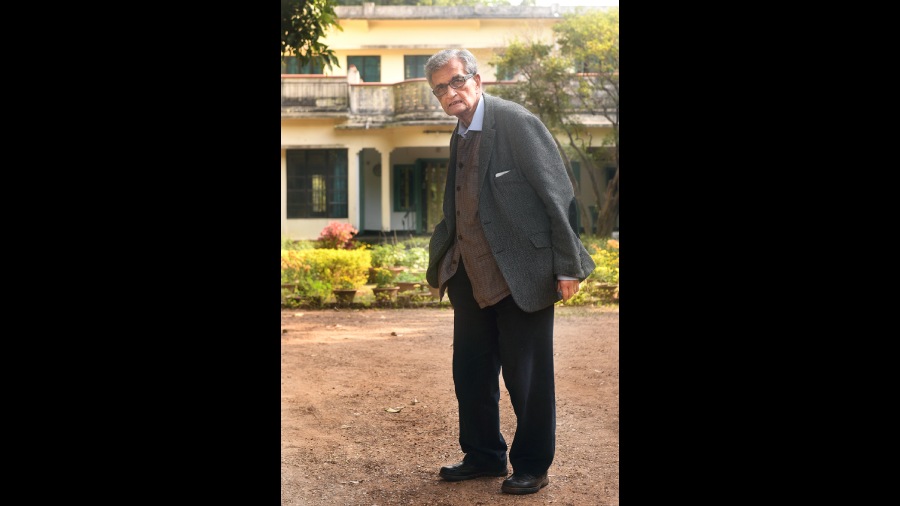 ---
Published 05.03.23, 04:08 AM
|
---
The Basanta Utsav — the festival of colours at Visva-Bharati University in Santiniketan — got converted into a closed affair a few years ago. The declared objective was the purported prevention of desecration of a place meant for knowledge by the external world. This festival had a long heritage of social gathering and shared joy. To me, this marked a moment of a great leap backward for a university born to foster the spirit of sharing and cultivating knowledge without boundaries. This journey backward has now degenerated into a sincere malady that regularly engages in a celebration named 'Sen slandering'  these days. To suggest that this metamorphosis suffocates the very tenets of an institution like the Visva-Bharati would be an understatement: the sad reality of the attacks on Amartya Sen is also shameful and unbecoming of the institution.
What we observe today is the culmination of a downhill course that began a good few years ago. The last couple of years have seen the university authorities successfully convert the campus into a space that is vibrant with everything but academics. The university has been gradually slipping in national rankings. It has also been abuzz with stormy conflicts between students-teachers on one side and the authorities on the other. A university once created with the vision of imbibing a spirit of learning through exchange is now a physically-fenced space with the objective of isolating 'intruders' and maintaining territorial sovereignty as its guiding principles. Having stripped the university of its laurels, its authorities have now demonstrated their incompetence, once again, by seeking to engage Professor Sen through a display of feudal might. Had he bowed down, it would have represented a moment of accomplishment for these forces. They would probably be happier if Sen, in dismay, decides not to share his thoughts about the direction that modern India is taking. That would not only reveal their mission of silencing dissent but also extend their moment under the spotlight of the media. Not to mention the glory of being able to castigate dissenters, no matter what their global accomplishments are.
Rabindranath Tagore had envisioned these structures in his drama,  Roktokorobi, when he wrote about the  Jokhhopuri. An arrogant  sardar, lacking all insight, relentlessly maintained territorial discipline inside the Jokhhopuri, taking orders from the king and announcing the caging of Ranjan, the symbol of justice. Ironic as it is, the 'Sen slandering' that the Viswa-Bharati authorities have engaged in over the last few years, particularly in the past few weeks, reiterates Tagore's concerns in Roktokorobi.
Professor Sen's 'sin' lies in the fact that he has been a consistent critic of the incipient, planned disintegration of the skeletal remains of Indian civilization at the hands of a religion-centric political force. Sen preaches of an India that is the inheritor of a historical-philosophical lineage that is much broader than what is being portrayed as the dominant discourse today with active patronage from the government. He expresses his thoughts and convictions clearly. This irks some as much as it enthralls many. In all his writings and speeches, Sen relentlessly talks of the need for arguments and debates in the process of attaining social justice. This is precisely the role that a public intellectual is expected to play in any society. Of course, he frequently steps beyond the narrow domains of the chalk circle the governors draw most opportunistically for delineating intellectual brevity. Such designs only favour the process of the domestication of intellectuals, as has happened fairly vigorously and successfully in India in the past few years. 
A perfunctory democracy has periodically frowned upon, drowned and incarcerated public intellectuals who have expressed spirited and divergent views, often labelling them inimical to the national interest. These are the popular methods of stigmatisation before lancing attacks are mounted. This is precisely what Sen has been experiencing at the present. These traits are generally born out of insecurity against public opinion and are characteristic of Macbethian dispensations.
It is evident that Visva-Bharati authorities today consider their job to be focused largely on one goal: proving that intellectuals like Sen are deceptive and anti-national. The university's attempts to impose its land-measuring tape over Sen's abode were symbolic of a mob trying to nail a priest who only cautioned and lit light in a haze while trying to rationalise the strengths and assets of an ancient civilisation that has weathered many a storm, a civilisation that has always advocated accommodation, as opposed to exclusion, of ideological opponents.
From being an institution of open learning and debate, Visva-Bharati today resembles an entity that is insecure and unsure of what it stands for and intolerant of the proponents of opposing ideas. Just as the world shuddered when Salman Rushdie's attacker was hailed, India is shaking in anger as dirt is being strewn across a green carpet in Santiniketan. It is time that creative pursuits prevail there over mercenary behavior and resurrect the tradition of harmony as well as peace without further delay.