The great divide
For virtual learning to thrive, it has to be transformed into a medium that encompasses the physical, social, emotional and mental well-being of students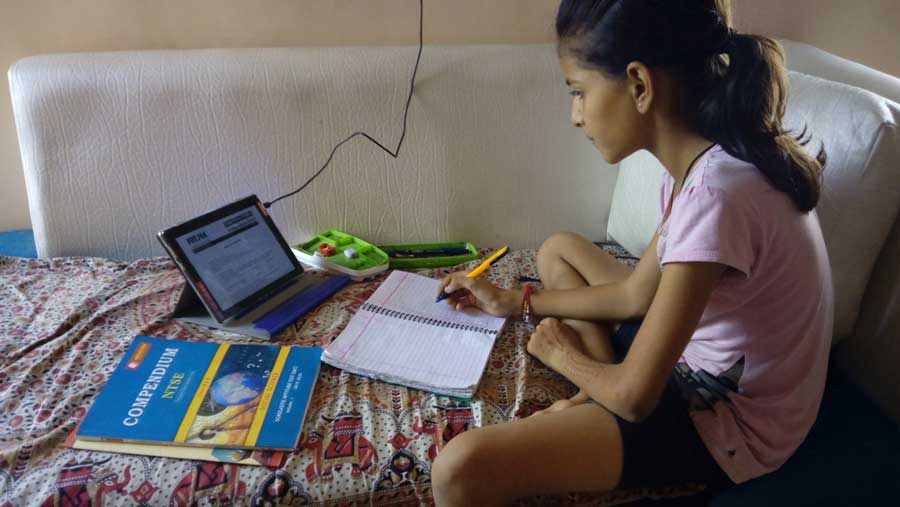 Representational image.
Shutterstock
---
Published 12.11.21, 01:18 AM
|
---
Education is integral to ensuring the holistic development of individuals. India is home to the world's second-largest schooling system; yet affordability of or accessibility to quality education is a distant goal. With the National Education Policy 2020, the Centre has set out to transform India's education system. However, the Covid-19 pandemic has turned out to be a major roadblock to this vision. In addition to exacerbating existing inequalities, it has catapulted divisions stemming from digital education, impacting learning curves worldwide. For a country like India with embedded socio-economic disparities, the cascading impact of learning loss induced by the digital divide is likely to be borne by generations to come.
I undertook a small research project with a team to analyse the impact of digital education on the learning curves of students enrolled in higher educational institutions. A conscious effort was made to examine the intersections among caste, class, religion, gender, sexual orientation and disability to bring marginalized narratives from the periphery to the centre.
Our research shows that the impact of online education on students' learning has been different for each student. A thorough analysis of data disaggregated by gender and caste of the respondents revealed that female students and those hailing from low-income families and tribal areas have been disproportionately affected.
With the closure of educational institutions, students had to make some life-altering choices. Privileged students had to adapt to online classes while others had to defer studies or drop out because of the lack of access to digital infrastructure. A number of students had to study while taking care of their families and managing household work.
'Peer learning', which promotes exchange of ideas, plurality of opinions and mental support among students, has been adversely affected by online learning. Escalated screen time has restricted the free flow of ideas, rendering learning soulless. The research participants shared how they were struggling to find value in e-classes which, in turn, affected their self-esteem.
One of the major recommendations that emerged from the study is the reopening of educational institutes and making virtual teaching accommodative and sensitive to the diverse needs of students. The spirit of inclusive education, an approach based on the principles of equity and justice that honour the heterogeneity of the student community, must, therefore, be adopted. Unicef has cautioned that about 10 million additional girls are at the risk of child marriage due to Covid. There must be collaboration to create a systematic pull for girls to return to the education system.
An uptick in vaccination numbers will allow the re-opening of schools and colleges. A research model for school reopening designed by Brian Wahl, Sandeep Krishna and Gautam I. Menon suggests that in-person schooling can proceed with caution and state-specific measures. The reopening of educational institutes can be expedited by such measures as mask-wearing, adoption of social-distancing and vaccination of adults.
Hyper-digitalization is a common theme in educational reform strategies. However, effective and sustainable implementation of such techniques is not followed up with zeal. As indicated by our research, the lacunae of accessibility to and affordability of online education infrastructure must be addressed urgently. Otherwise, the digital divide will widen, enhancing social inequities.
Rabindranath Tagore had described education as a process of enlightenment. For virtual learning to thrive, it has to be transformed into a medium that encompasses the physical, social, emotional and mental well-being of st