Using city roads is a danger to life and limb
Rapid, unplanned expansion of urban space may outpace the speed of designing methods of safety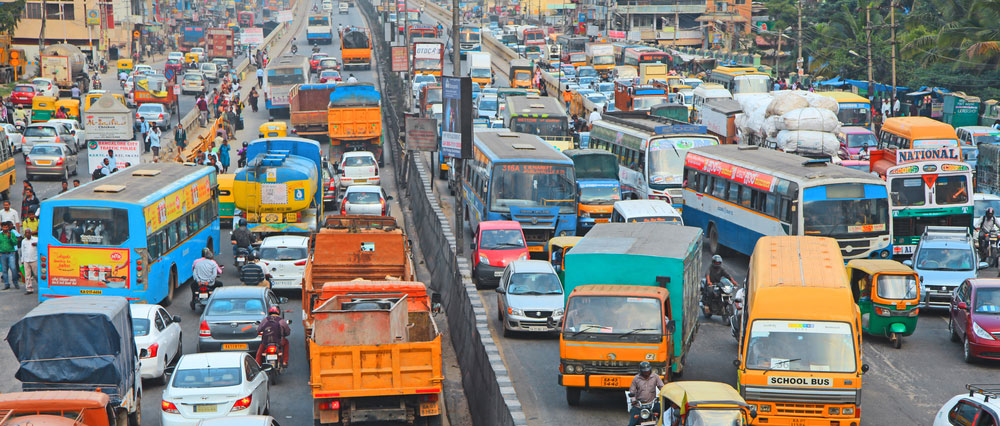 Road traffic in Bangalore. Rapid and unplanned expansion of urban space and the influx of increasing numbers of people may outpace the funds available and the speed of designing methods of safety
(Shutterstock)
---
Published 14.04.19, 04:53 AM
|
---
Roads in India cannot be called very safe. In 2016, the annual report of road accidents in Indian cities with populations over 50 million from the ministry of road transport and highways placed Calcutta fifth in a list headed by Chennai. According to that estimate, 1,317 accidents and 413 deaths occurred every day in the country. Studied closely, the reality is shocking. Sixty-nine accidents occurred in Calcutta between April 1 and 9, 2019; from the beginning of the year to April 9, the count is 579 accidents and 82 resulting deaths. Besides the tragedy and the horror of the events, there is likely to be some puzzlement too, for many feel that travelling around the streets of Calcutta has become a better experience than before. Obviously not.
As experts on road safety have pointed out, the problems that cities in developing countries face in ensuring safe road travel are often different from those of developed countries. Rapid and unplanned expansion of urban space and the influx of increasing numbers of people may outpace the funds available and the speed of designing methods of safety. All that is true of Calcutta, as it would be of many other Indian cities. In spite of improvements in the city, including better police monitoring — so eagerly implemented that cars not present at the site of the offence are occasionally penalized — upgraded signals, comfortable bus stops, bus lanes, overbridges and underground pedestrian passes, the roads are not accident-free. Certain old problems persist. Private buses still run on the primitive commission system that leads to dangerous speeding. Autorickshaws go by their own tribal rules. It has to be asked why successive state governments have let these pass. The other grave evil is, again, something for which the government or municipal authorities must be considered responsible.
That is the occupation of pavements by hawkers in the most crowded areas, which forces pedestrians on to the carriage way. And in spite of the government's hard line on the compulsory use of helmets on two-wheelers, some people get away scot free without bothering with it.
Additionally, new dangers have cropped up. The home delivery business has erupted in an army of delivery persons on two-wheelers, racing to get to their destination so as to maximize their orders for the day. It is not that the government is not trying to check this. But can the authorities, however efficient, do anything about people's recklessness? Whether with phones to their ear — drivers are penalized strictly for this — or blind to signals at crossings, or indifferent to frantically braking drivers as they saunter across with no warning, the people of Calcutta seem to be proud of their lack of discipline. Maybe a modern urban society is not to their liking.