US ready to spend summer travelling
AMERICAN DIARIES: Mixed emotions on Mother's Day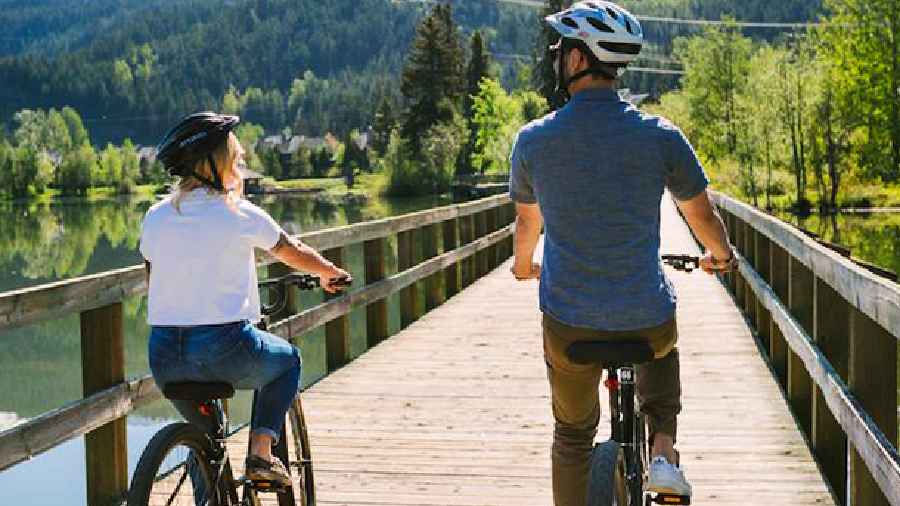 Expedia is calling 2022 the year of the GOAT, or the "greatest of all trips", as many feel that they have lost two years to the pandemic.
Representational picture
---
Published 21.05.22, 02:20 AM
|
---
Back on the road
With summer already here, people in the United States of America can now enjoy travelling freely for the first time since the relaxation of Covid-19 restrictions. According to research by the travel management company, Vacasa, Americans are planning to visit waterfront destinations or national parks this year. Kauai, Hawaii, and Whistler in British Columbia top the list. Airbnb also released a report based on the places people are booking homes and rentals. Long-term bookings are at their peak with more than half of the bookings being for over a oneweek period. The company found that people are seeking out unique places, such as castles, domes and farms, and are opting for special destinations more than ever before. Among overseas vacation spots, Venice (Italy) topped the list followed by Nassau (Bahamas) and Capri (Italy).  The popular vacation rental website has also released its strict anti-party policy for the Memorial Day weekend. Guests without a positive review will not be allowed to book an overnight stay during this time. The rule will apply to the 4th of July weekend as well.  Expedia is calling 2022 the year of the GOAT, or the "greatest of all trips", as many feel that they have lost two years to the pandemic. Whether one is planning to party, or just wants to stay put at home, the sentiment is understandable and felt by everyone. 
Mixed emotions
This year, Mother's Day, celebrated on May 8, was a combination of celebration and protest as a leaked draft document of the Supreme Court indicated that it could possibly overturn the landmark judgment, Roe vs Wade, that protects a woman's right to abortion in the US. Many organisations urged people to go on a strike on Mother's Day. People compared it to a strike that took place in Iceland in 1975 where women protested on the roads and decided not to cook, clean and look after children for a day.  While conversations on the implications of the court's possible decision still continue, others celebrated the occasion in the best way possible. Michelle Obama announced that she would be naming a new exhibit at the Obama Presidential Center after her mother, Marian Robinson. Unlike the usual discounts and freebies, there were some unique gestures by several brands. Mother's Day can be associated with anxiety and grief for some people. Thus, Etsy and Aesop sent out an email to everyone with the option to opt-out of Mother's Day promotional messaging. Holidays like Father's Day and Valentine's Day, too, can be similarly emotionally triggering.   According to the National Retail Federation, most people in America celebrate Mother's Day and spend about $245. The most popular gift for this occasion is jewellery. 
Unexpected gift
Every year in May, students graduate from college and gather in their institution's robes to celebrate with their peers. But this year, students of Wiley College in east Texas were in for a surprise during their commencement ceremony. Students were informed that an anonymous donor had paid off all their college debt. The college said that the estimated total debt is about $300,000. Wiley is a Historically Black College in the US, an accreditation given to a higher education institution that focuses on the education of Black Americans. These institutions were founded before 1964 (Civil Rights Act). "We are constantly communicating with donors to assist students in these ways so that they can begin their after-college experience with less debt," said Herman J. Felton Jr., Wiley's president and CEO.  Student debt is a significant issue in America, with students of colour owing more in debt than Caucasians. Many lawmakers have been urging the president to forgive student debt which currently stands at $1.75 trillion. 
Stand tall
New York City hosted its first Asian American and Pacific Islander Cultural and Heritage Parade last week. NYC has the second-highest Asian American and Pacific Islander population in the country behind California. The mayor, Eric Adams, noted how anti-Asian hate crimes went up by over 300% in NYC just last year alone following the rise in Covid19 cases.  The parade was celebrated by around 1,000 people who marched, danced and sang in traditional costumes. It featured 17 floats and included more than 150 groups. The organisers, Better Chinatown USA, have been trying to host this parade for years and finally received approval. The AAPI parade took place the day after the Japanese parade, which, too, was the city's first-ever celebration of Japanese culture and heritage.
Footnote
Cinco De Mayo is celebrated in May as well, which marks Mexico's victory over France on May 5, 1862. Celebrations in the US, where the holiday is more popular than in Mexico, are typically marked by tequila and tacos. It is often mistaken by Americans to be Mexico's Independence Day. In Mexico, the occasion is actually treated like a regular day. The president, Joe Biden, and the first lady, Jill Biden, hosted a reception at the White House Rose Garden with the first lady of Mexico, Beatriz Gutierrez Muller, in attendance.