Goodbye Donald, hello Joe
It's vital for New Delhi to remember that Biden will try and escape the shadow of Obama and carve out his own legacy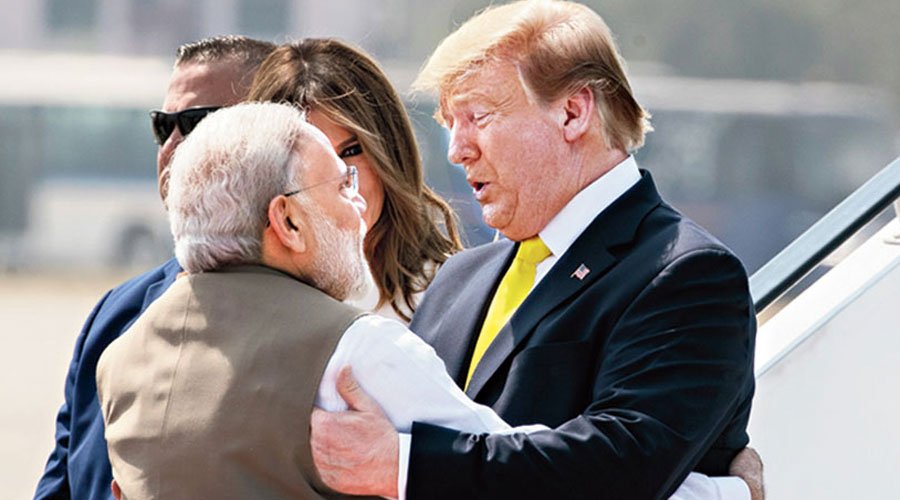 Modi hugs Trump in Ahmedabad.
AP File picture
---
Published 25.11.20, 12:05 AM
|
---
The US president, Donald Trump, still hasn't conceded the 2020 election — even though on Monday night he did give a go-ahead for a transition to President-elect Joe Biden. But his self-described "good friend", Narendra Modi, India's prime minister, was much quicker to jump ship. Hours after Associated Press called the election for Biden on November 7, Modi tweeted a congratulatory note to the former vice-president for a "spectacular victory". If that was a little over the top — Biden's win, while clear, was far narrower than what the polls had predicted — it was justified.
Modi has serenaded Trump for the past four years, seemingly even helping the outgoing US president woo Indian American voters through two joint rallies. The exaggerated reference to a "spectacular victory" was an important message to Biden: the prime minister's no-holds-barred hyperbole and attempts to charm American presidents are not reserved for any one leader.
That's particularly critical for the incoming Biden administration to know because while New Delhi would work with any occupant of the White House, the former vice-president's win is good news for India.
Like many other nations, India has suffered from Trump's volatile, unpredictable and transactional behaviour since 2016. Trump might call the president-elect "sleepy Joe", but India will settle for 'steady Joe'.
On the foreign policy front, Biden has affirmed that he will bring the United States of America back into the fold of the Paris climate change agreement. That's important for New Delhi because one of America's commitments under that pact involves the US helping finance the transition of emerging economies like India to cleaner technologies. More broadly, the US under Biden is expected to return to global institutions like the WHO that Trump had withdrawn from. Without the US, such multilateral institutions are dominated by China, which is not in India's interests.
Biden is also expected to review — if not reverse — the Trump administration's controversial peace agreement with the Taliban. It's unclear whether Trump will follow through on his threat to further cut US troop presence in Afghanistan and Iraq in January and whether Biden will send American soldiers back to those war zones. What is known is that Biden's administration, staffed and advised by traditional foreign policy experts and diplomats from the Barack Obama era, will be less willing than Trump to leave Afghanistan in the hands of the Taliban. Again, that's good for India, which would like the US troops to stay in that nation as a buffer against the Taliban and their backers in Pakistan's military.
With Iran, too, Biden's win could mean better days for India. A raft of rigid economic sanctions imposed on Iran by Trump have meant that India has effectively had to stall its promised development of the Chabahar port — a strategic investment by New Delhi to outflank China's Gwadar port in Pakistan. With India unable to pursue the port project, Iran had over the past year turned to China for help, much to New Delhi's chagrin. Biden's expected to return to negotiations with Iran, and potentially lift some of the sanctions imposed by Trump. Sure, New Delhi will need to win back Tehran's trust but that possibility at least exists.
India-US economic relations could also improve. Biden's unlikely to whimsically impose higher tariffs on Indian goods and New Delhi is hopeful that he will bring India back within the ambit of the Generalized System of Preferences. Under that system, India had benefited from preferential tariffs until Trump withdrew that protection.
But let's be clear: much of India's expectations are based on Biden's past positions. It's vital for New Delhi to remember that Biden will try and escape the shadow of Obama and carve out his own legacy. The deeply divided nature of American politics — a record 73 million people voted for Trump — means Biden will not be able to reverse all of the outgoing president's policies, and certainly not anytime soon.
Some of that could work to India's advantage. With Trump and Biden trying to outdo each other in recent months in showing who's tougher on China, it's unlikely that the president-elect will walk back on America's recent steps to strengthen strategic relations with India, Australia and Japan under their Quadrilateral partnership. 
There will be speed bumps. For one, expect Biden to gently raise Washington's concerns over India's crackdown in Kashmir with Modi. Vice-President-elect Kamala Harris has likewise critiqued the Indian government's positions on human rights in the past.
But those will not be too difficult to navigate unless the Modi government lets political ego interfere with the shared interests that bind India and America. Just as mistaking Trump for America was always an error, India's interests aren't identical to the political agenda of the ruling Bharatiya Janata Party.
New Delhi knows Biden and needs to cultivate Harris — who might be the front runner for the Democratic Party nomination four years from now. Trump made the mistake of thinking he's bigger than the system that brought him to power. Modi's unlikely to repeat that error.