Trump administration okays start of formal transition to Biden
President not talking of 'conceding', but asks officials to begin initial 'protocols' for hand over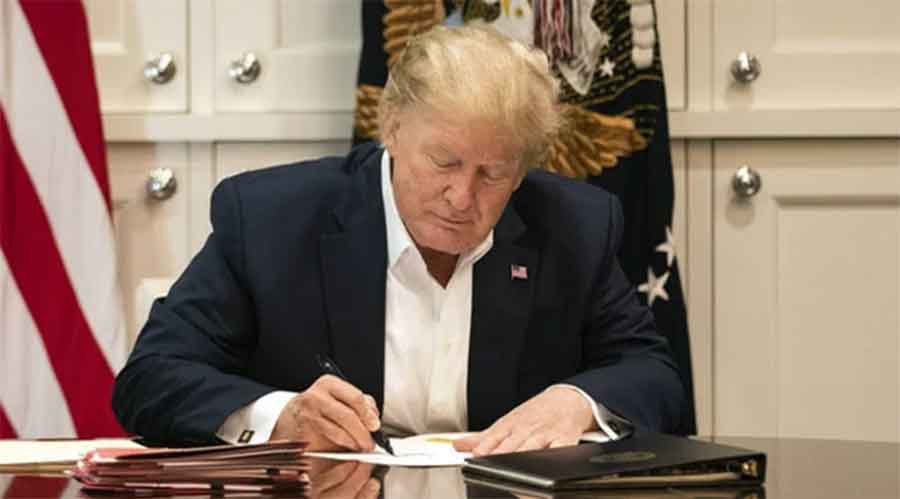 Donald Trump
Shutterstock
---
Washington
|
Published 24.11.20, 11:01 AM
|
---
President Donald Trump's government on Monday authorized President-elect Joe Biden to begin a formal transition process after Michigan certified Biden as its winner, a strong sign that the president's last-ditch bid to overturn the results of the election was coming to an end.
Trump did not concede and vowed to persist with efforts to change the vote, which have so far proved fruitless. But the President said on Twitter on Monday night that he accepted the decision by Emily Murphy, the administrator of the General Services Administration, to allow a transition to proceed.
In his tweet, Trump said that he had told his officials to begin "initial protocols" involving the handoff to Biden "in the best interest of our country," even though he had spent weeks of trying to subvert a free and fair election with false claims of fraud. Hours later, he tried to play down the significance of Murphy's action, tweeting that it was simply "preliminarily work with the Dems" that would not stop efforts to change the election results.
Still, Murphy's designation of Biden as the apparent victor provides the incoming administration with federal funds and resources and clears the way for the president-elect's advisers to coordinate with Trump administration officials.
The decision from Murphy came after several additional senior Republican lawmakers, as well as leading figures from business and world affairs, denounced the delay in allowing the peaceful transfer of power to begin, a holdup that Biden and his top aides said was threatening national security and the ability of the incoming administration to effectively plan for combating the coronavirus pandemic.
And it followed a key court decision in Pennsylvania, where the state's Supreme Court on Monday ruled against the Trump campaign and the president's Republican allies, stating that roughly 8,000 ballots with signature or date irregularities must be counted.
In Michigan, the statewide canvassing board, with two Republicans and two Democrats, voted, 3-0, to approve the results, with one Republican abstaining. It officially delivered to Biden a key battleground that Trump had wrested away from Democrats four years ago, and rebuffed the President's legal and political efforts to overturn the results.
By Monday evening, as Biden moved ahead with plans to fill out his Cabinet, broad sectors of the nation had delivered a blunt message to a defeated President: His campaign to stay in the White House and subvert the election, unrealistic from the start, was nearing the end.
Murphy said she made her decision Monday because of "recent developments involving legal challenges and certifications of election results," most likely referring to the certification of votes by election officials in Michigan and a nearly unbroken string of court decisions that have rejected Trump's challenges in several states.
In a statement, Yohannes Abraham, the executive director of Biden's transition, said that Murphy's decision was "a needed step to begin tackling the challenges facing our nation."
He added that aides to Biden would soon begin meeting with Trump administration officials "to discuss the pandemic response, have a full accounting of our national security interests, and gain complete understanding of the Trump administration's efforts to hollow out government agencies."
Trump had been resisting any move toward a transition. But in conversations in recent days that intensified Monday morning, top aides — including Mark Meadows, the White House chief of staff; Pat Cipollone, the White House counsel; and Jay Sekulow, the president's personal lawyer — told the president the transition needed to begin. He did not need to say the word "concede," they told him, according to multiple people briefed on the discussions.
Trump continued to solicit opinions from associates, including Rudy Giuliani, who told him there were still legal avenues to pursue, the people said.
Some of the advisers drafted a statement for the President to issue. In the end, Trump did not put one out, but aides said the tone was similar to his tweets in the evening, in which he appeared to take credit for Murphy's decision to allow the transition to begin.
"Our case STRONGLY continues, we will keep up the good fight, and I believe we will prevail!" he wrote. "Nevertheless, in the best interest of our Country, I am recommending that Emily and her team do what needs to be done with regard to initial protocols, and have told my team to do the same."
In a letter to Biden, which was first reported by CNN, Murphy rebutted Trump's assertion that he had directed her to make the decision, saying that "I came to my decision independently, based on the law and available facts." She said she was "never directly or indirectly pressured by any executive branch official — including those who work at the White House or the GSA."
"I do not think that an agency charged with improving federal procurement and property management should place itself above the constitutionally-based election process," she wrote, defending her delay by saying that she did not want to get ahead of the constitutional process of counting votes and picking a president.
Her letter appeared designed not to antagonize Trump and his supporters. In it, she did not describe Biden as the "president-elect" even as she said the transition could begin.
One associate with knowledge of Murphy's thinking said that she always anticipated signing off on the transition but that she needed a defensible rationale to do so in the absence of a concession from Trump; the pro-Biden developments in Michigan and Pennsylvania, as well as in Georgia, which certified Biden's win there Friday, provided a clear justification for moving ahead.
Additional reporting by Nick Corasaniti and Jim Rutenberg
New York Times News Service