Collaboration is not the BJP's strength
However, the Opposition's censure does not absolve the prime minister's opponents of their own responsibilities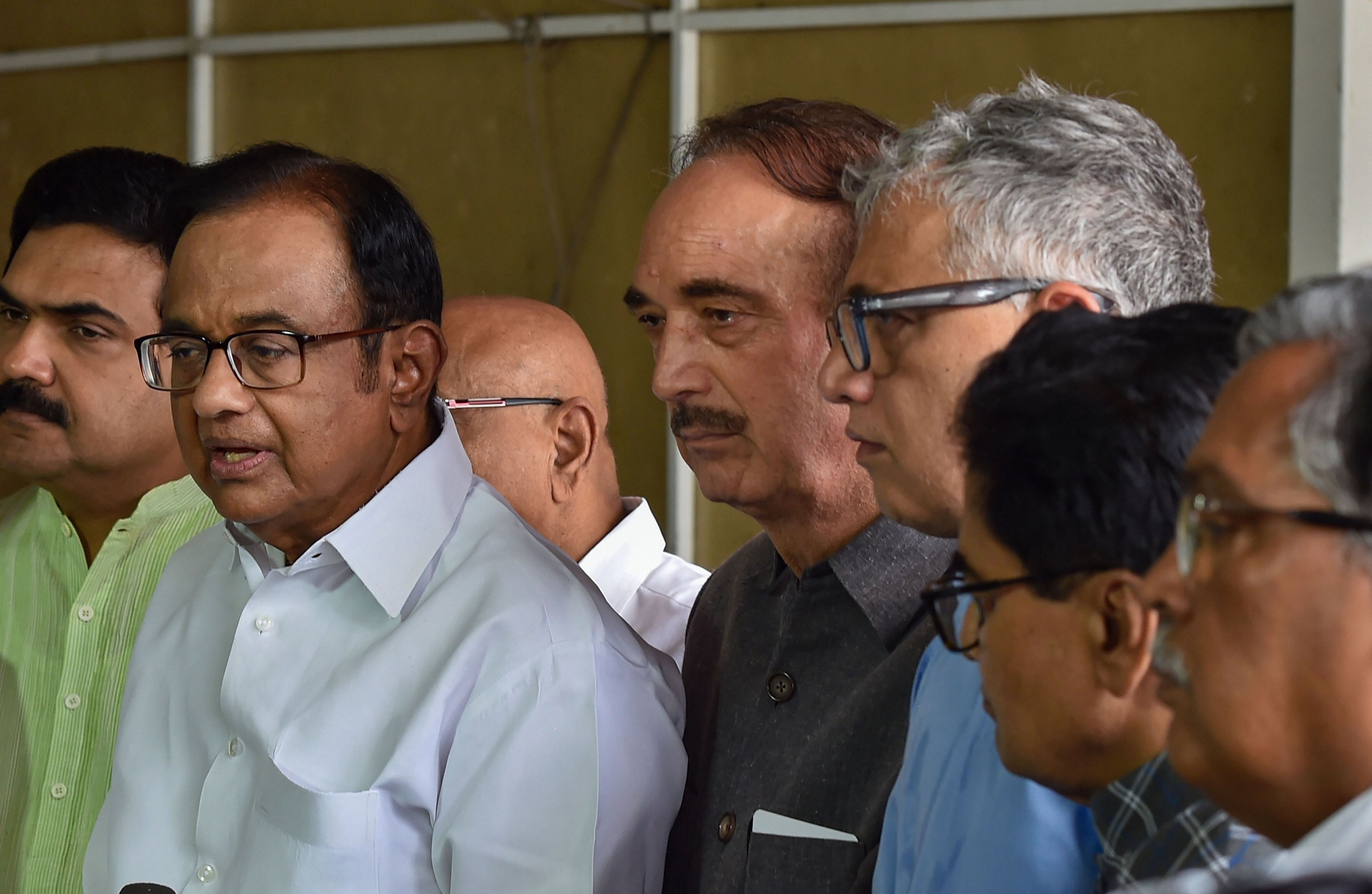 Ghulam Nabi Azad, leader of Opposition in the Rajya Sabha (centre, in black) and others look on as Congress leader P. Chidambaram (to his right) addresses the media regarding the Union government's move on Article 370, at the Parliament in New Delhi on Monday, August 5, 2019.
(PTI Photo)
---
Published 06.08.19, 03:36 AM
|
---
The irony is telling. The need for contemplation seems to have acquired considerable urgency in this Age of Instantaneity. The controversy over the Centre's haste in passing crucial bills has directed public attention to this vexing question. The Opposition claims that it has credible evidence of the tearing hurry that the Bharatiya Janata Party is in when it comes to getting legislations passed. Sixty-one per cent of bills, parties in Opposition argue, were referred to committees in the 14th Lok Sabha. The figure rose to 71 per cent in the 15th Lok Sabha. The BJP, incidentally, did not occupy the Treasury bench on either occasion. However, the percentage of bills being referred to committees fell to 26 per cent during the first term of the Narendra Modi government. It has been reported that the 17th Lok Sabha is yet to refer a single bill to any committee; Mr Modi and his party are certainly advocates of scorching pace. Deliberation — not delay — is one of the pillars of law-making. The merit of bills must be discussed threadbare for the welfare of the citizens. In its haste to make laws, good and bad, the BJP — it has a comfortable majority in the lower House — seems to have lost sight of the need for such scrutiny. Collaborative examination must remain integral to law-making. But collaboration, the fount of the democratic ethic, is not known to be the BJP's strength. In fact, the party appears to be keen to convey the impression to the people that it is the minder of a productive Parliament. Productivity, in the BJP's vision, pivots on volume. The number of bills passed is thus more important than the standards of their assessment. The Opposition's grievance — the chairman of the Rajya Sabha has dismissed the allegation — is, therefore, well taken.
But the Opposition's censure does not absolve Mr Modi's opponents of their own responsibilities. The passage of the bill on instant triple talaq exposed the poor coordination among Opposition parties. The bill may have been listed at a late hour — the BJP had apparently agreed to send it to a select committee initially — but it was the government and not the Opposition that succeeded in mobilizing the numbers necessary for its passage. There were numerous abstentions during the vote that the government won by a margin of 15 votes. Is there then reason to believe that what has made it easier for the Centre to push bills — and its agenda? — is the existence of a demoralized, depleted and divided Opposition?