Uighurs in China: Should we believe what we see?
Those who have fled detention centres describe oppressive conditions, but visitors see inmates laughing and learning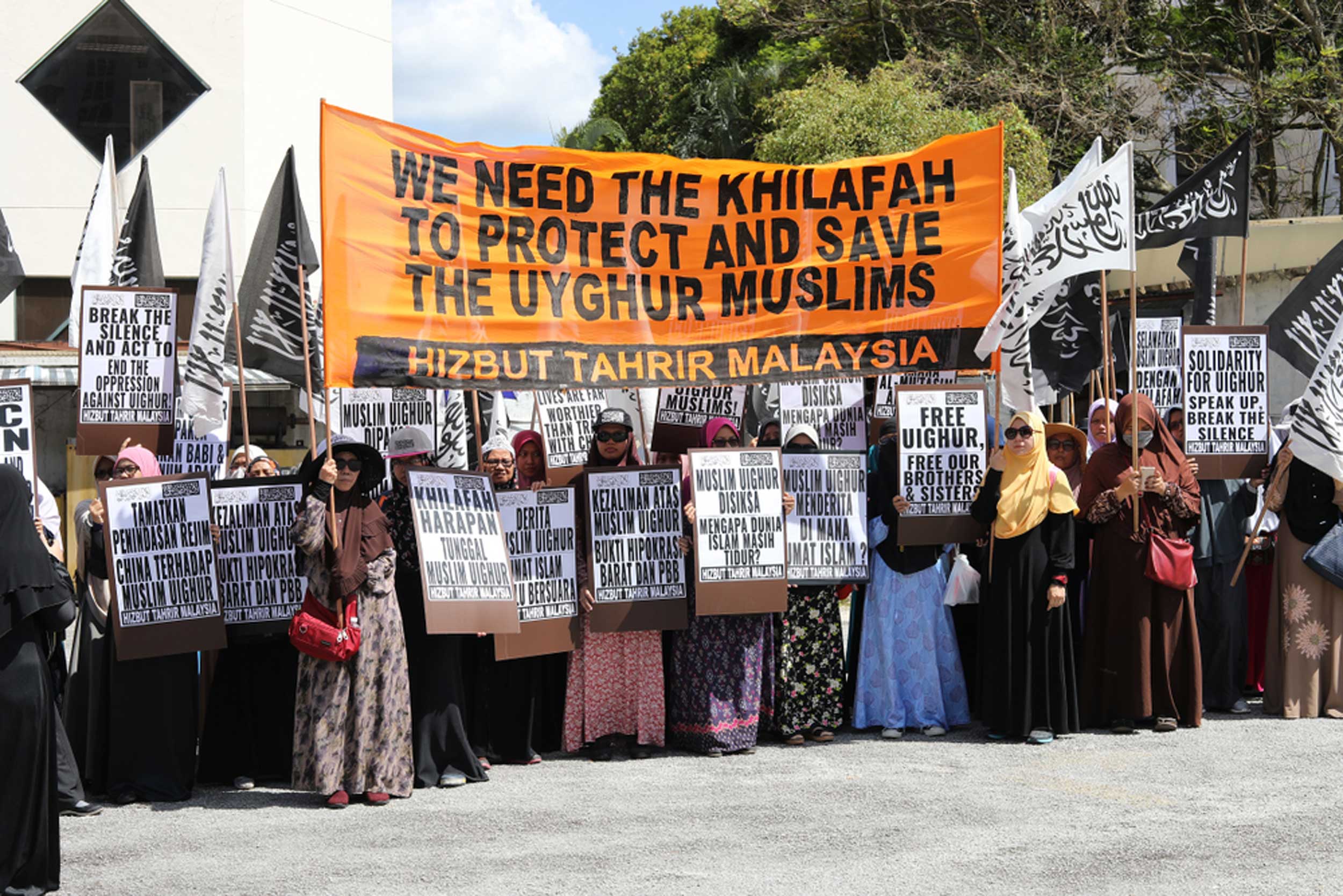 Malaysian women hold banners in support of Uighur Muslims in Chinese detention and political indoctrination centres, in Kuala Lumpur, on December 11, 2018.
(Shutterstock)
---
Published 05.03.19, 06:50 AM
|
---
What is real and what is fake in news coming out of the Muslim-dominated province of Xinjiang is difficult to find out. Through January and February, diplomats and journalists from 30 countries, including India, visited the restive region, home to a violent separatist movement.
The foreign visitors were taken inside Xinjiang's notorious camps where Uighurs are detained for months till they accept the Communist Party's ideology. Those who have managed to flee have described the oppressive conditions inside: the overcrowding, the contempt for anything traditionally Uighur or Islamic. But photographs in State-run newspapers of these foreigners' visits showed inmates laughing with the visitors; or seated in classrooms learning Mandarin or vocational skills. At one camp, the inmates danced for the visitors to the tune of "If you're happy and you know it, clap your hands."
Some inmates even told the visitors they had approached these "vocational education and training centres" — the official term for these camps — on their own. All of them said they had viewed and forwarded jihadi videos on the internet. These videos had made them hostile, even violent, towards non-Muslims. One man said he stopped sending his kids to school and beat his wife when she objected.
Concerned at these changes, family members and friends had reported them to village officials or the police. Informed that forwarding such videos was a crime, they applied to be admitted to these centres. "Had I not done so, I would have become a terrorist," said one woman. Once they are proficient in Mandarin, China's laws and a vocational skill that would help them earn, they would be able to leave the centre, they told the foreigners.
The delegates were also taken around Xinjiang. Curiously, wherever they went, they found Uighurs busy playing traditional musical instruments or dancing and chatting with Hans, the majority race in China, who have been systematically settled in Xinjiang.
In contrast to this propaganda was the blog by a Han student about her holiday in Xinjiang last October. She went as a curious tourist; her experiences there shook her. It was the National Holiday week; outside every house was the national flag. The red flags, the security men and machines everywhere, the uniformed vigilante groups of local businessmen patrolling with long bats marred the "vibe" of the local architecture, she wrote.
The blog also described her meeting with two young Uighur civil servants. Shocked by their choice of jobs, she found, after spending time with them, that their concerns were no different from any Chinese youngster trying to make a career. In fact, one of them who taught Mandarin to his fellow Uighurs was convinced that this would help them get jobs and avoid extremism.
Everywhere, there were separate queues for Uighurs and outsiders. Uighurs had to get their identity cards checked at every point. But "thanks to my Han face, I could start my trip as a typical, carefree tourist," she wrote.
What chilled her to the bone was an encounter with a Han cop curious about what she was doing in this disturbed region. When she gushed to him about the local architecture, he replied: "Do you really think the architecture is pretty? These are Uyghur-style buildings. We are against that." As they chatted, he grew suspicious, even doubting that she was a student in spite of having seen her ID card. Back in her hostel room the girl was full of "terror and guilt". How did the Uighurs cope with the "atmosphere of control" all the time, she wondered.