Two to tango: Is the India-US tariff talk a charade?
While objecting to India's tariffs on its goods, the US is also tempting India with investment promises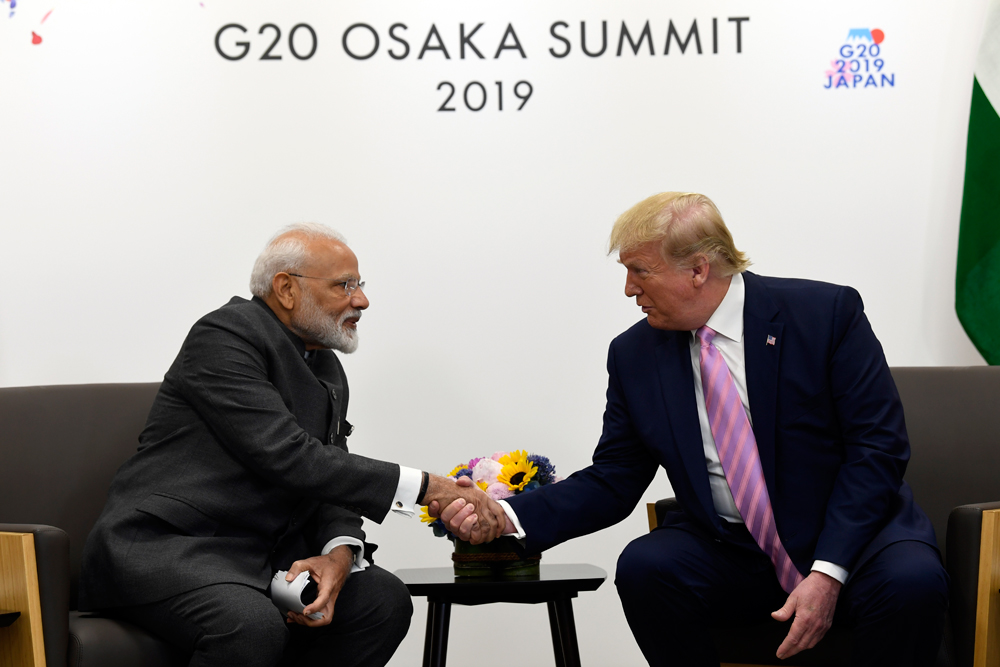 Prime Minister Narendra Modi and President Donald Trump meet on the sidelines of the G-20 summit in Osaka, Japan, on Friday. Trump spoke about a massive trade deal with India without spelling out any details
AP photo
---
Published 29.06.19, 02:46 AM
|
---
The president of the United States of America, Donald Trump, has started to ratchet up pressure on India to roll back the tariffs that India imposed on 28 American products in retaliation against Washington's withdrawal of duty benefits on 1,784 Indian products covered by its Generalized System of Preferences. Mr Trump can brook no one who chooses to stand up to him. His latest outburst against India — through a tweet ahead of this weekend's G-20 summit in Osaka — will put enormous pressure on Narendra Modi, who must stand up to a bigger bully if he wants to make any show of protecting India's economic interests. The trade spat between the two nations is over a minuscule part of their overall trade. The preferential terms under the GSP regime enabled India to export $6.3 billion worth of goods to the US duty free, just over 12 per cent of overall exports to the US. India's retaliatory tariffs on US goods will yield additional revenue worth $217 million, which is a tiny fraction in the context of bilateral trade between the two nations.
But this raises a question: is this an elaborate charade that the two sides are playing in an attempt to extract bigger benefits in a game of higher stakes? The US secretary of state, Mike Pompeo, was in Delhi earlier this week where he held out the prospect of massive investments into India. He claimed that American investors were sitting on the sidelines and had a cash trove worth trillions of dollars that they intended to shovel into the Asia Pacific region. The Americans find themselves stymied as their trade row with China escalates. India offers a huge market for American products. Mr Trump cut back on his rhetoric as soon as he reached Osaka and spoke about a massive trade deal with India without spelling out any details.
The US is hoping that the blandishments of big investments and a trade deal are just the sort of bait that Mr Modi may find very compelling, especially as his government grapples with the challenge of reviving a slowing economy and finding the cash to kick-start the investment cycle. The strong election mandate clearly shows that the Indian voter has been more tolerant of Mr Modi's shortcomings and his failure to create jobs or deal with the agrarian crisis. But voters' patience will wear thin if his government is not able to quickly cobble together a new deal for a New India. The over-hyped Make in India programme has failed to yield any results. The new administration is now scouting for ways to revive investor interest in special economic zones — the large enclaves that the Congress-led United Progressive Alliance government had hoped to turn into bustling hubs of industrial activity. It is significant that the first legislation of the new Modi government was to amend a law permitting trusts to set up these SEZs. These enclaves could be a magnet for investments either from the US or China and blunt criticism of jobless growth during Mr Modi's first term in office.