Truth sometimes is stranger than fiction
Nothing is impossible in the post-truth world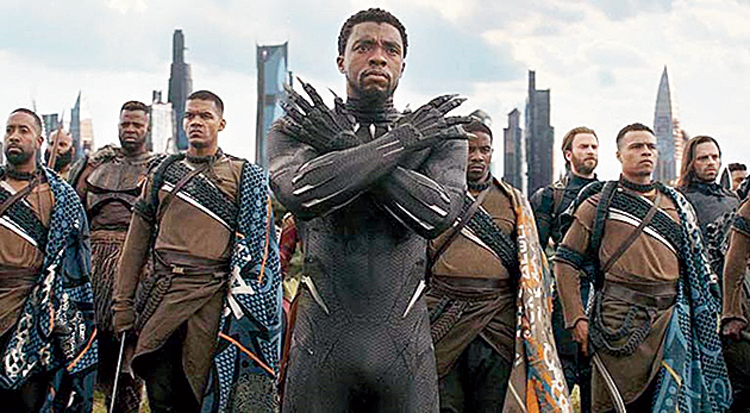 A still from 'Black Panther'
Source: The film
---
Published 20.12.19, 06:58 PM
|
---
Sir — Angering the Black Panther might not be a good idea — after all, the fictional superhero and chieftain has at his command a vast army of warriors. One wonders what T'Challa will have to say about his nation being dropped from an online list of nations that have free trade agreements with the United States of America. Will Wakanda now be added to the list of nations that the US is in a trade war with? Nothing is impossible in the post-truth world, but the goings-on in America can put even master creators of fictional worlds to shame. Is this why they say truth is stranger than fiction?
Roshni Sen
Calcutta
Steep fall
Sir — The article, "Story of horror after unspeakable horror, peace icon unmoved" (Dec 16), was a stark indictment of Aung San Suu Kyi, the state counsellor of Myanmar. The devastating atrocities against the Rohingya Muslims, a minority community in Myanmar, are indefensible. Yet, Suu Kyi chose to defend the very military that had kept her locked up for a total of 15 years in the International Court of Justice. Her defence that the prosecution had given an incomplete and misleading picture of the situation, and that social harmony prevailed in her country did not fool anyone in the audience. Suu Kyi, a recipient of Nobel Peace Prize and once an icon of human rights, has fallen from grace. Did she stoop so low only to hold on to power in a Buddhist-majority Myanmar. Whatever the court decides, her image has been changed in the eyes of the world forever.
Jahar Saha
Calcutta
Sir — Aung San Suu Kyi's decision to defend the violence against the Rohingya is tantamount to a tragedy. Once a strong voice against oppression and subjugation, Suu Kyi has now become an apologist of genocide that the Myanmar army unleashed against the Muslim Rohingya community. Her silence amounts to tacit consent. Is it the greed for power that has changed Suu Kyi?
It is unbelievable that she defended those very generals at the ICJ who had tried their best to muzzle her. Instead of defending the military junta, Suu Kyi ought to stand by the persecuted community and try her utmost to halt ethnic cleansing that has stirred the global conscience. Even Gambia, a tiny nation far away from the region, has decided to raise its voice.
Aranya Sanyal
Siliguri
Sir — Aung San Suu Kyi sacrificed her freedom and braved the bereavement of her closest kin in order to achieve civilian rule in Myanmar. In recognition of her sacrifices, she was awarded the Nobel Peace Prize. Her struggle fructified and civilian rule was established in her country in 2011 onwards.
But the subsequent behaviour of Suu Kyi has been inexplicable. Either power has gone to her head or she is being coerced by the military to turn a blind eye to atrocities against Rohingyas. On top of her silence over the torture of her countrymen, she is now leading the defence against these in the ICJ. She does not deserve her Nobel. If there is a provision to rescind the prize, Suu Kyi's name should be considered by the Nobel committee for the purpose. The peace prize is the last thing that the head of Myanmar deserves.
Sanjit Ghatak
South 24 Parganas
Fly high
Sir — It was heartening to see the picture of the soaring Himalayan griffon released from Rajabhatkhawa after long and arduous efforts at conservation ("Set free, captive vultures soar into air", Dec 18). The Bombay Natural History Society and the Buxa Tiger Reserve deserve to be lauded for their success.
However, conservationists can never rest on their laurels. Only successfully banning diclofenac can save the endangered species of vultures. Efforts at conserving vultures will only bear fruit if enough birds survive without encountering the killer drug. In our childhood, vultures were a fairly common sight. But those days are long gone. Sanctuaries and museums are among the only places where these majestic scavengers can be spotted anymore.
Dyutiman Bhattacharya
Calcutta