Tragedies waiting to happen
The jumble of wires not only make the city look ugly but are also a death trap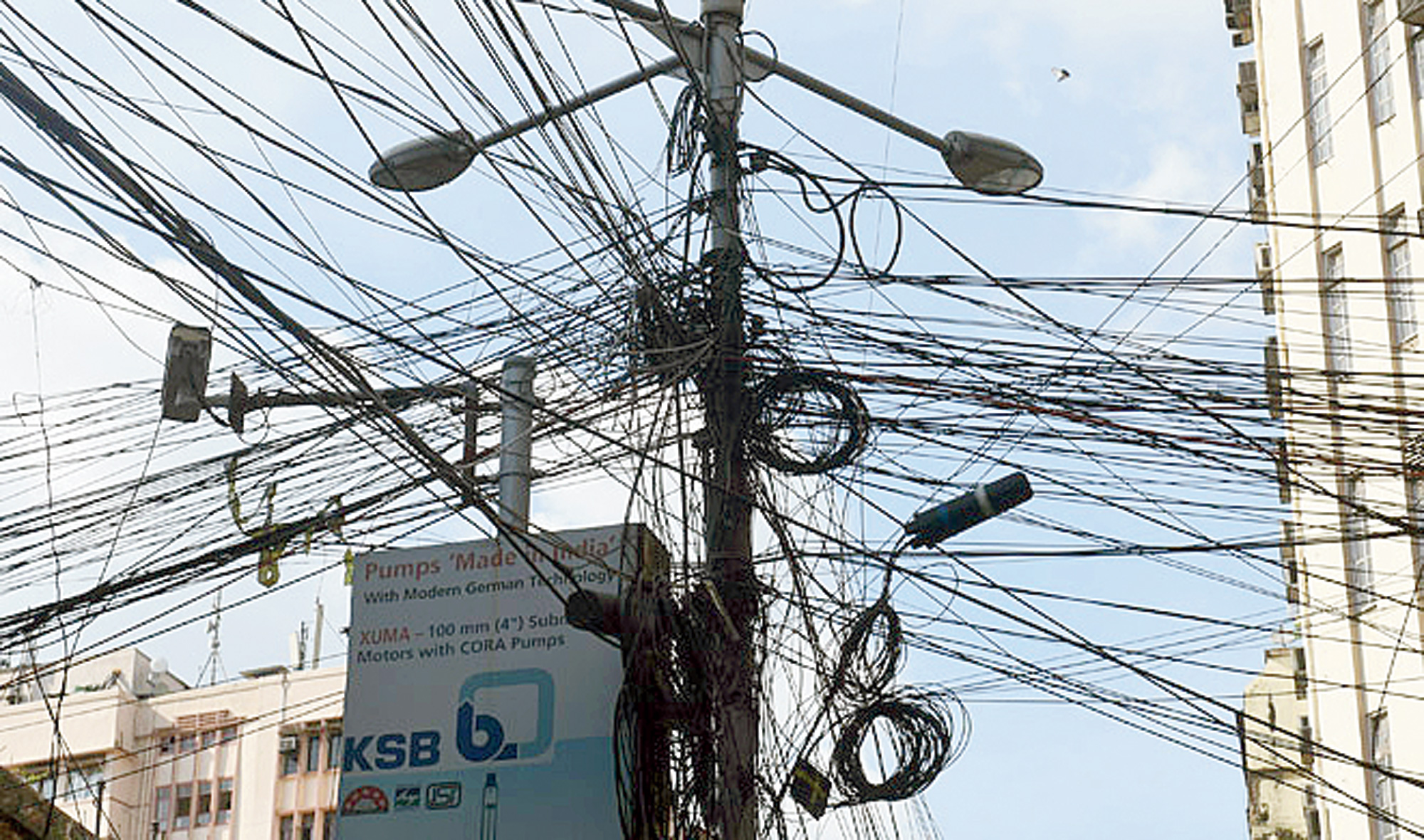 Calcutta mayor Firhad Hakim seems intent on making a fresh start: he has issued an ultimatum to cable operators and internet service providers to remove inoperative overhead cables within seven days
The Telegraph picture
---
Published 07.03.19, 05:06 AM
|
---
Sir — Imagining Calcutta's skyline without overhead wires or cables is difficult. In spite of several attempts made in the past, the result has been far from desirable. But the mayor of Calcutta, Firhad Hakim, seems intent on making a fresh start. He has issued an ultimatum to cable operators and internet service providers; they were asked to remove inoperative overhead cables within seven days. The jumble of wires not only make the city look ugly but are also a death trap. Several people have been electrocuted after coming in contact with these wires. Hopefully, Calcutta would be able to catch a glimpse of the sky from now on.
Saikat Sinha,
Calcutta
Message of peace
Sir — A heartfelt welcome to Wing Commander Abhinandan Varthaman ("Pilot back after suspense & tape", March 2). Although Pakistan's foreign office referred to Varthaman as a prisoner of war, it was astonishing that he was apparently treated with dignity and in line with international laws. Varthaman's release has been claimed as a victory of sorts by both countries. While Islamabad has projected itself as the side which has done the right thing, New Delhi seems keen to convey that its tough stance compelled Pakistan to take this step. However, this is the perfect opportunity for both India and Pakistan to de-escalate tensions. Let this be the beginning of a new era of peace and harmony.
People should realize that the coming together of the two nations can generate unprecedented benefits for both countries. It is time that the Narendra Modi-led government took the first step of friendship towards its neighbouring country. Imran Khan has promised to take two steps for every step that India takes. The prime minister of India should not try to gain political mileage from this episode and instead put in efforts to maintain peace in the region.
Bidyut Kumar Chatterjee,
Faridabad
Sir — Hats off to Abhinandan Varthaman for his valour. Further, India's air strike in Balakot has sent a strong message to Pakistan. It has been made clear that terrorism will not be tolerated in New India. This is what seems to have prompted the talk about peace and de-escalation of tensions.
Significantly, even the Organisation of Islamic Cooperation did not bend to Pakistan's threat of boycotting a meeting if the Indian minister of external affairs, Sushma Swaraj, was present. Pakistan has thus understood India's diplomatic prowess.
Mihir Kanungo,
Calcutta
Sir — Indians were relieved to see Abhinandan Varthaman return to the country. Varthaman has made us proud with his fortitude. While India is said to have put pressure on Pakistan to facilitate Varthaman's release, it cannot be denied that this is a diplomatic win for Pakistan. It knew that anything else would have led already aggravated tempers to flare and made reconciliation difficult. Varthaman's release, therefore, came at a crucial time, ensuring that the two nations find common ground to open dialogue.
Ranganathan Sivakumar,
Chennai
Sir — The spirit of patriotism shown by Abhinandan Varthaman must be lauded. He is even said to have tried to swallow some documents to prevent sensitive information from getting into the wrong hands. His release is heartening.
Prabir Kumar Naskar,
Baruipur
Unhelpful hand
Sir — A survey by a non-governmental organization has found that 84 per cent people do not know about the Good Samaritan laws that protect passers-by who help victims of road accidents. The government's casual attitude is partly to blame for this lack of awareness. It is important to raise awareness about this law through campaigns, which will motivate people to help victims of road accidents to the best of their abilities. Unfortunately, people still fear the consequences of taking accident victims to the hospital such as harassment by the police.
Further, most accidents in India occur because of the carelessness of drivers or pedestrians. One way of preventing them is by bringing more stringent laws and instituting harsher penalties. Another reason behind accidents is the inadequacy of street lights. The authorities must remedy this at once.
Kiran Agarwal,
Calcutta
Sir — The existence of Good Samaritan laws notwithstanding, bystanders who help accident victims still have to face a barrage of questions from doctors and the police. These professionals should be educated about the laws as well.
Raunak Mallick,
Calcutta