A medal for your dreams
The bigger challenge that Hend Zaza of Syria faced and overcame was training and qualifying for the Olympics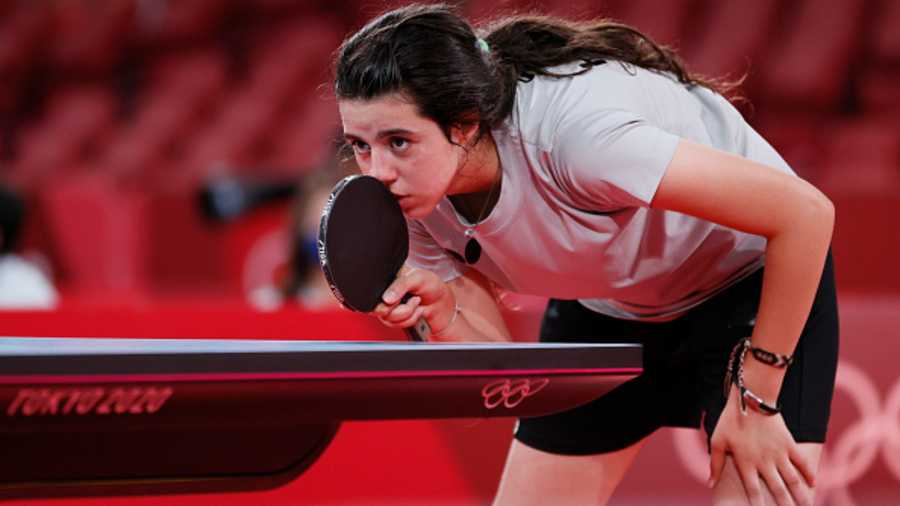 Hend Zaza of Syria lost in the table tennis preliminaries to the Chinese born Austrian Liu Jia.
Getty Images
---
Published 01.08.21, 12:16 AM
|
---
Mary Kom's loss in Tokyo last week was heart-rending for many in India, and perhaps for good reason. But not all losses are defeating. Hend Zaza of Syria lost in the table tennis preliminaries to the Chinese born Austrian Liu Jia. Zaza is 12 to Jia's 39. But the bigger challenge that Zaza faced and overcame was training and qualifying for the Olympics, belonging as she does to a war-ravaged country. Hama city, where she is from, is known for the Islamic uprising of the 1980s and the massacres that followed. There was also the siege of Hama in 2011 that led to the deaths of a number of civilians at the hands of security forces. Unfit training conditions, rag-tag infrastructure, inability to participate in international competitions for visa issues, postponed funding were some of the other things Zaza faced. She said after she lost, "Fight for your dreams, try hard…"
Map pointing
Not many would be able to find Benin on a map, but there it is, a fist-shaped republic in West Africa. Privel Hinkati became the first rower to represent Benin in the Olympic Games at Tokyo. Hinkati lost last week, but remained a winner. In Benin football and basketball are popular sports, but it was through Hinkati's efforts that the country got itself a rowing federation in 2012. Crowdfunding paid for his training and equipment, still he failed to qualify for the Rio Olympics in 2016. This is what he said about the time he qualified for the 2020 Olympics, "I kept rowing past the finish line. I kept rowing towards the second and third rings. I didn't want to take any chances. I just wanted to be sure. It wasn't until the announcer said, 'Everyone must stop now' that I stopped."
Nobody's Champion
Cyclist Masomah Ali Zada finished 25th out of 25 athletes in the women's individual time trial at the Olympics, but you wouldn't know that from her demeanour. Ali Zada, who is part of the Refugee Olympic contingent, and her sister met with serious disapproval and even death threats in their home country of Afghanistan when they took up cycling. In 2017, the family found asylum in France, where the sisters continued to train. After her loss, she said, "I'm already a winner against people who think that women don't have the right to ride a bike." Coming back to India, it seems Mary Kom hasn't ruled out participating in the 2024 Paris Olympics, if the rules permit. But no matter if the rules don't, as Rajya Sabha member too she can play some power packed bouts.