The unbearable burden of expectations
Those who impose unreasonable ambitions on their children should remember they are courting disaster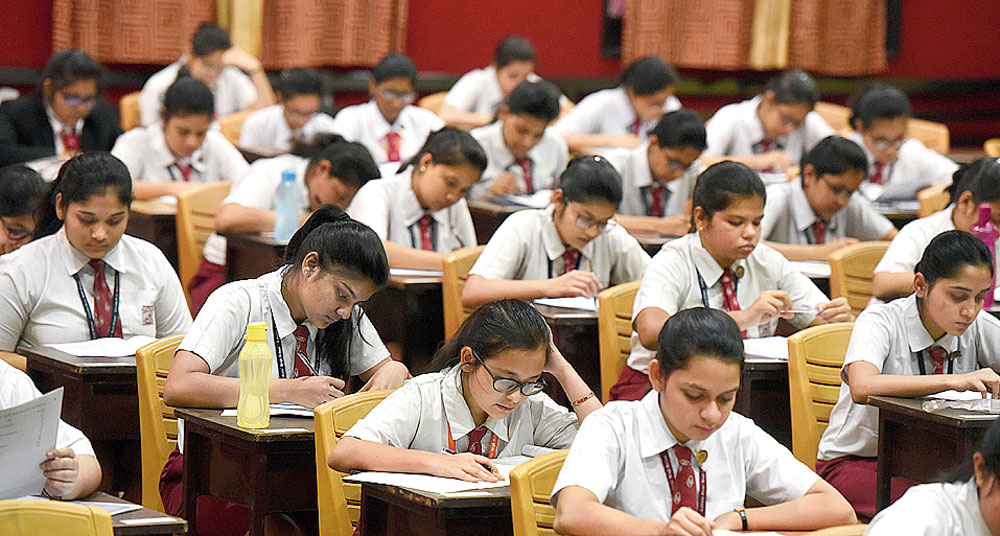 ---
---
Parting shot
Sir — The Periodic Labour Force Survey by the National Sample Survey Office, which showed that unemployment has reached a 45-year high, is alarming. The Bharatiya Janata Party-led government's tall promise of creating employment was a gimmick. But slow growth and unemployment had haunted the country even under the previous Congress-led regime. In fact, that is what led to the BJP's rise. Therefore, the Congress cannot put the entire blame on the BJP.
However, this does not abdicate the BJP of its failure to generate employment. The recent catastrophe in the agrarian, informal, and medium and small enterprises sectors is a direct fallout of the present dispensation's imprudent policies. Large-scale private investment is the need of the hour. This has more chances of creating employment opportunities. The new government should provide a conducive environment for private investments to flourish.
Chanchal Nandy,
West Burdwan
Sir — A girl studying in Class IX felt that she could not go back home and face her parents after receiving marks that she thought would not meet their expectations ("Girl meets Good Samaritans", March 24). The girl's parents should consider themselves lucky that she encountered the nice couple who took her home, counselled her and then took her to the police station so that she could be returned to her parents. One shudders to think that the young girl was sitting alone at Prinsep Ghat. This is highly unsafe.

It is not uncommon to hear that children have taken drastic decisions, even committed suicide, because of low marks. It is parents who are to blame for this. They constantly egg their children on to take part in a rat race and even engage in unhealthy competition with other parents about whose child is the better performer. This is what gives children the impression that they need to be the best in order to please their parents. Nothing but high scores in exams seem important to parents. But those who impose unreasonable ambitions on their children should remember they are courting disaster.
Sanjit Ghatak,
South 24 Parganas
Sir — The girl who did not return home because she thought her mother would be unhappy with her marks is one among the many who feel forced to take dangerous steps under the burden of expectations. Students are not the only ones to feel this way either. This anxiety — prompted perhaps by the Darwinian idea of the survival of the fittest — is the cause of many diseases. Few people realize that marks and other material things matter little in the long run.
It is true that hard work and tenacity can help people achieve their goals, failure to reach these should not be taken as the end of the world. It is the duty of parents to teach their wards this. They should encourage children irrespective of how much he or she has scored in exams.
Further, the couple who took the girl in should be lauded. If all citizens were similarly helpful a lot of lives could be saved.
Asit Kumar Mitra,
Calcutta
Sir — While no praise is enough for the couple that came to the help of a forlorn little girl, one cannot agree with the way they chose to help her. The couple should have tried contacting the girl's parents or the police instead of keeping her at their house for three days. Did they consider how worried the parents whose daughter was missing for three days must have been? It was also surprising that the girl trusted strangers who might easily have harmed her. It is possible that she was under so much stress that she failed to decide what is right or wrong before accompanying the couple to their home.
In this era of stiff competition, students already find themselves under tremendous pressure to do well. It is important that parents support their children and guide them. Growing children are often given counselling these days; parents, too, should be counselled so that they gain a better understanding of their wards, especially during the teenage years.
Kiran Agarwal,
Calcutta
Sir — It is sheer luck that the Class IX girl encountered Good Samaritans and not rogues at Prinsep Ghat. While the couple should be commended for their kind gesture, it is worrying that the girl readily went home with them. Was she not warned against trusting strangers? Moreover, the couple, too, should have alerted the parents. One cannot imagine the agony that the latter must have gone through in the three days when their daughter was missing.
Uma Das,
Calcutta
All aflame
Sir — The bright, reddish-orange flowers of the rudra palash are omnipresent at the beginning of summer. Few would know that the species was brought to India from Africa by the British colonialists. Its status as an invader species notwithstanding, it makes for a delightful sight. The open flowers are cup-shaped, making them attractive to birds and bees. In a skyline that is increasingly being taken over by skyscrapers, the fiery blooms of rudra palash, ashok, simul, krishnachura provide a soothing break for our tired eyes.
Dyutiman Bhattacharya,
Calcutta