The swelling numbers of first-time voters are heartening
There is a growing political consciousness among young people, who are eager to vote to effect change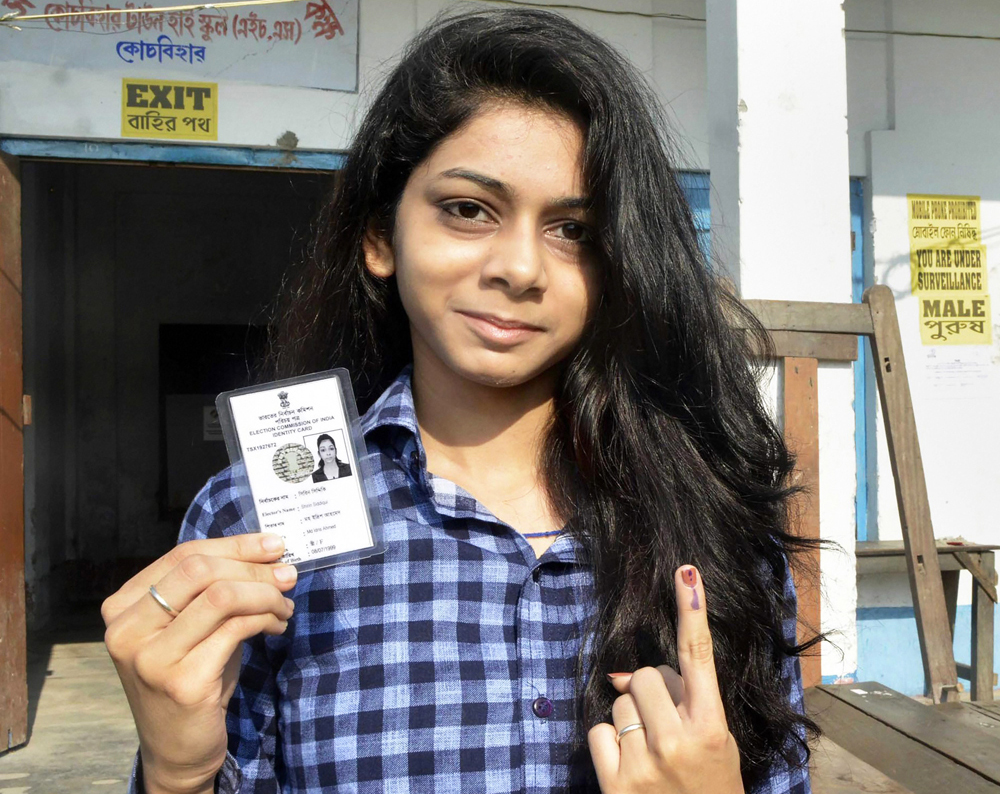 A young voter shows her finger marked with indelible ink after casting vote during the first phase of the general elections at a polling station in Cooch Behar district of West Bengal on Thursday, April 11, 2019.
(PTI)
---
Published 17.04.19, 03:33 AM
|
---
There is a first time for everything, including honouring democratic rights and duties. This is evident in the record number of Indian citizens who have registered as first-time voters for the upcoming Lok Sabha elections. West Bengal, interestingly, has the highest numbers in this regard; according to the Election Commission's data, 20.1 lakh voters will be exercising their franchise for the first time. These figures gain further significance from a national perspective: the number of people in India eligible to cast their ballot has gone up by 8.4 crore since the general elections in 2014, with 1.5 crore among them being voters between the ages of 18 and 19. The swelling numbers are heartening. Not only do they indicate that the process of enrolment has functioned with admirable efficiency — this is no mean feat in a nation as populous as India — but also that there is a growing political consciousness among young people, who are eager to vote to effect change. The data are a reliable indicator of the health of Indian democracy. In the 2014 general elections, 2.31 crore of the nearly 82 crore voters had cast their vote for the first time. While that might not seem like a sizeable figure — around 2.7 per cent of the total voters — these numbers made a big difference to the scale of the Bharatiya Janata Party's thumping victory. Around 39 per cent of first-time voters reportedly cast their ballots in favour of the BJP, while the Congress only managed to get about 19 per cent of the support of new voters.
While the absence of political apathy among first-time voters is encouraging, it must be asked what their most pressing concerns are, for those are the lines along which they are likely to vote. The BJP, in particular, had managed to effectively harness their concerns regarding a closed, corroded system of governance in 2014. But how will young people vote this time? Will they cast their ballots along divisive lines, as the saffron party allegedly would have them do? The prime minister even attempted to rouse nationalist fervour by exhorting young voters to 'dedicate' their votes to the armed forces involved in the Balakot air strikes, possibly to combat the growing anger around the jobs and farmer crises. It must be asked, then, whether young Indians might be lured by such a strategy. Or will their pattern of voting reflect a commitment to addressing larger issues, such as growing polarization and the paucity of jobs? The answers to these questions will determine the wider political narrative of where young India is headed.