The salt-water sport
Football and desi fandom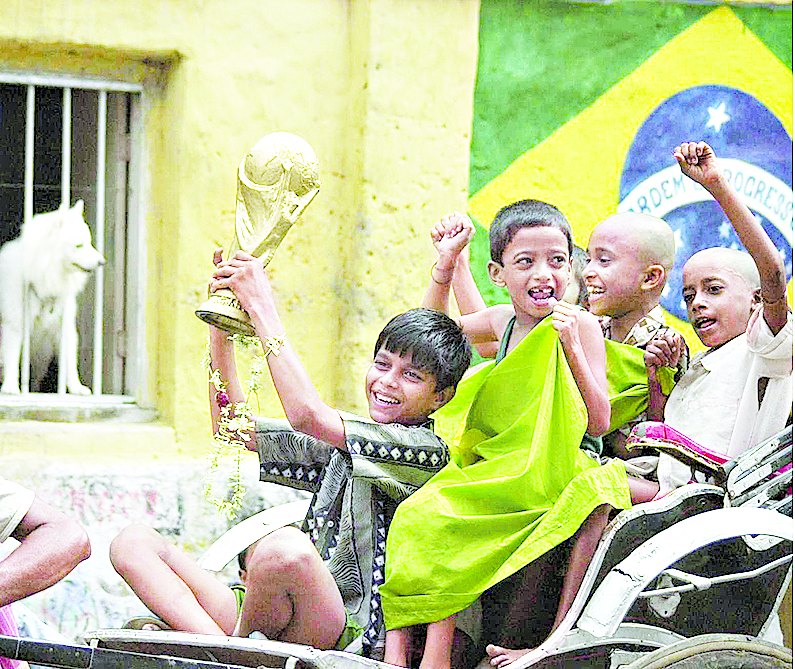 ---
Published 13.04.15, 12:00 AM
|
---
Watching Arsenal play Liverpool a few days ago, I realized that as fans our sporting passions are given us, not earned or chosen. Fifty years ago, I was socialized into cricket by the availability of all-day radio commentary and saturation coverage on the back pages of the next day's newspapers. The fact that I played mohalla cricket every day had something to do with my interest in the game but it wasn't crucial. I played football in the neighbourhood too, not as often but as badly, but I knew very little about the game as it was nationally or globally played and wasn't keen to find out.
With cricket, not only did I know the names of players past and present, Indian and foreign, I knew something of its lore. I knew the names of its radio commentators, its correspondents, even its photographers (at least the one called Patrick Eagar). I had heard of Wisden without having set eyes on the almanac and I had internalized without question or hilarity cricket's Masonic vocabulary (silly mid off? backward short leg?).
Compared to this richly named and storied world, football was a downmarket desert. There was Pelé, of course, and a bald man called Bobby Charlton and Eusébio. Eusebio, I learnt through a kind of osmosis, was the 'Black Pearl'. Pele was both himself and shorthand for Brazil. Brazil was a kind of footballing West Indies; its players did with their feet what Sobers and Kanhai did with their hands: they made magic.
These snippets of information never came together to become an enthusiasm because India didn't dine at the top table of international football. We didn't even make it into the dining room. Our place was at the bottom of a long queue snaking up to some distant self-service cafeteria. It was impossible to offer middle-class allegiance to a sport that didn't offer the vicarious pleasures of patriotism. If some exceptionally gifted Indian had played for a famous club in the big European leagues we would have had someone to get behind, but there was no one, no counterpart to Ramanathan Krishnan who had twice made the semi-finals at Wimbledon and who, year after year, led India's unlikely yet gallant campaigns for the Davis Cup.
The resonant desi footballing names I knew were Mohun Bagan, East Bengal, Mohammedan Sporting and Chuni Goswami: three Calcutta clubs and one fine player. Sometime in the late Sixties, I watched a second-string Hungarian team play a friendly against India in Delhi. Chuni Goswami was captain and we lost 2-0. It could have been 6-0 or 10-0 but the Hungarians, playing perhaps as goodwill ambassadors rather than ruthless competitors, stopped trying to score goals after a while and contented themselves with possession. Watching the Indians run like a rabble after a ball they seldom managed to touch, I gave up on football as a spectator sport.
The half-a-dozen domestic football fixtures I had watched at the Feroz Shah Kotla ground featured Punjabi teams like Leaders Club, Jullunder and JCT Phagwara, and were much, much worse. They consisted of backs hoofing long balls into the opposite half and forwards like Inder Singh pelting after them in hope but without any real intent. In middle-age, I would learn that Mohun Bagan, founded at the end of the 19th century, was older than many storied English clubs, that India had twice won football gold at the Asian Games, that it once reached the semi-finals of the Olympic Games, but all of this was history by the time I was old enough to be a fan and meant nothing to me as a child.
Football fandom in the Sixties and Seventies was an intensely local business, driven by history and identity, not a remote, vicarious partisanship made possible by electronic media. Nobody in Delhi raced through the sports pages hoping to catch up with the doings of Salgaocar FC or FC Kochin, except Goans or Malayalees. If all of India had been dotted by football clubs buoyed up by local feeling, being a football fan would have been a real possibility for urban middle-class children. But it wasn't: football in India was principally a salt-water sport, its strongholds hugged the coastline - Bengal, Goa, Kerala -and left its vast hinterland mainly barren. This wouldn't have mattered if the young republic had had a national team that contended for top honours, in the way that the Indian hockey team still did in the 1960s, but it didn't and pan-Indian footballing fervour, unmoored to local feeling, never got the chance to grow.
The closest I came to supporting a football club as a child was via the BBC. Its World Service used to have a bulletin called Sports Roundup which Indian short-wave enthusiasts like my older brother regularly listened to at 11.15 at night before going to bed. Listening to Sports Roundup was vital if India was playing a Test series because it offered the superior pleasure of hearing an angrez talk about desi cricketers and their doings. The trouble was that when the Tests in question were played in winter, Sports Roundup's cricket reporting came after its football news because football was Britain's principal winter sport.
So, to get to the cricket you first had to sit through an endless incantation of football scores. "Manchester City 1, West Ham United Nil. Ipswich Town 2, Burnley 1. South-ampton 3, Huddersfield Town 2. Leeds United 2, Nottingham Forest 1. Arsenal 4, Blackpool Nil..." In the beginning this was the purest tedium. After a while I began to listen to the names and, in the way that schoolboys do, I chose one that I liked more than the rest. It was simple enough; I eliminated the teams named after places, places that meant nothing to me, places whose people might have a prior claim on the team, and settled on Arsenal. I liked the word. I liked the fact that it meant guns and best of all it didn't seem tied to a place. And so, in the most nominal way imaginable, I became an Arsenal fan around the time I was twelve.
I didn't think of the club again for the next forty years. My connection with football was World Cup matches watched on television where I supported Brazil because they were the West Indies by another name, playing another game. Then, six years or so ago, thanks to Star Sports, Arsenal and the rest of the Premier League turned up in my living room, live. My son, it turned out, was a fan, and his team was Arsenal.
Now, thanks to the magic of live telecasts and YouTube clips, I'm a paid-up member of the Arsenal communion. I embarrass myself and my son by asking whom 'we' are going to play next. I watch compilations of Thierry Henry's greatest goals and I dimly know who Patrick Vieira is. I visit fan sites like Arseblog and my heart breaks for Arsene Wenger when his team loses to Monaco. I read Nick Hornby's Fever Pitch to learn what it must have been to be an Arsenal fan before Arsene's Era. I learn to think of Samir Nasri and Robin van Persie as Judases for defecting to our rivals in the Premier League and, more complicatedly, I learn why Henry and Cesc Fàbregas are not to be similarly reproached despite also having abandoned us in difficult times.
I should be embarrassed by the arbitrariness of this new loyalty, but I'm not. Not because I have an alibi, having chosen Arsenal over Huddersfield Town and Blackpool all those years ago; I'm old enough to know that we don't choose our enthusiasms any more than we choose to get the flu. I once became addicted to snooker simply because it was on television all the time in glorious colour. I had never touched a cue in my life, I didn't even properly know the rules, and yet Alex 'Hurricane' Higgins was briefly my hero. We're sheep. My current shepherd is some combination of Tata Sky, Star Sports and my son. Given time and immersion I could, I think, even learn to like motor sport. That's a sobering thought. If political operatives ever work out the dynamics of sporting loyalty, we'll be in worse trouble than we already are. For what it's worth, I think Amit Shah is a Chelsea fan.
mukulkesavan@hotmail.com