Changing stripes
The RSS should not become 'Modi Swayamsevak Sangh'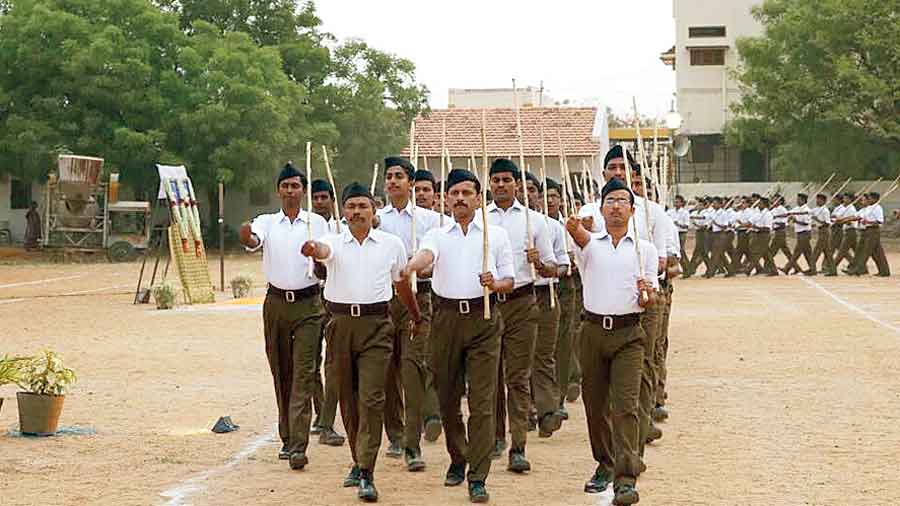 Representational image
Facebook
---
Published 01.08.21, 01:19 AM
|
---
The Rashtriya Swayamsevak Sangh has moved from the margins to the mainstream of the Indian polity in recent decades. This has forced critics like me to think of a difficult question: how to deal with it? I believe this can be done in two ways: through sangharsh (struggle) as well as samvaad (dialogue). We must oppose it for fomenting Hindu communalism. Specifically, we must counter it for providing ideological and organizational heft to the government of Narendra Modi and Amit Shah whose politics of polarization and contempt for constitutional values spell disaster for democratic and secular India.
However, I differ with those critics of the RSS who see it as nothing but evil. Few things in this world are binary. The sangh, despite its majoritarianism, is a patriotic organization, even though its patriotism is selective. Dialogue with it, even cooperation (sahyog), is necessary for three reasons. First, it has grown into the largest, most organized, and most ideologically influential Hindu body, commanding the support of millions across India. Denying this reality is futile and foolhardy. Second, the RSS has not been monolithic and unchanging in the way it looks at India and the world. Some recent shifts in its thinking, especially towards Indian Muslims, are welcome, albeit inadequate. These shifts are being driven by none other than the RSS chief, Mohan Bhagwat, and its newly-appointed general-secretary, Dattatreya Hosabale, who is likely to succeed him. Third, India's way of settling differences cannot emulate that of China (which witnessed a civil war), Russia (where opponents were killed and jailed in large numbers) or several Muslim countries (bloodied by sectarian violence). We must follow a non-violent and democratic path in which both struggle and dialogue must ultimately lead to reconciliation (samanvay).
This task requires us to recognize two contradictory features of the RSS. On the positive side, it seeks, through its various parivar entities, to organize, unite and revitalize Hindu society. There is nothing objectionable about this mission. Who can say that Hindu society is not in need of revitalization through internal social reforms? The RSS campaigned against untouchability and has been striving to rid Hindu society of caste discrimination in a slow but steady way. (A minor but significant point: even before the Supreme Court verdict in 2018, Hosabale had declared in 2016: 'Homosexuality should not be criminalized, but not glorified either.') It would be equally legitimate for a Muslim or a Christian counterpart of the RSS to want to organize, unite and reform its own society. India's national revitalization is a sum total of the reform and egalitarian development of its myriad communities, castes and other social entities. The sangh has another positive trait: it trains its volunteers and inspires its supporters to run a large number of social service projects, which help the needy regardless of their caste or creed. Rahul Gandhi would do well to know that its seva activities far outnumber those of the moribund Congress Seva Dal.
On the negative side, India needs to guard against the sangh's agenda to turn it into a Hindu rashtra. Its propagation of Hindutva being synonymous with Indian nationalism is flawed, divisive and dangerous. Although it calls itself the Rashtriya Swayamsevak Sangh, it is essentially a Hindu Swayamsevak Sangh. It does not represent Muslims and Christians, who are an integral and equal part of our nation. It does not represent all Hindus either. A large number of pious and patriotic Hindus reject both the sangh's narrow conception of the Indian nation and its political agenda based on that conception.
Nevertheless, the sangh's critics should ponder: why and how did it succeed in influencing a vocal section of the majority community? The answer lies in its sustained campaign over a set of issues that appeal to many Hindus — Ram Mandir in Ayodhya, the abrogation of Article 370, uniform civil code, cow protection, campaign against conversions through unethical means and so on. The ill-treatment of non-Muslims in Pakistan, Bangladesh and Afghanistan and the acts of terrorism, extremism, and bigotry by Islamist organizations in many parts of the world have played no small part in expanding its mass appeal. Undeniably, and condemnably, some of its supporters have indulged in bigotry and violence in raising these issues. But equally undeniable is this fact: one of the reasons for the concomitant decline in the influence of the Congress has been its inability — also hesitation and unwillingness — to respond to the legitimate Hindu angst over these issues. It has paid the price for summarily opposing everything the RSS says and does.
This does not mean the sangh and its affiliated organizations now have a free-run to implement their majoritarian agenda. After moving to the centre stage of the Indian polity, the RSS is facing peculiar constraints imposed by India's unchangeable diversity, democracy and its civilizational allegiance to secularism. The greatest of these constraints is that it is in no position to change the Indian Constitution, much as many in the sangh parivar want to. Neither the Bharatiya Janata Party's political strength (which has now peaked) nor the sangh's own capacity to build the requisite social support is sufficient to achieve this purpose. Cognizant of this reality, the RSS is no longer attempting to challenge and replace the Constitution but, rather, to co-opt it. When Bhagwat delivered a three-part lecture series on 'Future of Bharat — An RSS Perspective' in Delhi in September 2018, he affirmed his organization's faith in the Constitution, including in its preambular principles of 'secularism' and 'socialism'. Ram Madhav, a prominent RSS-BJP insider, went so far as to describe it as a moment of glasnost (openness) and perestroika (restructuring) in the sangh.
Bhagwat gave another hint of glasnost in the sangh's thinking in a widely discussed speech in early July. While releasing a book, The Meeting of Minds: A Bridging Initiative, by Khwaja Iftikhar Ahmed, he unequivocally endorsed the author's call for Hindu-Muslim harmony through RSS-Muslim dialogue. He acknowledged mistrust and alienation in the Muslim community and called for joint efforts to remove them. "How can we consider Muslims as foreigners when they are our brothers, when their blood and DNA are the same as ours?" he asked. "People may have different faiths, but India has never disrespected the diversity of faiths," he averred. "Confrontation harms both", he remarked. He also asserted emphatically that the RSS envisions an India in which there is neither "Hindu domination" nor "Muslim domination" — rather, domination of only "Rashtra heet" (national interest). He implicitly acknowledged that the BJP also practises divisive politics when he said, "Politics cannot bring about unity in society. Politics divides people, it does not unite them." Muslim organizations and secular parties should respond positively to this change in the sangh's thinking and seek ways of common action to strengthen communal harmony, national unity and the well-being of all Indians.
India's multi-party democracy has placed another constraint before the RSS. Its exclusive association with a single political party has exposed it to the danger of becoming a 'BJP Swayamsevak Sangh' and, now, a 'Modi Swayamsevak Sangh'. People's resentment against the Narendra Modi government is growing rapidly. The prime minister's own popularity is waning. This has prompted many voices within the sangh, including at leadership levels, to wonder if the time has come to look beyond Modi. They are acutely aware that the BJP as a party has changed for the worse under Modi and Shah because of their arrogant style of functioning. The sangh is known for long-term thinking and planning, which is not personality-centric. Hence, it is likely that the RSS itself may seek dialogue and cooperation with patriotic non-BJP entities in the coming, uncertain years. Such possibilities should be seized, not shunned, because India's future is at stake.
Sudheendra Kulkarni served as an aide to the former prime minister, Atal Bihari Vajpayee