The right track
Rahul Gandhi must provide an alternative to the zeitgeist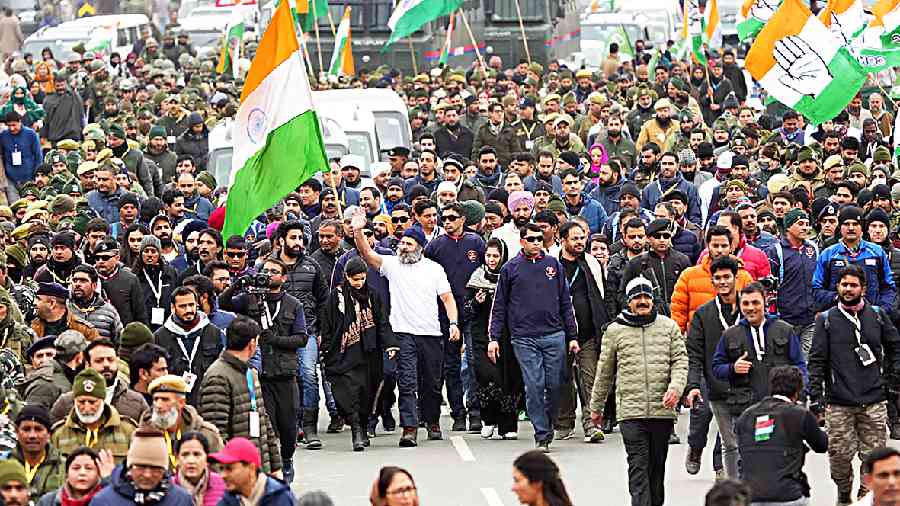 If aberrations at the top are ever countered, it can only be through public awareness and vigorous grassroots resistance.
---
Published 04.02.23, 04:01 AM
|
---
It was canny of Rahul Gandhi to dare Amit Shah to walk 266 km from Jammu to Srinagar where his own 3,570-km Bharat Jodo Yatra ended last Monday. The mundane challenge at once brought the debate down to earth, from invocations of lofty morality to the competition without which democracy cannot survive. A politician may think of the next election and a statesman of the next generation, but only elections today can ensure democracy tomorrow even in a land that has immodestly appropriated for itself the title of 'Mother of Democracy'. 
However fanciful this additional accolade might be for the already self-proclaimed Vishwa Guru — Universal Teacher — it must be welcomed for one all-important reason. A democracy is by definition inclusive. The Hindutva ideology that Vinayak Damodar Savarkar articulated  in 1923 is not. It's like Israel, a buoyant democracy for its Jewish settlers but not for Palestinians whose mandatory green or blue identity cards issued by the Israeli military underline their subservient status.  South Africa, too, was a full-fledged democracy for whites even under apartheid, the cruelly oppressive,  institutionalised system of racial segregation that condemned blacks, Indians and mixedrace people to permanently inferior positions. 
Such formal travesties of democracy still seem inconceivable in India. Yet,  the last nine years have shown that indoctrination alone may not be responsible for communal discrimination. Instinct and atavism also play a part in determining attitudes. When Percival Spear said that "the government was really a duumvirate" between Jawaharlal Nehru and  Vallabhbhai Patel, the idealist and the realist, he might have been describing Indian society at large. The Bharatiya Janata Party and, even more, its  sangh parivar entourage have astutely tapped into a powerful default position that many see as the new reality now that the non-partisan secularism of the colonial era is fading and the generation of people it trained dying out. Rahul is a brave man to take on a role that entails selling egalitarian non-communalism to a public that believes in the inherent rights of the majority.
Authoritarianism leads to many perversions, but it often starts with imagining persecution, changing history or denying what cannot be changed. The death sentence (and for good measure a Rs 44,000 fine) for a  Bombay Indian Institute of Technology graduate, Ahmed Murtaza Abbasi, for attacking a jawan with a sickle at the Gorakhnath temple whose head priest, Yogi Adityanath, is chief minister of Uttar Pradesh, may seem harsh to those who do not see Islamist conspiracies behind every bush. West Bengal's BJP leader, Suvendu Adhikari, who threatens to wipe out all British and Mughal names within a week if his party takes power, might as well promise a decree proclaiming that the British and the Mughals never ruled India.  It was not clear when Adityanath hailed the decision to replace the names of six gardens in Rashtrapati Bhavan with an omnibus 'Amrit Udyan' as ending symbols of foreign oppression, whether he was thinking of the splendid vice-regal palace that houses India's egalitarian president or the flowers growing innocently around it. Not surprisingly, a Rajya Sabha member, Jawhar Sircar, claims to be "waiting for Mughlai Paratha to be renamed Swarga Lok or Indra Lok Paratha". This parody of patriotism inevitably recalls Samuel Johnson's definition of patriots.
If  aberrations at the top  are ever countered, it can only be through public awareness and vigorous grassroots resistance. India has a long tradition of both, from Mahatma Gandhi's marches to Jayaprakash Narayan's  sampoorna kranti,  to Chota Nagpur politicians whimsically seeking Buckingham Palace's intervention to restore the Wilkinson's Rules that a colonial administrator framed in 1834 for Kolhan district. As news of Rahul's long march from Kanyakumari kept trickling in, my thoughts turned to another forgotten demonstration and a young colleague's ecstasy when Asim Dasgupta, the Massachusetts Institute of Technology-trained economist who was West Bengal's longest-serving finance minister, decided to lend a hand, literally, to ease traffic congestion. Taking up position near the busy Chowringhee-Esplanade crossing in central Calcutta, Dasgupta himself regulated the rush of office-bound vehicles for several days. "Here's a politician sweating it out among the people," my colleague enthused, "instead of signing files in air-conditioned comfort!" That was just the kind of fervour that any aspirant for high office should inspire in supporters. Beyond that, however, it was useless trying to convince my colleague that Dasgupta would earn far more public gratitude if his policies encouraged investment and job creation.
That applies even more to India's rulers — or is the plural redundant? Glibness and gimmicks won't arrest a faltering GDP. Nor will the rozgar mela largesse of 75,000 jobs provide much comfort to 45 million jobless people, to say nothing of extensive under-employment and concealed unemployment. The most severe indictment of Indian democracy is the unconscionably widening gulf between rich and poor, highlighted by a scandal that Gautam Adani, his fortune now somewhat depleted, would have people believe  is "a calculated attack on India, the independence, integrity and quality of Indian institutions, and the growth story and ambition of India." In short, another cinematic exposé like the BBC documentary, India: The Modi Question.
A true national leader has no time for such diversions and distractions. He needs faith, vision and imagination, the ability not only to communicate his own commitment to millions of people but also to come to grips with the legends others live by. Modern India builds temples, harks back to the past, and weaves new myths to seek compensation for practical failures. It basked in the glory of non-alignment and projected itself as the legendary embodiment of non-violence before claiming to be the Mother of Democracy. How others see India and Indians is a different matter as the veteran diplomat, K.P.S. Menon, discovered when he took Nikita Khrushchev to a stage rendering of the  Mahabharata. Seeing Bheema tearing out Dushasana's entrails and hanging them around his neck like a garland, the Soviet leader turned to Menon to exclaim, "And yet your people call themselves non-violent!"
Such gory scenes cannot but leave an imprint on impressionable minds. They must also influence behaviour. Hearing the jurist, G.D. Khosla, once mention instances of clever deceit that pepper India's cultural heritage, I asked him to write an article on the subject for my newspaper's Sunday magazine. His essay, "A Little Evil for the Greater Good", described episodes like stealing the nectar churned from the ocean, exploiting Shikhandi's  androgynous status and the contrived confusion over the demise of  Ashwathama,  hero and elephant.
There was a sequel. The BJP hadn't yet emerged from the Jana Sangh's womb but  Hindutva pride didn't need it. Word reached my editor that protesters were being mobilised to besiege our office. Anxious to avoid trouble, he got Khosla — who was tracked down in Mussoorie — to write a letter saying he had meant no harm. It was published with, I think, a footnote of apology from the editor.
The  religious passions that simmer just below every surface  don't need much fanning. As the appeals judge in the Gandhi murder case, Khosla realised that after listening to Nathuram Godse speak in his own defence. "I have no doubt", he wrote, "that had the audience of that day been constituted into a jury and entrusted with the task of deciding Godse's appeal, they would have brought in a verdict of 'not guilty' by an overwhelming majority." For them and many others, India that is Bharat has always been and will remain Hindustan. The promise of controlled prices and abundant jobs might help to counter the political appeal of that vision only if the aftermath of Rahul's Yatra keeps up the momentum and provides a hypnotic alternative to the zeitgeist. In maintaining that the Yatra has nothing to do with politics, Rahul matches the sophistry of his adversary's boast of being a fakir with only a jhola. It's a step in the right direction.