The Kumbh Mela is an opportunity to foster peace
We all live in one country and must learn to love and respect each other's beliefs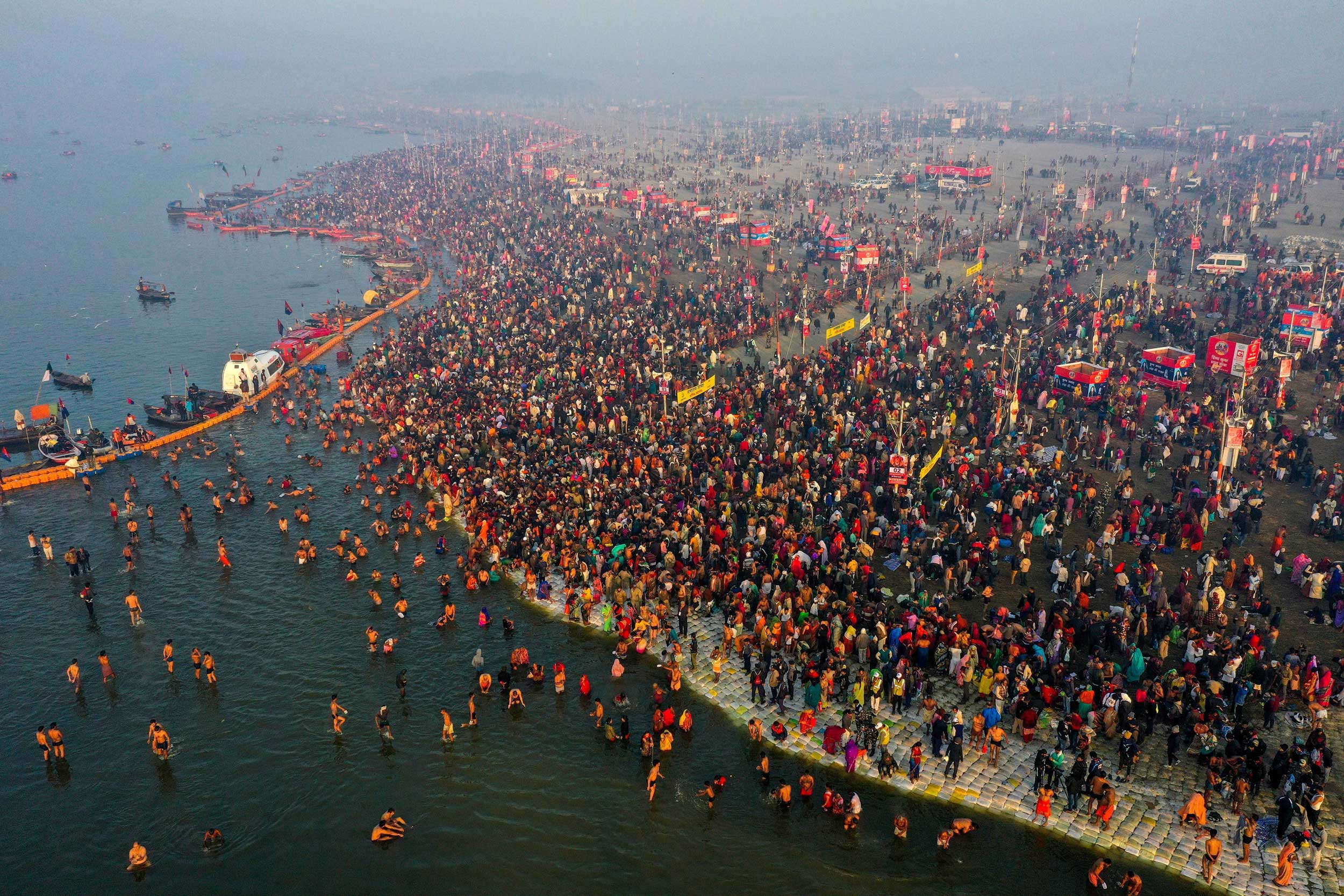 Devotees gathered at Sangam to take a holy dip on the occasion of 'Paush Purnima' during the Kumbh Mela on Monday
(PTI Photo)
---
Published 22.01.19, 09:03 AM
|
---
Sir — India's famed Kumbh mela, a massive pilgrimage made by members of the Hindu community — and also one of the largest congregations of people in the world — has begun. This event presents a good opportunity to foster peace and build strong relationships between religious communities. The way to do this is to show kindness. People across religious lines must come together to extend help to the Hindu pilgrims making their way to the Kumbh mela — for example, by providing them with warm clothes. We all live in one country and must learn to love and respect each other's beliefs. No religion encourages hate.

Tarik Hasan,
Calcutta
Welcome move
Sir — The Supreme Court's recent verdict, which set aside a number of provisions in a law in Maharashtra that restricted the functioning of dance bars in the state, signifies the triumph of free will as enshrined in our Constitution. It has made it easier for dance bars to become operational, and has questioned the moral policing that led to their shutdown in the first place.
The court has also struck down the stipulation that made it mandatory for CCTVs to be installed inside the dance bars, saying that it is an invasion of privacy. In order to ensure that the women performers remain safe, the police department must be vigilant. The state government must respect the apex court's order.
M. Hasan Najmi,

Calcutta
Sir — The Supreme Court's order on dance bars must be welcomed. All major cities in the world have a robust night life. As long as drug abuse and the humiliating practice of showering currency notes on women performers are prevented, and the latter are not sexually assaulted or coerced, there ought to be no objection to dance bars remaining open. Having said that, the authorities must ensure that such places do not become dens of criminal activity.
Jubel D'Cruz,
Mumbai
Top of the world
Sir — The mountaineer hailing from West Bengal, Satyarup Siddhanta, deserves accolades for becoming the youngest climber in the world to conquer the Seven Summits, the highest peaks in the seven continents, and the Seven Volcanic Summits ("Bengal boy's feat awaits Guinness approval", Jan 17). Last Wednesday, he became successful in reaching the top of Mount Sidley — Antarctica's highest volcano — after a climb that exceeded 10 hours.
Siddhanta's dogged determination and perseverance helped him overcome a childhood ailment and make his dream come true. Earlier, he made the country proud by playing the Indian national anthem on the flute in the extreme climatic conditions in Antarctica. He has been a role model for all young mountaineers.
S.S. Paul,

Nadia
Sir — It was heartening to read about Satyarup Siddhanta who, at the age of 35, became the youngest mountaineer to set foot on Antarctica's highest volcano, Mount Sidley, after braving deadly snow storms and the freezing cold. It was a rare, commendable display of fortitude, patience, courage and stamina. He is waiting to go down as a record holder in the Guinness Book of World Records.
At a time when the potential of the youth of Bengal is being wasted — young people have become pawns in the hands of syndicates and are often embroiled in nefarious activities such as fights between different college and university unions, extortion of money from fellow students for gaining admission into academic institutions and collisions among political parties — Siddhanta's story of success shines as a ray of hope. His achievement will certainly motivate the youth.
P.R. Bhattacharya,

Calcutta
Sir — Satyarup Siddhanta should be congratulated for becoming the youngest person to scale the highest peaks in the world. He achieved this incredible milestone when he reached the summit of Mount Sidley in Antarctica recently. By doing so, he broke the record of the Australian mountaineer, Daniel Bull. Siddhanta's feat will surely draw many more young people in India to this sport.
Sourish Misra,
Calcutta Time to help
Sir — In the big hospitals in Calcutta, different departments are located on different floors, and sometimes even in different buildings. One has to cover a lot of distance to go from one department to another. As a result, elderly people who have to visit the hospitals frequently for treatment suffer a lot. Sometimes they are accompanied by their spouses, who are also aged and find so much movement difficult. At other times, they have to go to the hospital alone. While they can afford the treatment — given that the hospitals in question are mainly private ones — the biggest problem for them is travelling between departments.
This problem can be solved if the hospital authorities consider engaging a suitable number of facilitators who, in exchange for a reasonable fee, take on the task of visiting different departments on behalf of the senior patients. They need not possess technical knowledge, but their integrity must be impeccable because they would often be required to handle money.
Sanjit Ghatak,
Narendrapur