The French Open win cemented Rafael Nadal's supremacy on clay
No other tennis player has won 12 titles in a single major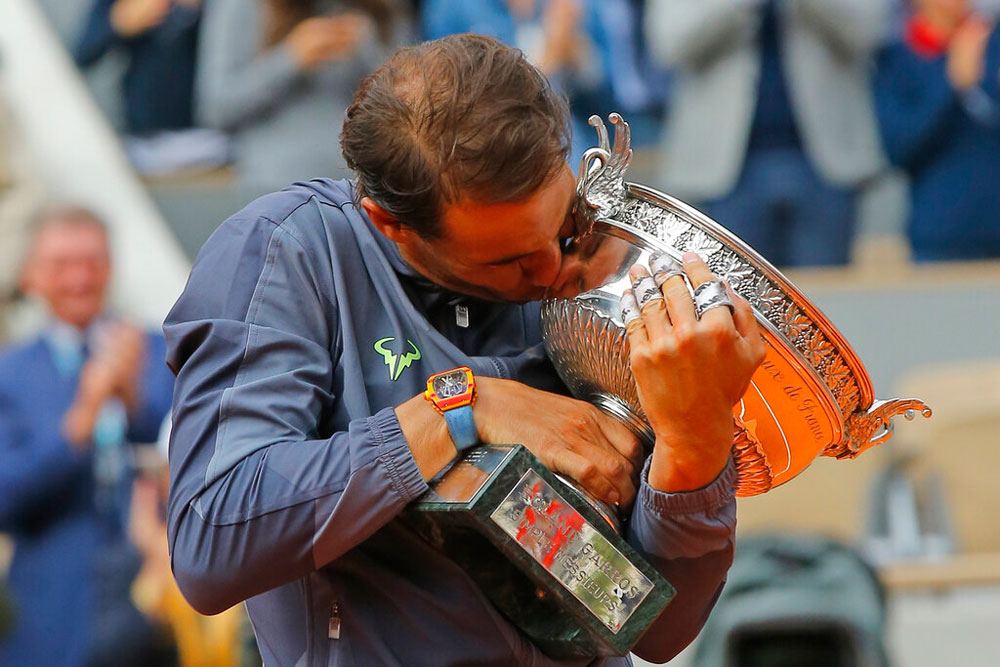 ---
---
Sir — Heartiest congratulations to Rafael Nadal on winning the The French Open for the 12th time. This is Nadal's 18th Grand Slam. In the final match, the 33-year-old Spaniard virtually pulverized his Austrian opponent, Dominic Thiem, who managed to put up some resistance only in the second set. Nadal dominated the match with his big serves and artistic court craft. No other tennis player has won 12 titles in a single major.
The win cemented Nadal's supremacy on the clay court. In the last 14 years, he has lost only two matches — one to Novak Djokovic and another to Robin Söderling. Not even Roger Federer has been able to dethrone him in this arena. Nadal is now just two slams away from matching Federer's record of 20 Grand Slams. If Nadal continues to play as he did at Roland Garros, he will soon surpass his arch-rival. The Wimbledon is just a month away and tennis lovers are eager to witness another epic Rafa-Roger duel. Although it will be a completely different ball game since it will be played on a grass court. Nadal has also won the Wimbledon crown before, and if he can keep injuries at bay, he has every chance to lift the trophy for the 3rd time this year.
Indranil Sanyal
Calcutta
Sir — Rafael Nadal's 12th French Open title bears testament to his lasting prowess as an athlete. His unofficial status as the king of the clay court was never in doubt. Nadal can boast of a phenomenal 93-2 record of wins and losses at the French Open. The manner in which he destroyed Dominic Thiem's game in the final was electrifying to watch. Nadal has rendered age insignificant by continuing to play like a champion.
S.S. Paul
Nadia
Sir — Winning the French Open for the 12th time is no mean feat. Clay is, arguably, the toughest surface to play tennis on. To emerge victorious year after year in spite of several career-threatening injuries makes Rafael Nadal's achievement even more stunning.
The much anticipated semi-final between Nadal and Roger Federer proved to be a little underwhelming. But perhaps that was only to be expected if one recalls the history between the two. Having achieved almost everything that tennis has to offer, beating Nadal at the French Open might just remain an unfulfilled dream for Federer.
The other semi-final between Dominic Thiem and Novak Djokovic was an absolute classic and the victory must have given Thiem a lot of confidence. But playing Nadal at Roland Garros is the ultimate challenge for any tennis player and for two consecutive years, Thiem has lost at the finals in spite of playing brilliantly throughout the tournament. Thiem is young and will have many more chances to win. But one must bow before Nadal, one of the greatest tennis players of our time.
Abhiroop Sarkar
Birbhum
Sir — Hats off to Rafael Nadal, the king of the clay court, whose game defies his age. Nadal has set a phenomenal record by winning 12 French Open titles; it will be difficult to beat. But the final against Dominic Thiem was much easier than the semi-final clash against Roger Federer, who, too, has been giving age-defying performances. Tennis lovers cannot wait to watch Nadal at Wimbledon. The king of clay will have to play on a grass court. This should make it easier for his opponents to defeat him.
Vinay Mahadevan
Chennai
Monkey see, monkey do

Sir — A monkey — seemingly a Rhesus macaque — recently barged into the room of the actress, Soundarya Sharma, who posted a video of the simian helping himself to fruits. Apparently the monkey then proceeded to take rest by sleeping on her bed. Why the actress or the internet were surprised by this is beyond me. Humans think nothing of barging into forests, partaking of forest produce and going for forest retreats to relax. The simian, coming from a species of quick learners, has only taken its cue from humans. It is as the adage goes, if you can't beat them, join them.
Roshni Sen
Calcutta