The fiddler: PM playing to the gallery
The Covid situation is perhaps too grim for cheerleading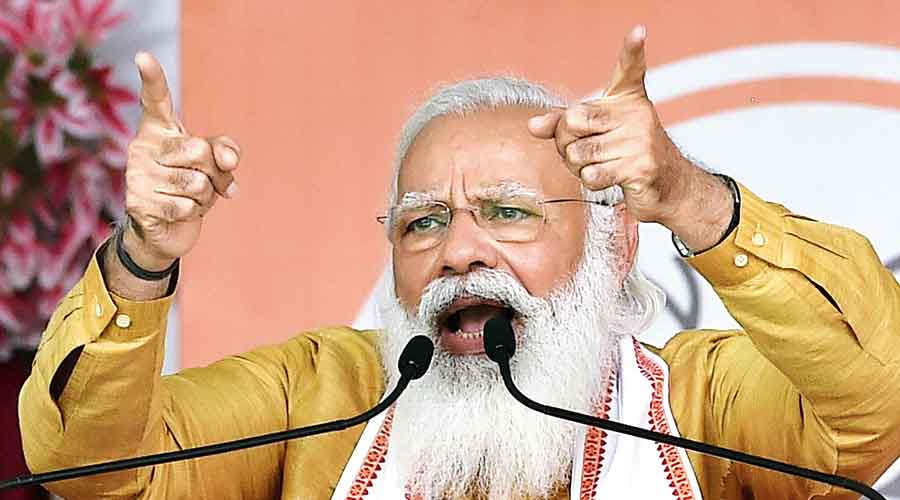 Prime Minister Narendra Modi
File Picture
---
Published 21.04.21, 12:56 AM
|
---
Future chroniclers of India may well say that when the country burned, ravaged by the fire of a pandemic, its most popular leader was playing not the fiddle but to the gallery in election rallies. One of the most shocking aspects of the second, crippling wave of the Covid-19 pandemic has been the absence of reassurance from the highest echelons of power. The prime minister has prioritized politics over the lives of the people: Narendra Modi is reported to have addressed as many as 16 rallies in poll-bound Bengal at a time when Bengal and the rest of India were groaning under the weight of a resurgent pandemic. That Mr Modi's government had been lulled by a drop in India's caseload cannot be disputed. When the virus reared its ugly head again, both the political leadership and the health administration were caught woefully unprepared to meet the challenge. The paucity of dedicated Covid beds in hospitals — Calcutta is not an exception to this alarming trend — is frightening. It has been reported that had the Centre made adequate funds available for vaccine-makers, the pitifully slow rate of vaccination and the shortage of vaccines could have both been avoided. That is not the end of the government's long list of lapses. It refused to enforce strict rules to control mass gatherings, stepping in — the ongoing Kumbh is one instance — when the damage had already been done. Unlike the instance of the first wave, the prime minister has desisted from sharing his vacuous wisdom with the nation. The situation is perhaps too grim for cheerleading.
Shamefully, the Centre is attempting to conceal its ineptitude with hubris. Meaningful advice by experienced Opposition leaders — be it Manmohan Singh or Rahul Gandhi — is first being dismissed in an intemperate manner and then — wonder of wonders — implemented. Some of Mr Singh's suggestions — the incentivization of vaccine manufacturers, for instance — have been accepted even though the Union health minister's response to the former prime minister, now battling Covid-19, left a lot to be desired. Mr Gandhi's earlier appeal to widen the ambit of vaccination has also met its mark with the Centre opening up the programme for all citizens aged 18 or above. Had this been done earlier, India could have saved many more lives.
The scale of the crisis — the nation is at war with a virus — makes it imperative for the Central government to be collaborative in its approach. It is this shared spirit of cooperation that has helped the country stand together during many a crisis in the past — medical, political or economic. It is a pity that the ruling Bharatiya Janata Party refuses to learn useful lessons from this history. Bolstering federalism and a conciliatory approach towards the Opposition, some of whose constituents have vast experience in running the country, should be deemed important in these desperate times.