Back from the brink: Where do India and Pakistan go from here?
Narendra Modi and the BJP are using war as an electoral tool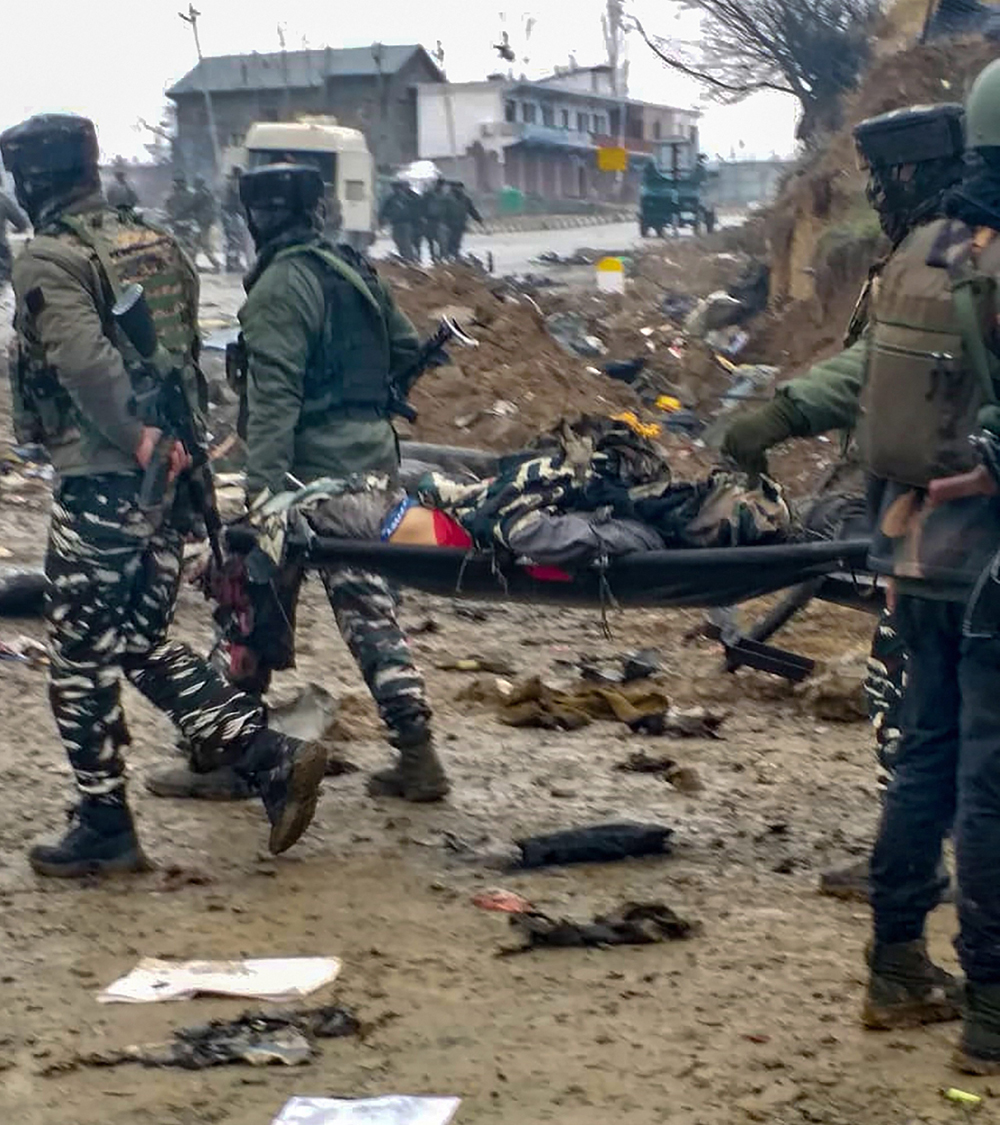 Jawans carry a victim after militants attacked their CRPF convoy in Pulwama on Februrary 14.
PTI file photo
---
Published 13.03.19, 10:54 AM
|
---
The aftermath of the February 14 Pulwama attack may not have been entirely unexpected but it was certainly scary. Pakistan and India came back from the brink of a full-fledged war.
The Indian air strike in Pakistan on February 26 led to a retaliatory strike by Pakistan on February 27. After the retaliatory strike by Pakistan, Pakistan's foreign minister, Shah Mehmood Qureshi, told ARY News on a talk show that there is still danger of escalation and the entire nation must be prepared for anything as "tonight can be critical". Later, the prime minister, Imran Khan, told a joint session of Parliament that there could have been a missile strike from India that night but the situation was neutralized. The captured Indian air force pilot, Wing Commander Abhinandan Varthaman, was released by Pakistan as a 'peace gesture' without any outside pressure. In a way, Abhinandan's release led to de-escalation between two countries that were treading a disastrous warpath.
As I wrote in the beginning, this situation was scary — really scary, to be honest. The idea of war is not just terrifying but it is also ugly. What was even more shocking was the way many in the Indian media were actually asking for a war.
I have been critical of Pakistan's media in the past and wrote in detail in my last column about the way they are being censored, but if truth be told, the majority of Pakistan's media behaved responsibly during this entire episode. Of course, there were a few exceptions here and there but most of the media talked about the repercussions of war and how Pakistan stands for peace. Pakistan's civilian and military leadership also called for restraint at all times. Thankfully, now the situation has calmed down a bit. India has handed over the Pulwama dossier to Pakistan and the government has also started a crackdown against militant outfits in the country in earnest.
As a peacenik and a journalist who has many friends across the border, it was quite sad to see the way many of my counterparts behaved on Indian television screens and on social media. I am not sure how many of them would have been directly affected had a full-fledged war actually broken out between the two nuclear neighbours, but seeing them spew jingoism at such a critical time was certainly disappointing to say the least. War affects everyone in the long run, even if indirectly, so I wish the Indian media had not jumped on the warmongering bandwagon.
One understands the anger in India whenever a terrorist attack takes place, given that some of these attacks have been directly linked to Pakistani non-state actors. Yes, Pakistan must take meaningful action against such militant outfits and we in Pakistan have been calling out our State on its flawed policies of nurturing these so-called 'assets' for years now. Finally, it seems, the penny has dropped and Pakistan is all set to take decisive action against armed militias in the country. The prime minister, Imran Khan, has been quite vocal about it after launching a crackdown. Pakistan is also cognizant of the fact that there may be a blowback as a result of this crackdown. Given how dangerous and risky this path is, Pakistan is still going ahead with it because in the long run, it will help our own country the most. We recognize our faults and we are trying to make amends.
But one also hopes that our Indian friends understand how their government was using warmongering in a bid to win the elections. Many Opposition parties in India are finally saying out loud how Narendra Modi and the Bharatiya Janata Party are using war as an electoral tool. Back in May 2014, when Modi won the Indian elections, I wrote a column for an Indian publication expressing my incredulity at the election results.
I wrote: "It is a well-established fact that Modi's politics is of communal exclusion and discrimination. There can be no denying that the Indian polity's swing to Modi is a cataclysmic indictment of 'Secular India'. For every progressive Indian, it should have been a day of reckoning when Modi was elected but it was disturbing to see that most of them were not even willing to admit that something did go wrong. The harsh reality is that both India and Pakistan can be equally exploitative, oppressive and bigoted societies. A progressive society is not just built on high economic growth but on values of secularism, rights of minorities, inclusiveness and a truly pluralistic social fabric."
I received a lot of hate mail and was trolled on social media even though I said that it was not a rant to vilify India but a call to ask for introspection and an honest conversation with the progressive people of India. Pakistan has many faults and we may not be a secular country but our government just recently removed Punjab's information minister, Fayyazul Hassan Chohan, for his derogatory remarks against Hindus. Of course, these are just baby steps in the right direction and will not turn back the tide of injustices committed against our minorities overnight. But at least we are trying.
Once again, I would like to have a dialogue with those willing to engage civilly: do we really want a war between India and Pakistan? Is war ever a solution? Have we not seen the consequences of war in the region as well as around the world? War does not serve any purpose and it only brings disaster in its wake. India and Pakistan really need to sit down and initiate a dialogue in order to resolve our outstanding disputes. Dialogue is the only way forward. Normalization of relations between the two neighbours will bring stability in the region and, as a result, we will see prosperity. One hopes that after the Indian elections, the new Indian government would be willing to start a dialogue with the government of Pakistan. Peace, not war, is the only answer to our woes.