The BJP has regularized defection into almost open strategy
A government that rests on the strength of defected MLAs would be a mockery of everything intended by the Constitution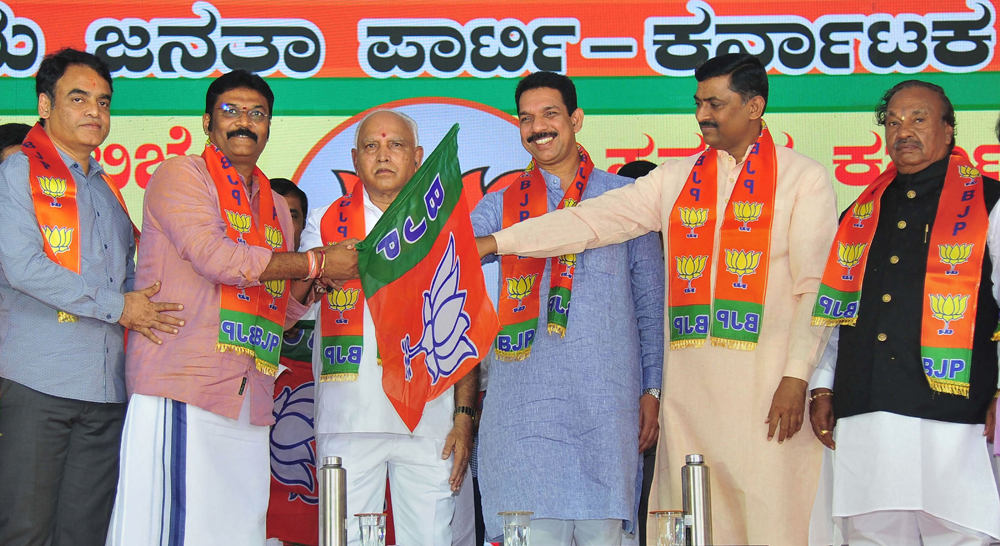 Chief Minister B.S. Yediyurappa, BJP State Unit President Nalin Kumar Kateel and BJP National general secretary Muralidhar Rao hand over the party flag to MLA Anand Singh during a programme to induct the disqualified MLAs, in Bangalore, Thursday, November 14, 2019.
(PTI)
---
Published 14.11.19, 08:58 PM
|
---
The Karnataka Speaker was partly right. The Supreme Court has upheld the disqualification of the 17 members of the legislative assembly in Karnataka who, by crossing the floor — 16 of them have joined the Bharatiya Janata Party — whipped the carpet away from beneath the feet of the Janata Dal (Secular)-Congress government. Resignation does not prevent disqualification for defection. The court, however, has overturned the Speaker's direction that the disqualified legislators would not be able to contest elections this term, that is, till 2023. The argument against the Speaker's power to take this decision was based on a subtle distinction of terminology between two consecutive clauses in the Constitution and also the 91st amendment. So the legislators can contest in the by-elections that are expected to bring the BJP government of B.S. Yediyurappa back to power in Karnataka.
The disqualification cannot be seen, in this case at least, as a penalty. To prevent what may appear as an anomaly to many, certain rules need to be clarified. What is the Speaker's time limit to decide on legislators' disqualification — history shows wild variations — and a governor's to invite a party to show it can form a government? What order should a governor follow in calling parties to demonstrate this ability? Playing about with time is a function of bias, something from which both Speaker and governor should be free. Strict rules could help prevent the total disappearance of moral and ethical principles from Indian politics. When elected legislators cross the floor, they display an insulting indifference to the voter's choice. Defection is prompted by substantial material advances and rewards — an old trick that the BJP has regularized into almost open strategy. The party aims to seize power the moment it has a foothold in a state — in Meghalaya it got two seats — whether by luring away Opposition legislators or ensuring that the governor, instead of the single largest party, calls the BJP with parties with which it has suddenly formed a coalition to form the government. A BJP government in Karnataka brought in on the strength of defected legislators would be a shameless mockery of everything intended by the Constitution or by the spirit of democracy or of fairness. The Congress has appealed to the prime minister. But ethics may prove difficult to recover.