The ban on e-cigarettes is a welcome move
They can cause cancer, damage lung tissue, and lead to brain impairment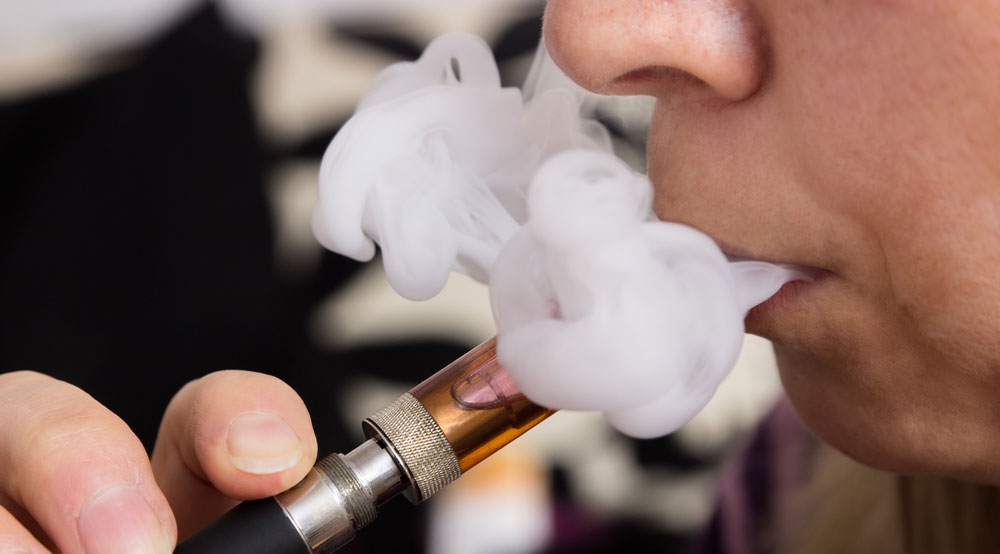 Smokers often have the wrong perception that e-cigarettes are an effective alternative to regular cigarettes and can help people quit smoking.
(Shutterstock)
---
Published 25.09.19, 07:37 PM
|
---
Sir — The Central government did well to ban the sale and production of e-cigarettes ("E-cigarette production & sale banned, not use", Sept 19). Smokers often have the wrong perception that e-cigarettes are an effective alternative to regular cigarettes and can help people quit smoking. On the contrary, research has shown that e-cigarettes can cause cancer, damage lung tissue, and lead to brain impairment among youngsters.
Ranganathan Sivakumar,
Chennai
Sir — The ban on e-cigarettes is a welcome move as these have become quite popular among youngsters. Many mistakenly believe that e-cigarettes are safer, can be a substitute for regular cigarettes and can help quit smoking. However, doctors say that these products are equally injurious to health as they contain nicotine and other harmful chemicals.
There is no doubt that the ban will amount to a huge revenue loss for the State, but this is still the right thing to have done. In the past, when steps had been taken to curb tobacco consumption, poor enforcement, lax monitoring and flagrant violation of rules ensured that nothing came of the State's efforts. If the government is serious about keeping youngsters away from tobacco and other addictive products, a strategic action plan is required over and above a ban.
Kiran Agarwal,
Calcutta
Sir — One fails to understand how e-cigarettes are banned for being harmful but other dangerous products like regular cigarettes, beedi, gutkha and so on are not. If we really care about the youth, the government must ban all tobacco products.
Jubel D'Cruz,
Mumbai
Brave new world
Sir — Ayush Chaturvedi, a young boy in the saffron stronghold, Varanasi, showed great courage in delivering a bold speech against the worrying situation in the country at present ("Boy who said what many men won't", Sept 19). These days, it is common to brand anyone who refuses to sing to the tunes of the ruling party as anti-national. Chaturvedi did not let the fear of being labelled similarly dampen his spirit.
The young generation is getting influenced by misconceptions, fake news and WhatsApp and Facebook 'universities'. Social media is used to spread fabricated stories churned out by the information technology cells of political parties, and their followers who think nothing of defaming national heroes like M.K. Gandhi. The media should play a more prominent role in condemning fake news and presenting the true picture to Indians.
H.P. Choudhury,
Calcutta
Unlikely match
Sir — One is rendered speechless by the fact that Amruta Fadnavis, the wife of the Maharashtra chief minister, Devendra Fadnavis, has called Narendra Modi the "Father of our Country". What, one wonders, prompted Amruta Fadnavis to see a reflection of M.K. Gandhi in Modi, the man who is known to have failed to uphold his raj dharma. Was her mistake prompted by images of Modi at the charkha in the Gandhi ashram?
The dissimilarities between the two figures could not be more pronounced. A string of failures proves that Modi does not deserve the elevated position that Amruta Fadnavis tried to give him. One cannot forget the adversities that people had to face as a result of demonetization, faulty implementation of the goods and services tax, the falling rupee against dollar, high oil and cooking gas prices, the failed promise of creating one crore jobs a year, the inability to hold on to foreign direct investment, the lack of a coherent policy on Pakistan, and last but not least the inaction regarding episodes of lynching and violence against women. These are enough to put Modi out of the running when it comes to being the 'Father of the Country'.
Bidyut Kumar Chatterjee,
Faridabad
On the other foot
Sir — Given the penury in which vast sections of the Indian population live, items of clothing such as shoes are often seen as a luxury and, therefore, a marker of upper-class culture. However, shoes recently became a symbol of protest used by farmers in Karnataka, who 'auctioned' footwear in the name of leaders such as the prime minister and the chief minister of the state in order to speak out against the delay in distributions for flood relief. This is an interesting example of grass-roots activism using an item which is largely emblematic of privilege. But will anyone hear the farmers' demands?
Saraswati Dikshit,
Calcutta