Editorial: Strategic stage
Meaningful emancipation lies in pushing women into positions of real political power in every tier of democracy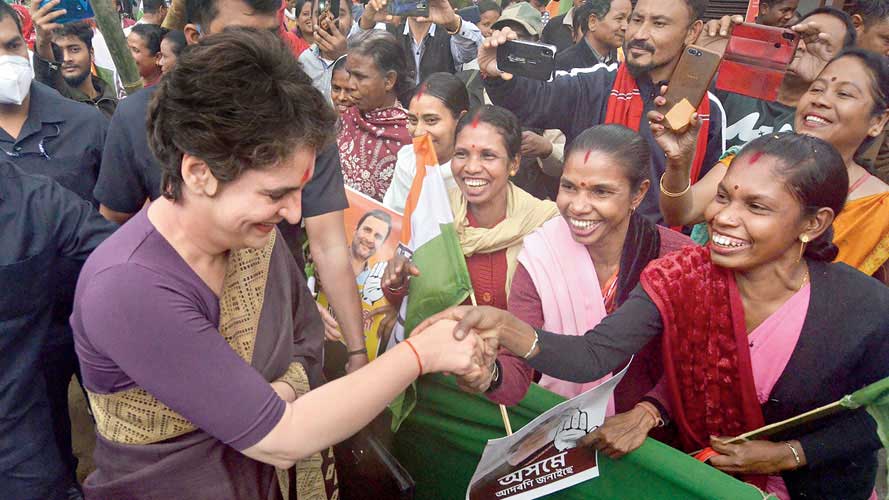 Priyanka Gandhi Vadra.
File photo
---
Published 16.12.21, 02:17 AM
|
---
With assembly elections in Uttar Pradesh and some other states round the corner, the players are warming up for the imminent contest. Caste and religion are cards that are being played in UP: the Congress, meanwhile, has added gender to this mix. The proof lies in its 'pink manifesto'. The Grand Old Party, desperate to gain a toehold in this politically significant state, has announced a spate of welfare measures for women. They have been promised 40 per cent of the 20 lakh jobs that the Congress intends to create apart from such other incentives as special quotas, free public transport, monthly pension for elderly women, vocational training for single mothers and widows. Scholarships, residential schools, scooters and mobile phones for girl students have also been proposed. The intention of empowering women may be noble, but politics remains central to the stratagem. The deepening of democracy and heightened awareness have led to a discernible upward trend in the participation of women voters in elections — from 65.5 per cent in the 2014 Lok Sabha elections to 68 per cent in 2019. In Uttar Pradesh, nearly half the voters are women. Political parties have been quick to notice this growing vote bank and tweaked manifestos accordingly by reimagining women as a lucrative political constituency.
Priyanka Gandhi Vadra has said that the interventions were meant to "fix the imbalance in politics". A prominent example of this asymmetry is the issue of women's representation in politics. A survey by the Centre for the Study of Developing Societies found that 54 per cent of Indian women believe that more women in legislature can lead to positive change and that a sizeable number of women want to contest elections and also vote for women. Yet, provisions for women to contribute to policymaking are starkly lacking: the women's reservation bill is still languishing in Parliament. Even in panchayats, where a third of the seats are reserved for women, they often remain nominal heads while decision-making rests with their male relatives. Meaningful emancipation lies in pushing women into positions of real political power in every tier of democracy. The resurgence of democracy and social equity could well depend on greater number of women in politics. After all, research has repeatedly shown that women make better leaders than their male peers.