Is India doing enough to protect its tangible heritage?
Editorial: Stealing the past
The India Pride Project underlines the importance of public awareness of art and history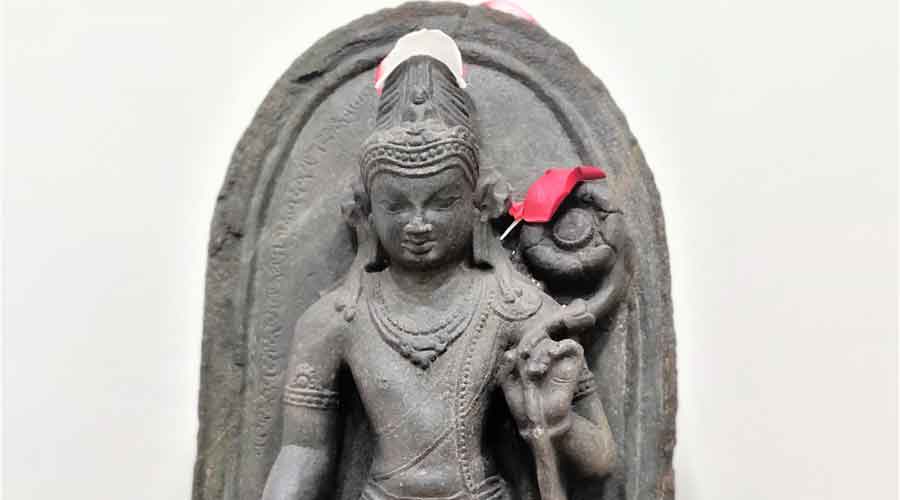 'Avalokiteshwara Padamapani' idol.
Twitter/@CGIMilan
---
Published 05.03.22, 01:23 AM
|
---
The past is up for sale — but not only in politics. India is a treasure trove of ancient artefacts. Unfortunately, given the bureaucratic apathy and tardy implementation of antiquities protection laws, this kingdom of riches is fertile territory for plunder. According to a government audit in 2018, between 1992 and 2017, 4,408 items were stolen from 3,676 protected monuments across India. The actual figure is estimated to be more than thrice this number. The serious threat of obliteration to tangible heritage seems to have created an ambience of restitution. India Pride Project, a non-profit organization of art enthusiasts and activists who use social media as well as auctions of stolen artefacts to identify such items and secure their return, is taking the lead in reclaiming India's lost treasures. It recently led to the restitution of a nearly 1,200-year-old Buddha statue that had gone missing more than two decades ago from the Devisthan Kundalpur temple in Bihar.

Intriguingly, there is something Gandhian about the IPP charter. This is because it appeals to a higher moral force rather than relying on coercion. The IPP depends largely on the goodwill of collectors for the recovery of objects — the owner of the Buddha statue voluntarily relinquished it when presented with archival photographs of the Indian temple. This strategy may have been necessary because a formal request for an inquiry into the provenance of an artefact requires the involvement of the Interpol as well as the acquiring of police reports from when the item was looted — reports that often do not exist. Worryingly, the draft antiquities and art treasures regulation, export and import bill, 2017, which was supposed to replace the ancient Antiquities and Art Treasures Act, 1972 proposes to do away with the requirement of a licence for selling antiques within the country and the need to authenticate provenance or declare the source of acquisition of the pieces. This could end up facilitating the existing unlawful trade in invaluable material heritage instead of protecting it. Tamil Nadu has India's only competent 'idol squad'. Given the challenges that the police face — shortage of funds, manpower and autonomy — it is unlikely that India would be able to raise a specialized force such as Italy's Carabinieri whose officers are trained not only in advanced investigative techniques but also in art history and international law.

The greatest impediment is India's casual attitude towards antiques. The pedagogy of history and art objects needs to be made popular. The IPP highlights the importance of public awareness when it comes to protecting tangible heritage. An informed citizenry can not only complement the efforts of authorities to recover lost antiquities but also safeguard India's national treasures. Yet, the school curriculum is woefully inadequate when it comes to spreading awareness about the inventory of such treasures. There is also a strange dichotomy that needs to be addressed. Indians consider their temples to be sacred but remain indifferent to a desecration that results in them being stripped of their artistic value. The stakeholders — the government, conservators and educationists — must address this.