Spine Shine
In recent times, sportspersons turn politicians readily enough, but are loath to espouse a politics or a stand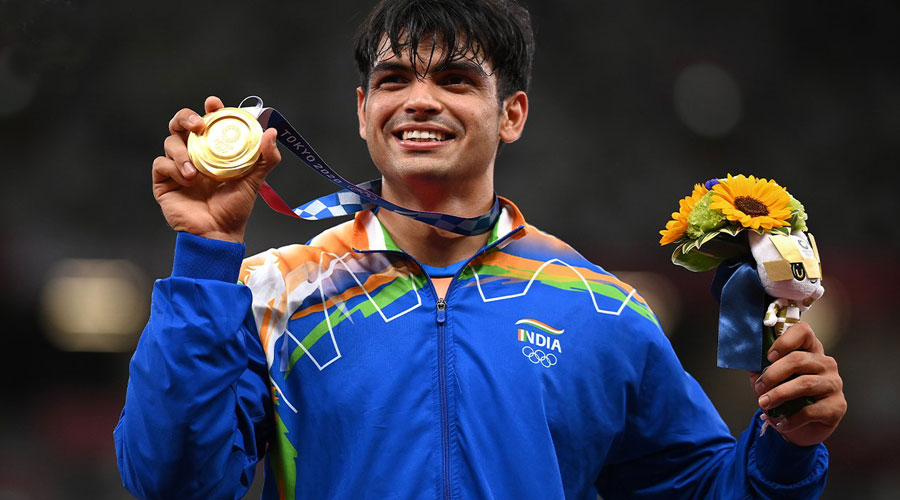 Neeraj Chopra
File Picture
---
Published 29.08.21, 12:13 AM
|
---
There is nothing quite as sexy in a sportsperson as a nice straight spine. And when it comes gold-plated ‑ kya baat. It was nicely done, the manner in which Olympian Neeraj Chopra called out all those who were piggybacking his javelin and him to either run down Pakistan or foreground some hyper nationalism or just let off surfeit venom. Sharp, straight and swift.
The Amicables
In recent times, sportspersons turn politicians readily enough, but are loath to espouse a politics or a stand. The record-holding ones prefer to work on the art of fence-sitting, a position that does not exercise to the fullest the ideological vertebrae. In the early days of the farmers' protest, Sachin Tendulkar said, "India's sovereignty cannot be compromised. External forces can be spectators but not participants. Indians know India and should decide for India etc. etc." Virat Kohli, who is known as the fittest cricketer of current times, said, "Let us all stay united in this hour of disagreements. Farmers are an integral part of our country and I'm sure an amicable solution will be found, etc."
Conscientious Objectors
In 1967, boxer and Olympian Muhammad Ali refused to be inducted by the United States army. The conscientious objector said, "I ain't got no quarrel with them Viet Cong (the National Liberation Front of South Vietnam)." Almost immediately he was convicted, sentenced to prison, fined and banned from boxing for a couple of years. Martin Luther King Jr. said in a sermon, "He is giving up his fame. He is giving up millions of dollars in order to stand for what his conscience tells him is right. No matter what you think of his religion, you have to admire his courage." Then again, in the 2003 World Cup hosted in Zimbabwe, Zimbabwean cricketers Andy Flower and Henry Olonga wore black armbands to protest and draw attention to the abuse of human rights in their home country. What followed were death threats, expulsion from the team, an end of their international cricket careers and exile. Years later, Flower reportedly said, "I suppose at that time my convictions were stronger than my fears."