Sneak peeks into Narendra Modi's 'apolitical' life
One wonders if more of his adventures await us in the coming years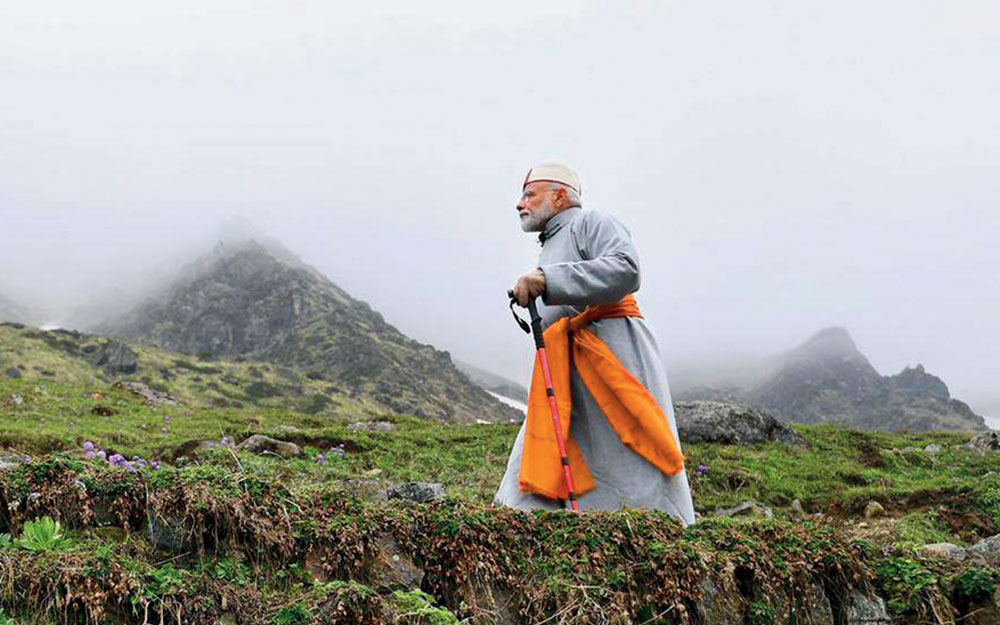 Prime minister Narendra Modi after visiting Kedarnath Temple, during his two-day pilgrimage to Himalayan shrines earlier this year
(PTI file picture)
---
Published 08.08.19, 12:37 PM
|
---
Sir — One hears that the prime minister had once lived in the mountains. That must have been a "life beyond politics". In Discovery Channel's promotional video of Man vs. Wild, Narendra Modi is seen performing stunts in Uttarakhand's jungles alongside Bear Grylls. This is not the first time that the prime minister has given a sneak peek into his 'apolitical' life. I am reminded of his famous yogic pose — he was lying on his back, his arms stretched, on a rock — to meet the 'fitness challenge' thrown at him by Virat Kohli. One wonders if more of Modi's adventures await us in the coming years.
Asha Mishra,
Calcutta
Instant fix
Sir — The passage of the bill criminalizing instant triple talaq in Parliament was a historic moment. The bill sailed through the Rajya Sabha owing to walkouts by members of the Opposition and absenteeism ("Unlucky three", Aug 1). The bill had faced several trials and tribulations in the past. Its enactment will be a relief for Muslim women who were subjected to instant triple talaq by their husbands for flimsy reasons without getting the benefit of compensation. The bill is a step towards empowering Muslim women.
The idea of instant triple talaq went against the tenets of both humanity and religion. Even Islamic nations such as Egypt and Pakistan have abolished instant triple talaq, proving that this is an obsolete practice.
Sravana Ramachandran,
Chennai
Sir — The Supreme Court had, in the Shayara Bano versus Union of India case, already declared that uttering talaq thrice in quick succession is unconstitutional. In other words, a marriage would continue to remain legally valid even after the pronouncement of instant triple talaq by the husband. Then what was the need for the government to criminalize instant triple talaq, given that a marriage is a civil contract, and the judiciary had already taken care of it? It would have been better had the government tried to improve the existing laws on marriage to protect women, irrespective of their religion.
A recent study showed that close to 2.3 million women in India have either been abandoned by their husbands or are separated from them. Two questions arise from this; first, are there any legal mechanisms to protect Muslim women who have been thrown out of their homes, without being subjected to instant triple talaq? Second, even today, across religions, divorces are considered a taboo. It is important, then, to reflect on why Muslim women were singled out as vulnerable in marriages.
Finally, a provision of the bill that has just been passed in Parliament states that Muslim men can be sentenced to imprisonment of up to three years for pronouncing instant triple talaq. This is problematic and will have a direct impact on married women, who, in the absence of jobs or a regular source of income, may not be able to sustain themselves and their children.
Saraswati Dikshit,
Calcutta
Sir — The bill criminalizing instant triple talaq was passed in Parliament. This is a victory for the Bharatiya Janata Party-led government. It was not an easy task for the BJP, especially in the Rajya Sabha, where it does not have a majority. The bill will bring Muslim women a step closer to achieving equality. Many are also of the opinion that the BJP has shown the political courage that the Congress failed to muster during the Shah Bano case.
Arijit Kundu,
North 24 Parganas
Sir — It is not clear why some of the Opposition parties were against the bill criminalizing instant triple talaq. There is no doubt that the bill will benefit Muslim women, protecting them from this inhuman and arbitrary practice.
Ajay Kumar Deb Biswas,
Hooghly
Sir — The ratification of the bill criminalizing instant triple talaq, making the practice punishable by imprisonment of up to three years, is historic. This is a step towards empowering Muslim women. The practice is already banned in many Islamic countries, but it took India more than 70 years after Independence to pass this bill. The present dispensation at the Centre should be thanked for taking the initiative to pass this bill. One hopes that other social evils will also be abolished.
Sumit Agarwal,
Howrah
Sir — The Opposition parties in India seem to be so dispirited by the results of the Lok Sabha elections that they have failed to rise to the occasion in the first session of Parliament. The passage of the bill criminalizing instant triple talaq in the Rajya Sabha is proof of this.
Soham Ghosh,
Calcutta