Editorial: Snaking line
With changes in India's neighbourhood, there is a case for Parliament to legislate a law for refugees that is free of prejudice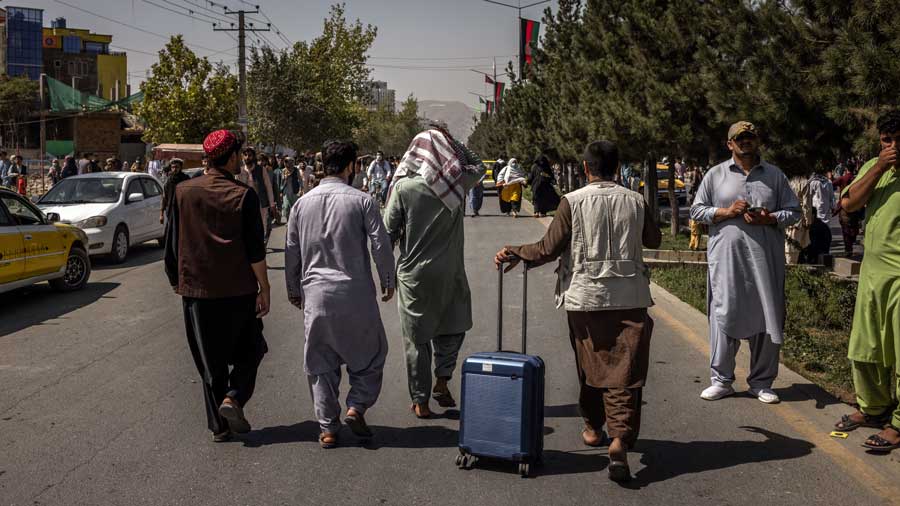 People walk away from the international airport in Kabul, Afghanistan after being denied access on Monday, Aug. 16, 2021, after the Taliban took control of the country.
Jim Huylebroek/The New York Times
---
Published 19.08.21, 12:26 AM
|
---
It is possible that the compulsions of the New Great Game unfolding in Afghanistan and its neighbourhood have deflected global attention from the frightening scale of the humanitarian crisis that is gathering pace simultaneously. Some estimates put the number of internally displaced Afghans at 250,000, 80 per cent of whom are women and children. Another manifestation of this catastrophe is the steady stream of refugees seeking asylum in other countries. Pakistan and Iran host the highest number of Afghan refugees as mandated by the United Nations High Commissioner for Refugees. India, too, has been supportive of displaced Afghan citizens over the years: till July, around 15,467 asylum seekers were registered with UNHCR India, according to recent data.
It is strange that a nation that has been forced by history and geography to play host to those seeking refuge — be it from Afghanistan, Bangladesh, Tibet or Myanmar — is yet to draft a refugee policy of its own. Neither is India a signatory to the UN Convention of 1951 or the Protocol that followed later. There is a line of thought that argues that this enables New Delhi to respond to requests for asylum on a case-by-case basis. This flexibility, it is argued, is important when the issue is viewed from within the prism of national security. Yet it is equally true that the absence of a law can give the State room to behave in a discriminatory manner. For instance, the political rhetoric favoured by the Bharatiya Janata Party-led Centre on the Rohingyas who were accommodated by India was one of subtle vilification. The Union home ministry has announced emergency visa that will permit Afghan applicants to stay in India for a mandated time period: this is welcome, even though periodic extensions in visas cannot be a substitute for citizenship that offers specific entitlements. Unfortunately, a tweet by the foreign minister, pledging to prioritize the welfare of Hindus and Sikhs from Afghanistan — the prime minister reportedly reiterated this point in a cabinet meeting — has also stoked concern that the present government may be selective in its benevolence. After all, the Centre has championed the Citizenship (Amendment) Act, which is discriminatory towards Muslims seeking shelter in India. Humanitarian assistance cannot be predicated upon identity or ideological considerations. With changes in India's neighbourhood, there is a case for Parliament to legislate a law for refugees that is free of prejudice.