Simmering differences
Building a US-led economic coalition against China finds no mention in the Indo-Pacific Economic Framework's statement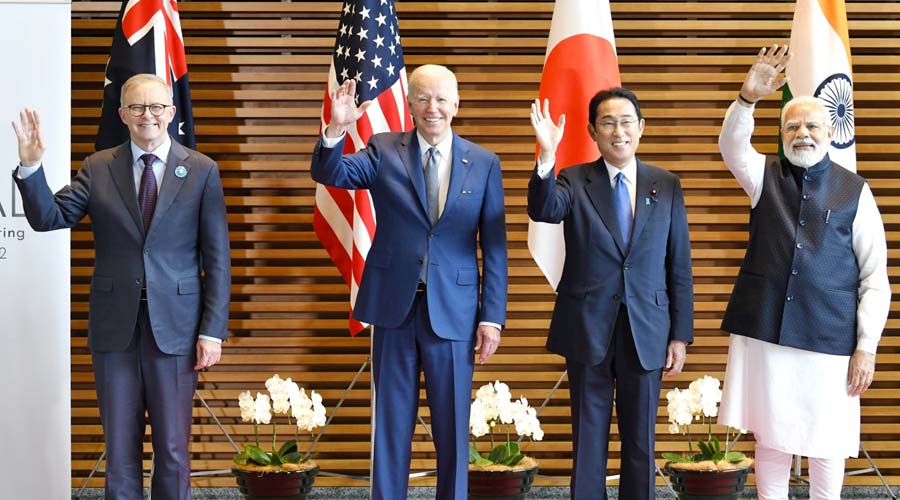 Quad leaders at the summit
PTI
---
Published 25.05.22, 02:46 AM
|
---
Seated next to the president of the United States of America, Joe Biden, and the Japanese prime minister, Fumio Kishida, Prime Minister Narendra Modi watched 10 other leaders on a giant screen in Tokyo on Monday at the launch of the Indo-Pacific Economic Framework. A joint statement that followed referred to Covid-19, trade, technology, supply chains, clean energy, tax reforms and anti-corruption measures as pillars of cooperation among the 13 nations joining the framework.
Yet the IPEF's fundamental purpose was carefully kept out of that statement: building a US-led economic coalition in the Indo-Pacific against China.
Joining the framework marks the latest foreign policy move by India where concerns over Beijing's influence and increasingly threatening posture form the underlying context. With Chinese troops parked along the disputed border in Ladakh, building bridges in territory belonging to India, New Delhi's worries are understandable. China is India's top security challenge. At the same time, India retains its deep-seated abhorrence of an alliance system: it does not want to be part of a binding security arrangement targeted explicitly against any nation, including China.
As differences mount between India and its other partners in the region over everything, from the war in Ukraine and food protectionism to data laws, that balancing act is becoming more and more difficult. The risk? A de facto drift toward an anti-China alliance that could trap an uncomfortable New Delhi, limiting the manoeuvrability that has marked its foreign policy since Independence.
In Tokyo, Modi, Biden, Kishida and Australia's newly-elected prime minister, Anthony Albanese, also got together for a meeting of leaders of the Quad, a grouping of the four nations. Like the IPEF, Quad members formally insist that the initiative is not aimed against any nation. Its work includes a Covid19 vaccine programme, the promotion of a free and open Indo-Pacific region, infrastructure projects and other, mostly benign, soft-diplomacy efforts.
Even though the four leaders projected an image of camaraderie, barely-hidden tensions will limit the ability of the grouping to move beyond low-hanging ideas. India is the only nation among them that has refused to openly condemn Russia's invasion of Ukraine or join economic sanctions against Moscow. Biden has publicly described India's position on the war as "shaky", compared to America's other close friends and allies. New Delhi's recent ban on wheat exports — after Modi's bold promise that India would help cover for food shortages because of the war in Ukraine — has also sparked backlash from US officials and, away from the Quad, in Europe.
The IPEF threatens to pose similar challenges. It is a Biden administration attempt at showcasing the US as a leading economic force in the Indo-Pacific, after the former president, Donald Trump, pulled America out of the proposed Trans-Pacific Partnership. Beijing is also the driving force behind the Regional Comprehensive Economic Partnership, a free trade agreement among 15 nations of the Indo-Pacific that New Delhi walked out of.
At the moment, the IPEF is what it says it is — just a proposed framework, not a trade deal. But already, deep differences have emerged. Washington wants the IPEF to facilitate the movement of data across nations, while New Delhi wants foreign firms working in India to store their data on servers in the country.
If China is the solitary glue holding together such initiatives, their anti-Beijing focus will only sharpen. New Delhi cannot afford to be seen as a member of a network of anti-China, US-led alliances, without any of the protections that such formal commitments would bring. That's why it's dangerous for India and others — as tempting as that is — to leave differences unrelated to China outside the door when they sit in meetings of the Quad or IPEF. In fact, they need to demonstrate that they can deliver for the Indo-Pacific, even on issues where Beijing is not a factor — and even when they don't quite see eye to eye.
Charu Sudan Kasturi is a senior journalist who writes on foreign policy and international relations