Sharper scissors
Bringing the streaming video industry to heel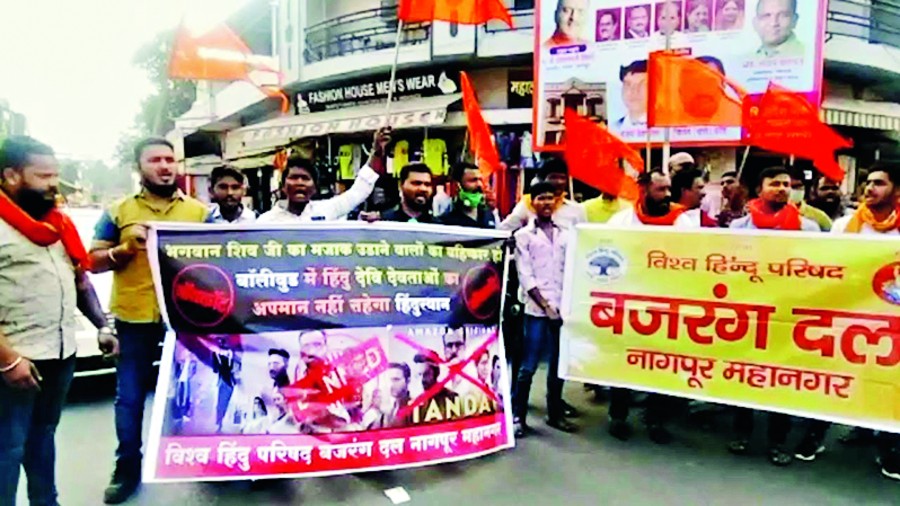 ---
Published 19.04.21, 12:49 AM
|
---
If last year was grim for the film and entertainment industry, this year does not promise much cheer. A proactive virus matched by an equally proactive government have put the sector in a double bind.  The reappearance of Covid-19 in a more virulent form, once again, threatens both news media and cinema business, the latter even more.  And, then, the government of the day has been serving up one regulatory strike after another. 
After announcing a three-tier regulatory framework for digital content in February that would affect the over-the-top streaming video industry, earlier this month it scrapped the Film Certification Appellate Tribunal, which has been in existence as a statutory body since 1983. This functioned as a court of appeal for film-makers unhappy with cuts imposed by the Central Board of Film Certification and gave them negotiating space without having to initiate a legal process.  Before either of these, January brought a preview of what censorship by grievance might look like via the controversy over the web show, Tandav. The OTT industry got its first taste of trouble in November last year when a gazette notification brought all streaming platforms under the ambit of the ministry of information and broadcasting.
But first, the virus front. Newspaper delivery bans are usually restricted to group housing, and journalists can work online more easily than cine workers can. But when an actor tests positive, so do many members of the film's crew, 45 in the case of a star like Akshay Kumar shooting for Ram Setu. There were health and safety officers on the sets of most productions, trying hard to ensure that shooting does not stop, until the Maharashtra government halted all film and television shooting last week.
Cinema theatre occupancy will, once again, take a hit. The Telugu film industry, which was better off than its counterparts in other states because it was allowed 100 per cent occupancy in film theatres for a while, now worries about whether the governments in Telangana and Andhra Pradesh would bring back the 50 per cent cap on the occupancy, thus affecting the release of big budget films. The 50 per cent occupancy rule is in force in Kerala. Tamil Nadu and Karnataka had permitted the theatres to function at their full capacity from January but reverted to 50 per cent. The Telugu states may also revert to the 50 per cent rule if the rise in numbers continues.
Commercially it has already been a disastrous year. An estimated 60 per cent plus of the industry's revenues were wiped out in 2020 and there were massive job losses in an industry that employs more than half a million people. 
Meanwhile there is the unsettling caused by the government's regulatory intent. The scrapping of the FCAT, done by moving an ordinance, is part of a wider move to rationalize tribunals in multiple fields. It deflects appeals from the FCAT in Delhi to high courts in the states. The tribunals reforms (rationalisation and conditions of service) bill, 2021 was introduced in Parliament in February, but it could not be passed. Hence the ordinance to scrap eight appellate tribunals, including the FCAT.
Film-makers fear that going to court will be time consuming and affect their films' release, that fighting a case in court could be expensive, and that the industry will now hesitate to make films on controversial subjects. The other side of the argument is that the tribunal is a quasi-judicial body which functions under the government, while the high court is an independent constitutional body.
But there is also much folklore about films, which either failed to get certification or fought multiple cuts by the CBFC before the FCAT and won. Such as Bandit Queen. And, much more recently, Haraamkhor. It's not just about cuts either, but about getting a revised certification, in case the CBFC chose to give a film an A certificate. If the revising committee of the CBFC did not give a film-maker any joy, he/she could approach the FCAT as Alankrita Shrivastava did for Lipstick Under My Burkha. It still took six months and a bunch of lawyers but the FCAT gives time to the review process, and film-makers now say that they felt heard.
In February, when it announced the Information Technology (Intermediary Guidelines and Digital Media Ethics Code) Rules, 2021, the government sought to kill three birds with one stone. It announced guidelines for social media intermediaries with a time-bound grievance redressal mechanism and a 'code of ethics' for digital media, both news and entertainment. Under it, a three-tier grievance redressal mechanism became applicable for OTT platforms such as Netflix, Amazon Prime Video and Disney+ Hotstar. These promise to end the free run that OTT content providers have had so far, without a censor board or a complaints council to rein in sex, violence and nudity on one hand and liberties taken with fictional characters resembling mythological figures on the other, as was the case in Tandav. They also opened the door wide for harassment and censorship via complaints, with elaborate rules spelt out, which put the ministry of information and broadcasting in charge of oversight. So whatever happened to the constitutionally-mandated free speech with reasonable restrictions? Now you have a government ministry seeking to assert itself over constitutional freedoms.
The controversy over Tandav, a web show produced by Amazon Prime Video, demonstrated how majoritarian grievance-taking could now become the norm, with producers and film-makers apologizing for their content on one hand and applying for anticipatory bail on the other. The first official complaint came from a BJP MLA, and a Haryana minister also pitched in, asking for a ban.  First information reports were registered against the film-makers in several cities amid charges of provoking communal disharmony and hurting Hindu sentiments. 
For the future then, self-censorship promises to become the norm in what is now a Rs 8,000-crore industry, going through a surge in viewership and revenues. The Wire, The News Minute and other digital publishers have gone to court against the new rules and the grievance redressal mechanism, calling it a weaponizing of complaints. Will an industry, which has so much at stake commercially, follow suit or choose to play ball?
The author is a media commentator and was the founder-editor of TheHoot.org