Shallow depth
The Thin Edge | Gehraiyaan offers little by way of rich pickings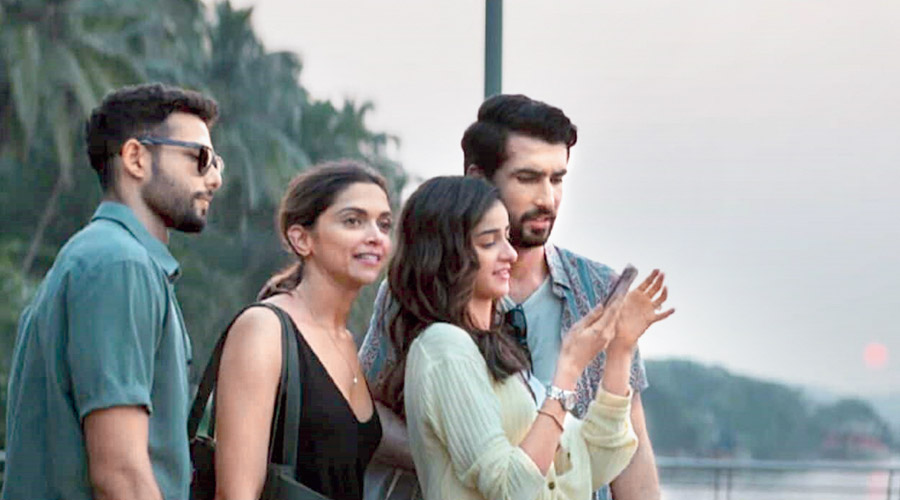 A still from the film, Gehraiyaan
[Screengrab from Amazon Prime Video]
---
Published 22.02.22, 12:41 AM
|
---
Plot reveal warning: Gehraiyaan
The film, Gehraiyaan, was recently released amidst a lot of fanfare. It was widely intimated via interviews, teasers and so on that this was a raw, unflinching look at: unbridled human sexual desire; the darkness of family relations; the lives of the super-rich in and around Bombay. The trailer revealed a modishly-dressed star cast in sequences that were stylishly shot and edited. We gleaned from various interviews and reviews that the scenes were super-intimate, with an intensity unlike anything seen before on the Indian screen. The script, we were told, was totally 'hat ke', and the direction brilliant enough to be put next to the best of Hollywood/international directing. Deep pre-shooting, thespian workshopping was indicated. Much was made of the fact that for the first time an 'intimacy director' had been brought on board for a Bollywood shoot because the actors needed to take their acting to maximum believability and, yet, feel safe while doing so. We were repeatedly warned that the thing was sure to knock our socks off, with great threat to the adhesiveness of other intimate apparel as well.
The screenplay for Gehraiyaan runs on the double-core of two standard issue stories — one of childhood trauma from family scandal; the other of lust and multiple betrayal in the world of the wealthy. Alisha (Ananya Anand/Deepika Padukone), a thirty-something yoga  teacher, is in a fraught relationship with her partner, Karan Arora (Dhairya Karwa), who has given up advertising to try and become a novelist. Alisha is scarred by a childhood where, for some unknown reason, her father (Imran Chappar/Naseeruddin Shah) took her and her mother away to Nashik, severing them from the family in Bombay. When her mother commits suicide, Alisha blames her father, creating a chasm that has lasted into her adulthood. As a child, Alisha was close to Tia, her father's older brother's daughter. Tia's branch of the family is far wealthier and she has lived a lot of her life in the United States of America. Although they have grown distant, Tia (Arzoo/Ananya Panday) wants to reconnect with Alisha and invites her and Karan to meet her fiancé, Zain (Siddhant Chaturvedi), a property developer, and spend a few days at the old family property in Alibag, the posh coastal enclave south of Bombay.
As the two couples head down to Alibag in a fancy yacht Zain has leased, we see two things: Tia and Karan seem to be close buddies; an immediate attraction developing between Alisha and Zain. The two relationships and the yacht then become the plot fulcrum for the whole film. The attraction between Alisha and Zain spirals into a full-blown, secret relationship. Tia's family has invested hugely in a major project being launched by Zain's company. In the meantime, Alisha becomes pregnant with Zain's child and tells him he has to come clean with Tia. Zain agrees and looks to start paying back Tia's investment in his company but his business begins to capsize as financial misdoings begin to be uncovered. Through various rapid convolutions, Alisha and her pregnancy become extremely inconvenient for Zain and his partner, Jitesh (Rajat Kapoor); Zain takes Alisha on a trip on the yacht where she sees him trying to spike her drink; Zain tries to push Alisha into the water but ends up falling in himself; since he has taught Alisha how to drive the yacht, she grabs the controls and speeds off with alacrity, leaving him to drown. The rest of the film takes about forty minutes to tie up the hackneyed generational drama and the non-murder non-mystery.
There are various challenges in making an effective film noir. You have to pay loving attention to creating the breathing spaces in which you embed your sequences of breathlessness; if you take either too long or do a rush job with the set ups or the in-between passages, your semi-climaxes and denouement lose punch. Your characters can be poor or rich, dressed in rags or middle-class jhalla or haute couture, they can be evil, greedy, weak, murderous, stupid or all of the above, but somehow you have to make the audience care for them, for the out and out baddies as well as the not so bad ones trapped in the story — somewhere the viewer has to recognize slivers of themselves in the most unsavoury characters for the tension to really work. Then, there is always the inexorability, the perverse logic of a larger societal and political situation in which everybody, whether semi-hero or full-villain, is caught. Gehraiyaan trips up on all these counts.
In terms of detail, there is a remarkable invisibility of the people from another class that services this lot of people. Whether in a middle-class flat or a posh apartment or a sea-side mansion, there is almost no staff to be seen: clearly they would have got in the way of the plot. This kind of lazy 'streamlining' is something you see across the film and it terminally holes the boat. For instance, the much-trumpeted erotic relationship between Alisha and Zain just doesn't work. The director, Shakun Batra, has clearly seen a lot of international cinema and his debt to what one might call the 'tropical-marine noir' involving boats, marinas, stormy seas, afternoons and dark nights of heat, sweat and terror is great. One wishes, however, that he'd seen a classic like Body Heat (Dir: Lawrence Kasdan, 1981, with Kathleen Turner and William Hurt) or, say, Martin Scorsese's Cape Fear (1991, with Robert De Niro). The charge between Padukone and Chaturvedi doesn't trip any switches because it overcomes no resistance — its inception and progress are too easy and 'stylish', too busy looking at itself, checking to see if it's sexy, and this tepid core pulls down the temperature of the rest of the movie. Karan as a wannabe or failed writer is not very believable either — you read not a word of what he's writing though this is much discussed by characters. Then, as you approach the end, you know that no one's going to waste actors like Naseeruddin Shah and Rajat Kapoor in minor decorative roles so you kind of guess what they will bring to the plot-table. Despite the best efforts of Shah and Kapoor and a very decent support performance by Ananya Panday, without much cinematic help it becomes difficult in these traumatic times to care about the rich and semi-rich characters that populate this movie.