Self and Other in New India
Currently, the country is passing through an interregnum where the imageries of a 'distorted self' as an authentic self or as an assertive self have taken over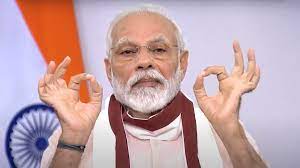 Narendra Modi.
File picture
---
Published 15.07.21, 12:54 AM
|
---
We have seen very often that the current regime is unable to accept its mistakes. There is instead a 'strategy' to blame others and claim credit out of turn. It is important to comprehend why taking responsibility, owning up to mistakes, and course correction are important in and for a democracy. Taking responsibility assumes a certain 'self' that is foundational to an open society and a democratic State. Is the absence of such a self in the current leadership a reflection of Indian society or is it an exception?
Many political thinkers, from M.K. Gandhi to contemporary critical theorists, have reflected deeply on why the health of a democracy is not merely about 'politics' or political in nature but, essentially, about fashioning a certain self that results in the necessary social gestation where social conflicts and complexities can be handled in a manner that results in less suffering and in generating greater shared goals and values. In other words, there should be a willingness to engage with reason, to think and to deliberate.
The alternative to this is the replacement of a dialogic and secure inner self with an aggressive, alienated self that is ill-prepared to identify and empathize with others and, thereby, unwilling to take responsibilities. It provokes hysteria and is narcissistic and nihilistic in its imagination. We are witnessing — globally — a retributive self, subsuming the more reasonable and reasoned self.
The critical theorist, Axel Honneth, argues that for a fuller sense of self (realization) and recognition, every individual requires self-confidence born out of unconditional love and emotional security. Self-respect ought to be treated with dignity and equality in law, and self-esteem born out of merit and a sense of achievement. All these dimensions are required for a fuller self that is then willing to be reasonable, take responsibility, treat others with respect and dignity and relish the sense of purpose and meaning in life. Those who are denied these remain as a 'distorted self', which can then become retributive, aggressive, insulting, abusive and intolerant. This distortion can be a vicious cycle that further enhances the conditions of denying individuals and social groups the basic conditions of recognition and a fuller self.
However, it is not easy to fill the vacuum that the self suffers from. Bertrand Russell observes that those who do not get emotional security in their formative years end up seeing the world as one without love and the more they attempt to gain empathy and recognition, the more they end up feeling unloved and unwanted. Many of them remain insecure and anxious even after finding love and emotional security as they fail to feel and experience these. The gap between the inner self and the external world remains, more or less, unbreached. Similarly, those who are not treated as equal in everyday interactions remain suspicious and are incapable of forging collective enterprises while those who suffer from a lack of self-esteem can end up, in spite of the required talent, achieving much less than what they are capable of. It is this inner sense of emptiness that is filled with external aggression manifest in a thirst for power and, in its worst form, unbridled imageries of gory violence. The empty self seeks to find social resonance that is always momentary and without larger meaning.
The 'distorted self' is produced not merely within dispossessed social groups but also among dominant hegemonies. Individuals and social groups that occupy dominant social positions can also suffer from the lack of self-confidence, self-respect and self-esteem. This can happen either as a result of higher expectations or anxiety concerning the loss of privileges. Much of the political Right has emerged from these social groups that are dominant but suffer from 'hurt pride' and wish to overcome it by endorsing existing inequalities and their accompanying stigma. They subvert the language of dignity and equality to produce 'regressive modernism'. All this, at some level, becomes a mode of coping with the social changes that they witness and cannot keep up with. When practices born out of 'hurt pride' enter into an unholy alliance with the victims of social stigma, societies move substantially towards intolerance and become totalitarian.
Currently, India is passing through an interregnum where the imageries of a 'distorted self' as an authentic self or as an assertive self have taken over. Indifference is being mistaken for atmanirbharta, uncivility for assertion, intolerance for subversion, and anxiety for aspiration. Unless Indian society manages to overcome these distortions, it will be difficult to mobilize legitimate anger against those who wish to govern without taking responsibility and make promises without compassion. Recent protests have invoked the new inner self but whether they manage to evoke the 'collective conscience' and the urge for a fuller self-realization still remains to be seen.