SAY HELLO TO INDIA'S FIRST WIREFREE CITY
Read more below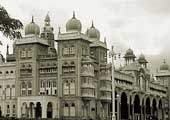 ---
Published 20.08.06, 12:00 AM
|
---
Mysore Palace
When Shankar Prasad decided to provide wireless Internet access to his customers, he had no clue that he had a path-breaking plan at hand. "I was just solving the infrastructure problems of my cable Internet company," says the chief operating officer (COO) of the Mysore-based Internet Service Provider (ISP) firm Wifiynet.
In 2004, Mysore became the first wi-fi-enabled city in India. Wifiynet installed three towers across the city which provide wireless Internet throughout the city. The company has also readied a pilot project for providing wi-fi services up to Kushalnagar, situated 108 km from Mysore. "Wi-fi services in rural areas will assist in e-governance," says Prasad.
Three years ago, Shankar Prasad — who ran a cable television business in Mysore — decided to provide Internet services to better his bottom line. "But with cable Internet, I got into a last mile issue," recalls Prasad. Cables snapped, the Internet wouldn't connect and when it rained, the equipment often went bust.
That's when Prasad joined forces with G. Saravanan, a dealer for Yaesu Communications, a Japanese wireless technology provider. The duo decided to provide wireless Internet connectivity across Mysore town — which lies within a radius of seven km.
The timing was just right. The 802.11 b standard — or wi-fi technology — was gaining currency. The Indian government had recently made 2.4 gigahertz a free-use band. Things fell into place like a jigsaw.
Wifiynet — now rechristened Aeroway — opened operations in 2004, with one tower in Mysore's Jayalaxmipuram area and 10 customers. Each end-user had a Customer Premises Equipment (CPE) — an antenna-like devise — attached to their laptop or PC. They could access the Internet in any street, café or park bench in the colony. Aeroway charges Rs 4,000 to install the CPE. After this, customers have unlimited Internet access for Rs 750 a month.
Within six months, the company had three towers — one atop Chamundi Hills — providing wi-fi-enabled Internet access across Mysore. "Except for three dark spots, Mysore is now fully wi-fi enabled," claims Saravanan. At present, the company has 150 customers. The company has not broken even as yet. "We will need about 350 connections to break even," says G. Saravanan, chief technical officer (CTO), Aeroway. Says Shiva Kumar, an Aeroway customer who's been using the wi-fi services since the end of 2004, "There were a lot of initial ups and downs like installation problems and breakdowns. But these have been ironed out."
This Dasara, Mysore's regally-dressed elephants won't be hogging all the limelight. Wi-fi will be flaunted as Mysore's big achievement. "Tourists will be allowed wireless Internet access in Mysore Place and Chamundi Hills," says Prasad.
— Varuna Verma