Saffron stands for political power, not renunciation
For the BJP majoritarianism is the only way to retain power, as it helps cover up failures in governance and the economy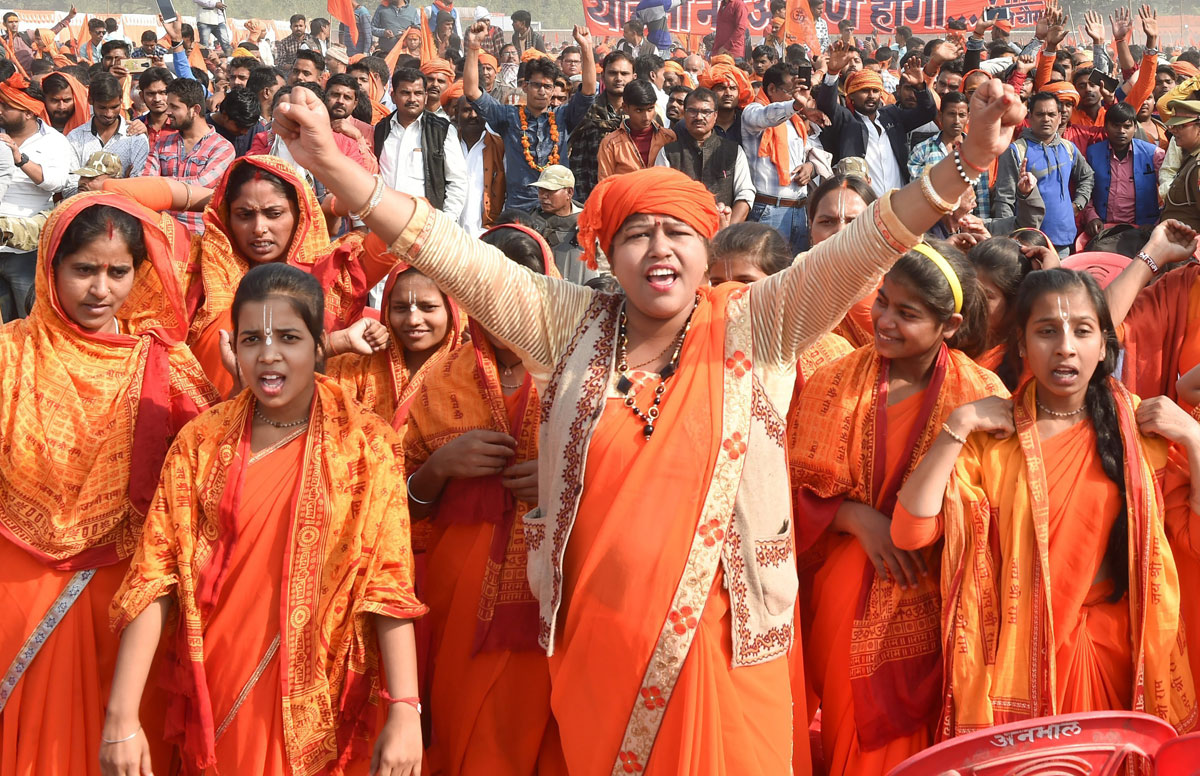 Participants in the 'Dharam Sabha' organised by the Vishwa Hindu Parishad, which is pushing for construction of the Ram temple, in Ayodhya, on Sunday, November 25, 2018.
PTI
---
Published 29.11.18, 02:31 AM
|
---
Division is the flavour of the season. The season that has befallen India since 2014. Sadhus gathered in Varanasi for the Param Dharma Sansad expressed their disapproval of both the Dharm Sabha conducted by the Vishwa Hindu Parishad in Ayodhya — they called it an adharm sabha — and the rumoured plan of the Narendra Modi government and of Yogi Adityanath to build a statue of Ram 221 metres tall. The sadhus meeting in Varanasi are 'apolitical'. That men garbed in saffron, the colour of renunciation, should need to say this is enough to underline the divisiveness that now affects every sphere of Indian life. Saffron is today also the colour of political power that thrives on the mantra of religious majoritarianism; anyone rejecting this association of politics and religion must assert his 'apolitical' position. Power in the name of religious majoritarianism is unconstitutional: it systematically goes about shredding the fabric of a secular democracy. But for the Bharatiya Janata Party, this is the only route to power and the only means of retaining it. The dazzle of powerful saffron accompanied by aggressive rhetoric helps cover up failures in governance and the economy. The demand of the holy men at the VHP-organized Dharm Sabha that a Ram mandir be built immediately on the site of the Babri Masjid is in frank defiance of the Supreme Court — the issue is sub judice — and in contravention of the spirit of law and the Constitution. The holy men in Varanasi found in this serious reason for censure.
They cannot be faulted. It is difficult to deny the presence of a political motive in this defiance of court and Constitution in the build-up not just to December 6 but also to the Lok Sabha elections. The supportive chorus of the Shiv Sena and Rashtriya Swayamsevak Sangh chiefs — one demanding the date and the other an ordinance for building the temple — appears to be ridiculing the BJP, but is it? The 'apolitical' sadhus doubt it, while they also criticize the fact that the proposed statue of Ram would apparently compete in height with that of Vallabhbhai Patel. According to these critics, this is disrespectful towards religious belief. But the statues would be symbolic of the BJP's efforts to merge religion and politics; its attempts to pass off myths as history have the same goal. The last irony, however, is that one of the apolitical sadhus has decided to sit on his own pyre on December 6 if the government fails to decide on the Ram temple, only to expose the political agenda of all other interested parties. But that would be political too.