Road to perdition
The return of the two-nation theory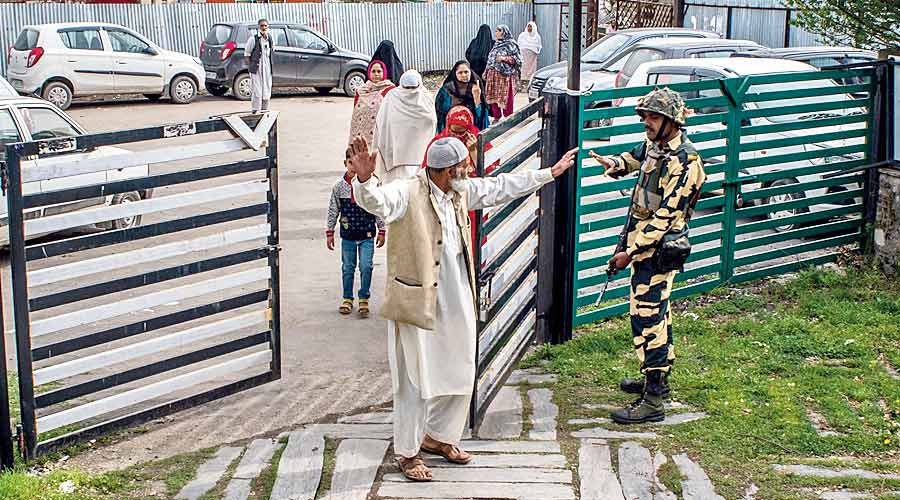 Representational image
Getty Images
---
Published 02.04.22, 12:02 AM
|
---
Seventy-four years after Muhammad Ali Jinnah died, some Bharatiya Janata Party loyalists seem to have taken up the cudgels of his two-nation theory in deadly earnest. Pursuing the notion that Hindus and Muslims constitute two separate nations was destructive enough under the stern eye of the British. Today, it could plunge the subcontinent in the bloodshed of a civil war egged on by mischievous neighbours.
Not that India's 200 million Muslims any longer suffer from the confusion that prompted the West Punjab politician, Mumtaz Daultana, to confess that he "did not really quite know whether he was basically a Muslim or an Indian". Nor is there likely to be a repetition of the mullah who planted the Ottoman flag in a field in East Bengal's Mymensingh district in 1914 and proclaimed it part of the Caliph of Islam's domains. Omar Abdullah spoke for millions when he declared, "I am a Muslim, and I am an Indian. I see no distinction between the two…" But the hint of hidden danger was unmistakable when Asaduddin Owaisi pleaded with Lok Sabha members not to be provocative. "Please don't radicalize us," he advised. "We don't want to join ISIS."
Like James Baldwin, the Negro writer who never knew whether the white liftman kept him waiting because he was busy or because Baldwin was black, I cannot interpret Muslim thinking. But seeming official and quasi-official support for a flood of moves by Hindutva outfits prompts the fear that India is heading for a variant of the vicious system of segregation called apartheid that crippled South Africa for nearly 50 years. Readers of Alan Paton's sensitive novels will recall the instinctive aversion of some South African whites to colour that provided additional emotional ballast for apartheid. Is a deep-seated antipathy to Muslims also responsible for the initiatives that currently threaten Indian harmony? Specific friction might be attributed to history — Nirad C. Chaudhuri blamed the 1947 liquidation of Muslims in princely Bharatpur on Ahmad Shah Abdali's sacking of Mathura and massacre of thousands of Hindu pilgrims in 1754 — but as the historian, Kamal Kumar Ghatak, wrote, religion being the basis of life in Hinduism, "the Hindu ate, drank and slept religiously." Looking askance at Muslim lifestyles as ritually unclean may be part of that heritage, which finds expression in opportunistic electoral politics like V.P. Singh's Mandal Commission or Narendra Modi's courtship of the Matua community. I can't speak for all of India but the subliminal divide may have been equally deep-rooted in ancestral East Bengal of which I had no personal experience but heard much as a child from people who did.
In the absence of stagey iftar parties, Hindus were like Shylock: they bought from and sold to Muslims readily enough but there was no question of eating, drinking and praying together, limitations that Daultana also mentioned. The denial of entry into Hindu kitchens and puja rooms probably did not seem inconsistent then because East Bengal Muslims were largely peasants subordinate to the mainly Hindu middle-class land-owners and moneylenders against whom they periodically rioted. The National Awami Party's Muzaffar Ahmed blamed the social exclusion of what he called Bengal's "two-hookah culture" for Partition. Some habits die hard and when I visited East Pakistan as an adult, some district officials I called on were visibly embarrassed about offering me hospitality. Another legacy from the past, when someone at a rare mixed marriage in Calcutta asked if the groom was Bengali, pat came the answer, "No, Muslim!" But no BJP stalwart or sympathizer ever admits to any traditional hostility even if they will not have Muslim tenants in urban flats. Admitting such inhibitions would reveal an orthodoxy that the orthodox themselves are anxious to disavow in this digital age.
Hindutva supporters must have welcomed Narendra Modi's famous rejection in September 2011 of a skull cap offered by a Muslim cleric: it was official sanction for orthodox inhibitions. The rebuffed cleric, Sayed Imam Shahi Saiyed, told reporters that the "refusal to accept the cap is not my insult but an insult of Islam". The incident seems to be of a piece with the entire gamut of exclusivist actions — preventing Muslim tradesmen from operating in temple precincts in BJP-ruled Karnataka, banishing the Bharatanatyam dancer, Mansiya V.P., from an ancient temple in supposedly more liberal Kerala, and banning the hijab, beef and halal food. Now, they demand that mosques should not be allowed to use loudspeakers for the call to prayers. Muslims may or may not be right in linking these demands with the Citizenship (Amendment) Act, abolition of triple talaq, and the changed status of Jammu and Kashmir but the billionaire entrepreneur, Kiran Mazumdar-Shaw, is quite right to warn that an India that pulls up its community drawbridges is in danger of losing its global pre-eminence in information technology.
Kashmir is especially significant because the film, The Kashmir Files, which I have not been able to see, reportedly has the potential of widening the divide. Given the public acclaim, one hopes it ventures beyond propaganda to show the historical ascendancy of elite Kashmiri Pandits under Sikh and Dogra rule when Muslims were the persecuted multitude. Anyone who committed hatya (literally murder but used for cow-slaughter) then was brought cruelly to book. G.M.D Sufi records in Kashir: Being a History of Kashmir that two well-known Srinagar merchants were hanged for the offence and their dead bodies dragged through the streets. Another account mentions a family of 17 being burned alive in their hut of dry willow and cow dung for the same crime. A cow's life mattered more than a Muslim's under the no-less-tyrannical Dogras and mesle waalun (skinned alive and hung on the road-side) was one of their punishments for hatya. Since no one and no event can be judged out of context, those atrocities must be seen, like the Pandits' eviction, as part of a grim continuum in a state whose present cannot be judged without reference to its past history, culture and the wishes of its people.
Similarly, Chaudhuri's sombre conclusion that "the Muslims of India constituted a society of their own with a distinctive culture, and would never be absorbed in a unified nation which could be called Indian" may have seemed justified in light of his own experience of East Bengal's segregated feudalism. It was an era when the underdog put up with more and more until he exploded; grievances were met to some extent then and a form of peace patched up until the next explosion. But the macabre sequence in Bengal's Birbhum district does not indicate that today's aggrieved are resigned enough to suffer in silence. They want justice now and will seize what is not offered. The minority's lusty assertiveness finds expression in ostentatious hijabs and burqas, bushy beards, an abundance of muslin caps, and the seemingly sudden eruption of brightly illuminated mosques and newly-painted shrines. The spectacle in parts of Calcutta of three or four vivacious youths, often without helmets, astride the same two-wheeler, defiantly whizzing past acquiescent policemen at once suggests to the popular mind Young Islam on a spree.
It's up to the enlightened among the rulers of modern India to take note of this new-found confidence and create a sufficiently flexible national framework to accommodate the genius of India and not just a narrowly archaic segment of Hindu society. That alone would give the lie to Chaudhuri's dismal verdict on integration. The alternative could be fraught with dreadful consequences for all of us.