Restrictive labels
The chequered history of assessing intelligence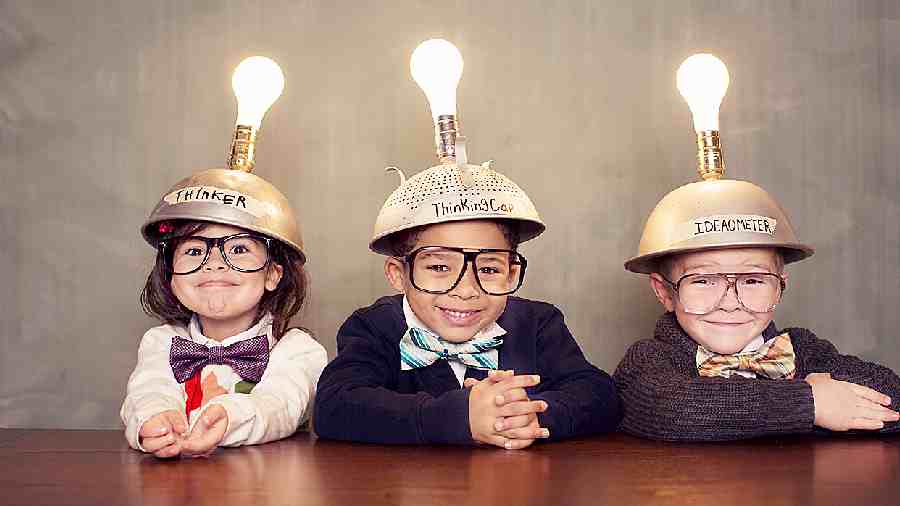 ---
Published 27.05.22, 02:20 AM
|
---
I first came across a second-hand copy of Stephen Jay Gould's The Mismeasure of Man (1981) in a small pavement stall on College Street sometime in the mid-1980s when I was still an undergraduate student. I did not know then that this was probably the most celebrated, and contentious, work published by the great palaeontologist and historian of evolutionary biology; in fact, I had no idea who this S.J. Gould (1941-2002) was, but Mismeasure gripped me from the moment I dipped into it. When a revised and expanded edition was published some fifteen years later, I was probably one of the first in the city of dubious joy to buy it, because, by then, I had not only read most of the collections of essays published by Gould but had also been inspired by his writings to try and make a serious study of the works of Charles Darwin (1809-1882) and their reception by a diverse range of thinkers, scholars, artists, and writers of fiction. But that was still a long way in the future from when I first encountered Mismeasure.
What fascinated me about Mismeasure were two of the arguments that underpin the structure of the work. The first was Gould's steadfast opposition to biological determinism, and the wondrous array of examples and arguments he marshalled to show just how pernicious, but strangely persistent, an idea it was, and continues to be. As Gould put it, in his magisterial introduction to the revised and expanded edition of Mismeasure (1996), "I regard the critique of biological determinism as both timeless and timely. The need for analysis is timeless because the errors of biological determinism are so deep and insidious, and because the argument appeals to the worst manifestations of our common nature." Belonging to a culture, as I did, where a significant number of individuals, including members of my own extended family, believed in the innate inferiority of certain groups of individuals, whether defined in terms of their sex, or race, or caste, Gould's spirited debunking of such notions struck a chord in the still-youthful me, and I have continued to cite Gould, and others, when trying to show just how wrong-headed such notions are. The second argument was a specific instance of the first. To quote Gould again, "The Mismeasure of Man  treats one particular form of quantified claim about the ranking of human groups: the argument that intelligence can be meaningfully abstracted as a single number capable of ranking all people on a linear scale of intrinsic and unalterable mental worth."
That number, derived from the 'g (general intelligence) factor', and probably better known to laypersons as the number assigned to a person as his/her IQ (intelligence quotient), Gould argued in Mismeasure, conceals much more than it reveals and its use to include, or, more pertinently, exclude individuals (or groups of individuals) from certain kinds of human activity — especially those requiring that still-mysterious entity called 'intelligence' — has done more harm than good to us humans as a whole. The subtlety and nuance in Gould's discussion of IQ testing cannot be summed up in a short piece such as this, but his two primary contentions — first, that such tests and numbers cannot, in any meaningful way, tell us anything about groups of humans (for example, that Blacks are less intelligent than Whites in the United States of America), and, second, that they have been used to justify not taking action to lift the status of specific groups and communities — still hold true. IQ tests continue to be used, especially to assess the learning potential of children, and offer remedial measures where felt necessary, but no one in their right mind thinks that a person's IQ is the only measure of his/her abilities, as used to be the case not so very long ago. Alfred Binet (1857–1911), the originator of the first practical IQ test, developed the test because he had been "commissioned by the minister of public education [in France] to perform a study for a specific, practical purpose: to develop techniques for identifying those children whose lack of success in normal classrooms suggested the need for some form of special education." That Binet's work was subsequently hijacked for a variety of dubious, exclusionary measures by governments and institutions remains one of the great ironies of modern science.
In fact, as the history of trying to measure human beings' intellectual abilities and predict their futures on a supposedly unbiased and scientific scale has repeatedly shown us, both individual human beings, as well as groups of humans, are just too protean, changeable, and possessed of an innate plasticity to allow for such reductive measurement. In one of the most delightful sections of Mismeasure, Gould writes of "small-brained men of eminence" and "largebrained criminals", where the likes of Walt Whitman (1819–1892) and Anatole France (1844–1924) were found to have brains considerably smaller than that of the average European male, while several criminals were possessed of brains significantly larger than the average! Yet, instead of giving up such a futile exercise, we have continued to try and measure human intelligence, moving from brain volume to IQ tests to — in recent times — CT and PET scans; none of which seems to have revealed much about our supposedly innate, unchanging selves. If anything, they have demonstrated just the opposite — that individuals and groups are capable of quite astonishing feats of willed changeability, demonstrating what Gould would call "biological potentiality", rather than a kind of restrictive and limiting biological determinism.
Sadly, however, both biological determinism and its variants, as well as the propensity to quantify and assign numbers to rank individuals and institutions, seem to be making a strong comeback in our own time and in our own, often government-sanctioned, measures of so-called worth. Witness the growing tendency to label certain groups as 'inferior', 'violent', 'incapable of improvement' on the basis of gender, or ethnicity, or religious belief in the contemporary political discourse (and not just in India) on the one hand and the fetish for seeking ranks, and grades, and scores that is being foisted on institutions and organisations (once again with official sanction) on the other. Neither of these tendencies can be either a reliable guide to future action or a means to ameliorate present inequities and inequalities. If anything, they will only serve to, first, exacerbate existing fissures and divisions, and, second, distract us from the real business of trying to ensure that a just world exists for all of us, irrespective of origin or genetic makeup. But in a world where a miniscule minority benefits precisely from such inequalities and inequities, perhaps that is too much to hope for.
(Samantak Das is professor of Comparative Literature and pro-vice-chancellor, Jadavpur University. Views expressed are personal)