Remembering happy married life of Lord Swaraj Paul and wife Aruna
EYE ON ENGLAND | Deepika Padukone will serve on the Cannes jury like Mrinal Sen (1982), Arundhati Roy (2000), Aishwarya Rai (2003) and Sharmila Tagore (2009)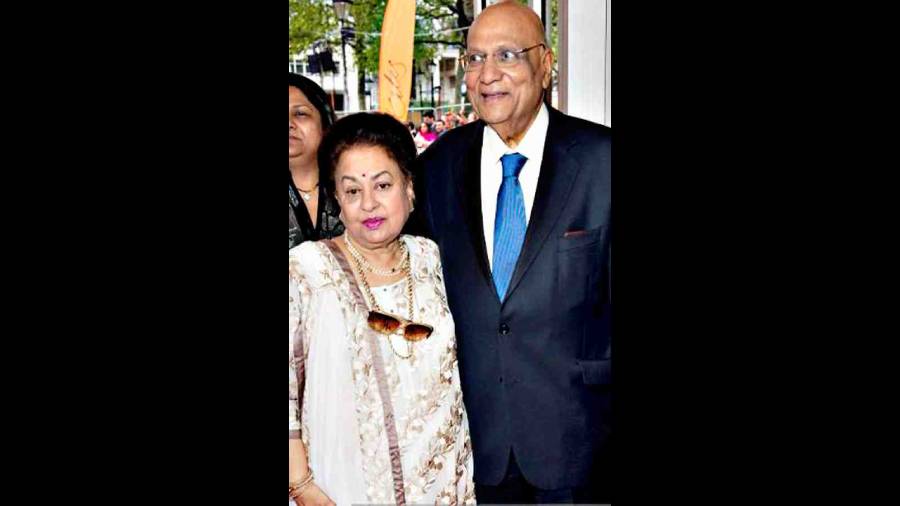 ---
Published 14.05.22, 03:25 AM
|
---
  Devoted couple
 Lord Swraj Paul says he married Aruna Vij within a week of meeting her at a friend's house in Calcutta in 1956 — "she was the most beautiful girl in Calcutta". Some years ago, an amused Aruna confided: "I was already engaged. When I got married, he (her former fiancé) wept on Swraj's shoulders for days..." 1950s' Calcutta was very elegant. "Society hostesses would wear gloves," recalled Swraj, who is now 91. Jalandhar-born, he had joined the family business in Calcutta after qualifying from MIT in the United States of America. Aruna, who was 20, had done teacher's training after attending Loreto School and College. Today, there is a "Lady Aruna Paul Wing" at Loreto College, where she and Swraj had laid the foundation stone in 2013. The Pauls' twin sons, Ambar and Akash, and daughters, Anjli and Ambika, were born in Calcutta. But when Ambika was diagnosed with leukaemia, Swraj came to London in 1966 to seek medical treatment, and decided to settle in the UK after she died in 1968, aged four. Aruna was a supportive wife as Swraj developed Caparo, his steel business. She was an avid reader, especially of detective stories. She became Lady Aruna Paul when Swraj was elevated to the House of Lords in 1996. In November 2015, the Pauls' younger son, Angad, died, aged 45, under tragic circumstances. Earlier that year, on hearing Aruna wasn't well, Mamata Banerjee dropped by to see her and Swraj at their apartment during her visit to London.  On their 60th wedding anniversary on December 1, 2016, Swraj and Aruna received a card signed by the Queen. Aruna, who was much loved by family and friends, died suddenly at home on May 3. She was 86. Her funeral took place at Golders Green cemetery in North London on May 11.
Past baggage
  Deepika Padukone, who is on the main jury of the Cannes Film Festival this year, shouldn't make the mistake that Nandita Das did in 2005. Das found the festival authorities had sent two limos to the airport — "one for me and another for my luggage but I had come with only one suitcase." Deepika will be letting India down unless she arrives with six suitcases. Other Indians who have served on the Cannes jury are: Mrinal Sen (1982), Arundhati Roy (2000), Aishwarya Rai (2003), Sharmila Tagore (2009) and Vidya Balan (2013). The 75th edition of the festival begins on May 17, with a screening of Satyajit Ray's Pratidwandi in Cannes Classics. Following the recent Modi Macron meeting in Paris, India has been decreed the "country of honour" at the Marché du Film (the market).
Creative crisis
A new, scholarly book on PG Wodehouse makes a disclosure that I find shocking: when he was passing through an ebb in his life, he considered killing off his most famous creation: Jeeves. This is revealed in Pelham Grenville Wodehouse: Volume 3 — "The Happiness of the World" , the final part of a trilogy by Paul Kent. Wodehouse had been cleared by MI5 of helping the Nazis with broadcasts from Berlin during World War II. Kent writes that "Wodehouse... was coming under attack from a second front — this time from an enemy within. Quite simply, into his 60s, Plum was finding it difficult to summon the creative energy necessary to take his work forward… This uncertainty is perhaps best typified by an absurd note he wrote in December 1946 to George Shively, an editor at Nelson Doubleday [one of his American publishers] in which he ponders whether to kill off Jeeves on the strength of a single bum review in the The New Yorker , which opined that the character had 'frankly... become a bore'. He hadn't, of course; but certainly from 1947 to 1954, it's difficult to argue Plum's muse was firing on all cylinders." Kent tells me: "After World War II, Wodehouse understandably had quite a few crises of... confidence, and... crippling doubts about the viability of his created world, of which Jeeves was the figurehead. This went on for... a while, but... to start... from scratch with a whole new created world wasn't a realistic proposition, and thank goodness he didn't!"
Subversive humour
Kent's book also suggests that the "subversive" element in Wodehouse might explain why he is more appreciated in India than anywhere outside the UK. "[I]t's India where Wodehouse seems most closely interwoven with the nation's consciousness, his popularity not just undimmed but seemingly growing," the book asserts. Kent tells me: "Indian fans seem to take such joy in the language and absurdity of the plots that they maybe immerse themselves in his created world more joyfully and completely than many others. In the impromptu survey of Indian readers I conducted... the word that cropped up more often than any other was 'subversive'... Wodehouse's humour is... subversive... Indian readers seem to... absolutely revel in it!"
Footnote
Indian food invariably figures in British political crises these days. Police are investigating whether the Labour leader, Sir Keir Starmer, broke Covid rules when he was in a group of 15 who swilled beer with "biryanis, bhunas, tikka masalas, rice and naan breads" ordered from an Indian restaurant in Durham on April 30, 2021. Starmer has said he will resign if fined.