Letters to the editor: Regency-era literature continues to hold sway over audiences
Readers write in from Jalpaiguri, Hyderabad, Nellimarla, Mumbai, Chennai, Raichur and Faridabad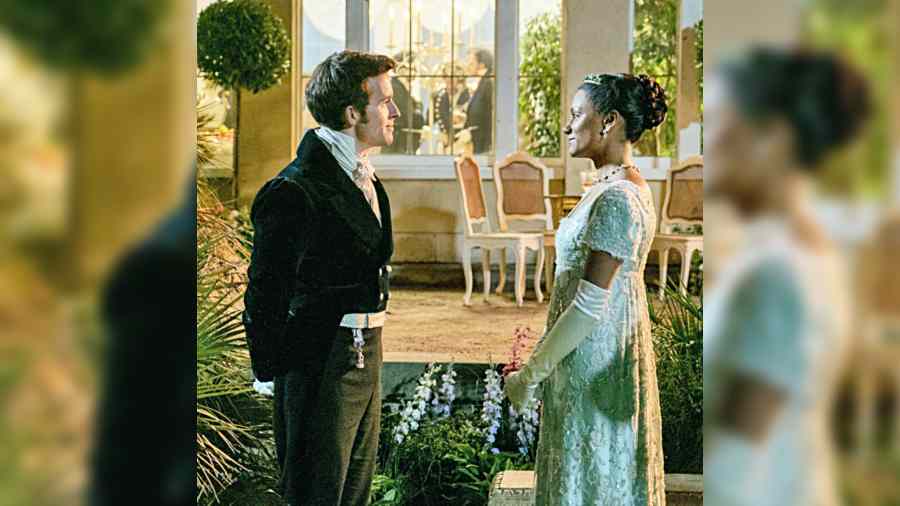 ---
Published 04.08.22, 04:50 AM
|
---
Love lost
Sir — Regency-era literature, set in early-19th-century Britain, continues to hold sway over audiences. These stories are characterised by embellished attires, pastoral settings and passionate plots on love and courtship. Such is their allure that we are ritualistically greeted by screen adaptations of Regency-era novels each year — the latest offerings being adaptations of Julia Quinn's Bridgerton and Jane Austen's Persuasion. These novels are set in a period that had deeply restrictive social rules and inequality among the sexes. What, one wonders, can be the reason behind their appeal in this day and age of Tinder? Could it be that disenchantment with the dating situation in the 21st century compels audiences to turn to these stories for a romantic escape?
Pallavi Singh, Hyderabad
Political weapon
Sir — The Enforcement Directorate has arrested the Shiv Sena member of Parliament, Sanjay Raut, for alleged links to financial irregularities in the Patra Chawl redevelopment project ("ED arrests defiant Raut at midnight", Aug 1). This is another setback for the Uddhav Thackeray-led party, which recently lost power in Maharashtra owing to a mass defection. Raut's arrest came right after he accused rebel Sena members of jumping ship in order to protect themselves from the ED. This strengthens the belief that the Bharatiya Janata Party uses government agencies to intimidate the Opposition.
In this context, it is important to mention that in a recent judgment, the Supreme Court upheld the stringent provisions of the Prevention of Money Laundering Act which give sweeping powers to the ED. This will provide a stimulus to the BJP's attacks on Opposition parties.
Janga Bahadur Sunuwar, Jalpaiguri
Sir — The PMLA grants the ED several overarching powers in matters related to search, seizure, attach and arrest. The top court recently upheld these provisions citing the seriousness of money laundering as a crime. Yet, it is curious that since its inception the PMLA has rarely been used against members of the party in power. That is not all. The conviction rate is also low which suggests that the accused are ultimately released owing to inadequate evidence against them or political settlements. These loopholes make it difficult to carry out justice.
D.V.G. Sankararao, Nellimarla, Andhra Pradesh
Sir — With the arrest of Sanjay Raut, the Shiv Sena is headed towards a grave crisis. Given that most party leaders have defected, it will be hard for Uddhav Thackeray to keep his flock together under such trying circumstances.
Saurabh Verma, Mumbai
Power tussle
Sir — The chief minister of Tamil Nadu, M.K. Stalin, has rightly accused the ruling Bharatiya Janata Party at the Centre of running parallel governments through governors in the Opposition-ruled states. As the constitutional head of state, a governor has limited powers. However, the governors of several non-BJP states have been known to interfere in matters of administration, acting as agents of the saffron party.
Stalin's comment comes amidst the growing tussle between the Dravida Munnetra Kazhagam dispensation and the governor, R.N. Ravi, over the anti-NEET bill. In West Bengal, too, the former governor, Jagdeep Dhankhar, frequently clashed with the Trinamul Congress government on several matters. This goes against the federal principles of India.
Tharcius S. Fernando, Chennai
Plug the gaps
"Sir — The state of engineering education in India is in a shambles. In recent decades, there has been a proliferation of private engineering colleges. These private establishments charge a hefty amount for admission but seldom impart the practical skills required to work as an engineer after graduation. As a result, many engineers remain unemployed. This is disconcerting.
All engineering colleges must be accredited by the All India Council for Technical Education, which facilitates training in upgraded technical skills. Centres of excellence must also be established to cater to the students' needs. Hopefully, this will be able to plug the glaring gaps in learning.
Vijaykumar H.K., Raichur, Karnataka
Golden victory
Sir — India's weightlifting contingent deserves to be lauded for its stellar performance at the ongoing Commonwealth Games in Birmingham. The Olympic silver medallist, Mirabai Chanu, breezed through the women's 49-kilogramme category to clinch the first gold for the country ("Chanu lifts gold like it was hers", July 31).
In their Commonwealth debuts, Jeremy Lalrinnunga secured a second gold medal in the men's 67-kg competition while Achinta Sheuli came first in the men's 73-kg division. Sanket Sargar, Bindyarani Devi, Gururaja Poojary, Harjinder Kaur, Vikas Thakur and Lovepreet Singh secured podium finishes, bringing India's medal tally in weightlifting to a record nine on the beginning of the sixth day of the meet.
Such spectacular performances are indicative of the country's successful planning and calibrated sports policy. India may have upgraded its sports infrastructure but it still has a long way to go to realise the true potential of its sportspersons. 
Bidyut Kumar Chatterjee, Faridabad
Sir — Mirabai Chanu must be congratulated for securing India's first gold at the ongoing Commonwealth Games. The ace weightlifter improved her performance since last year's Tokyo Olympics, where she secured a silver medal in the same category. Born to a poor family residing on the outskirts of Imphal, Chanu was tenacious and uncompromising in her determination from the beginning. It is sheer dedication that has earned Chanu this glory.
Ranganathan Sivakumar, Chennai